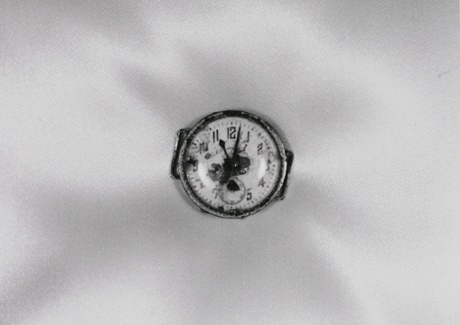 The watch stopped at 11.02am on 9 August 1945. Its face and hands are forever fused at that moment. They record the split-second in which thousands of Japanese civilians died when the Americans dropped an atomic bomb on Nagasaki. Somehow this trivial object survived, strap gone but glass intact, to tell of that apocalyptic end-time.
These facts are known and can be stated in words. But the object itself says far more, and more still when photographed by the great Japanese artist Shomei Tomatsu. Tomatsu's famous 1966 image shows the watch in isolation, damaged and dark, a lone disc surrounded by a flaring blast of light. Twenty-one years have passed by now and still the inanimate relic continues to invoke the owner it will always outlive, coinciding with all future time twice every day. It is a more intimate and human commemoration than any shot of a soaring mushroom cloud.
A wall and more are devoted to Tomatsu's works in Conflict, Time, Photographt at Tate Modern, and they so deserve it – the bottle melted into a twisting corpse, the keloid scars so exactly resembling a nuclear blast in and upon a victim's face. Tomatsu's images are as condensed as a sonnet. "Time has passed in the outside world since it stopped for Nagasaki," he wrote, "but every victim who has died since acts as a link to join that moment with the present… What I saw in Nagasaki was not merely the scars of war, it was a place where the postwar period had never ended."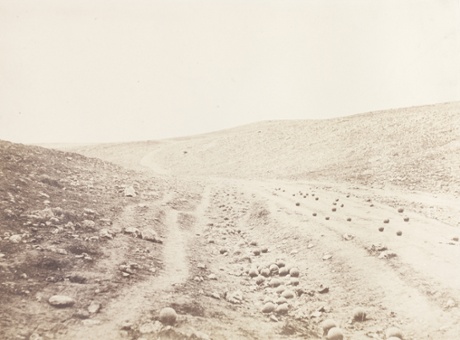 How to find the past in the present is the question raised by this huge survey of the many ways in which artists have photographed the aftermath of conflict. Will it still be there, in the atmosphere, a year or even a decade later? The idea is to look at images taken at different intervals: two minutes after an explosion in Afghanistan, 20 minutes after Hiroshima, 16 years after Srebrenica, 66 after the bombing of Dresden. What can the camera skim from the scene to picture history as it happens, or bring it forward into our moment?
This ought to be compelling, and sure enough there are some classic images on show. Roger Fenton's The Valley of the Shadow of Death shows the hellish lunar landscape of the Crimea in 1855, deserted except for the fatal cannonballs that have so recently destroyed the young soldiers. Kikuji Kawada's images of the Genbaku Dome in Hiroshima present the instant fusion of human flesh and blood with the walls as a new and horrific form of geology. Don McCullin's deathless photograph of an American marine in Vietnam, moments after fighting, his dark eyes sightless with shock, appears in the opening gallery – an incomparable and pioneering work.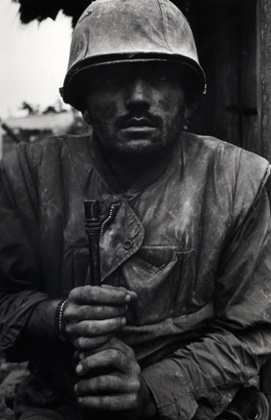 Photographs that show the scene moments later have the advantage of movement. The smoke rises, the building falls, the marine turns to the camera. But perhaps this smacks too much of journalism, for the curators hurry us along into the months and years after the event where, alas, one sees too many weak pastiches of the same image – the building toppled, smoke (or pathetic fallacy clouds) still hanging in the air.
Occasionally time has reworked the scene – the ruins are dusty, overgrown, barely visible; amnesia enters in. Or perhaps there is a memorial in the form of graves or graffiti. But often there is nothing at all, and it takes a considerable artist to make something profound of the terrain. There are countless shots of low-lying fields beneath overcast skies, indistinguishable except where the photographer has included portentous mist or some harbinger bird.
A shell half-buried in the desert, an aeroplane's rusting engine, the bare ruined choirs of a cathedral shattered by a bomb: these artists can never resist a platitude. Not one but several photographs of German coastal defences, cast in concrete, observe their similarity to modernist buildings or sculpture. Not one but half a dozen artists photograph the places where Hitler or his henchmen saw their last, trying to find the Nazi presence in these empty rooms and bunkers.
Occasionally history is made explicit in extraordinary ways. Tomatsu's photograph of a Japanese helmet reveals a tiny patch of white in its black interior: part of the skull of the soldier who was wearing it during the atomic attack. A dark and solemn C-print by journalist-turned-artist Luc Delahaye shows a group of skeletons excavated in a shallow grave in Málaga. Pale surrogates of living beings, they are clasping their bound hands in what might almost be prayer.
These are the remains of Republican fighters in the Spanish civil war, discovered 50 years after their execution. The earth conceals untold crimes against humanity.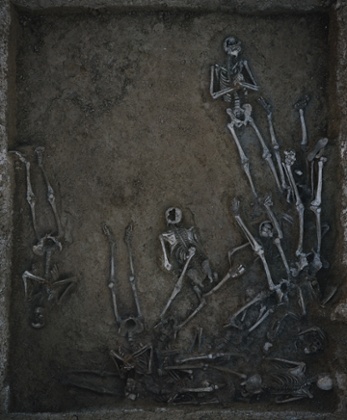 If there are very few revelations in this exhibition, that is perhaps not the point. Instead we are to consider the difficulty of bringing the past into meaningful life. Taryn Simon remembers the massacre of Srebrenica by producing family trees of the survivors – predominantly portraits of women and children – with blanks for the missing and dental fragments for those who were eventually found in mass graves. As a coda she includes a piercing image of an Orthodox priest blessing a Serbian warlord on his way to carry out genocide.
And Jim Goldberg's panoramic wall installation of the Democratic Republic of Congo, devastated by civil war, unites images of people from all over the country with their own testimonies: an attempted democracy, as it were, in portraits.
But generally – and astonishingly – this show stints on human beings themselves in favour of emptiness, ruin and absence. The artists often seem specially chosen for taking more interest in skeletal buildings and wounded landscapes. Why show gigantic aerial shots of roads battered in the first Gulf war, which resemble nothing so much as outsize maps, and not the people involved? Sophie Ristelhueber's banal prints communicate nothing compared with Kenneth Jarecke's devastating image of a burned Iraqi soldier in his tank on the road to Basra, "his windscreen wiper like a pen, ready to write down thoughts for men" in Tony Harrison's grimly magnificent poem A Cold Coming.
But Jarecke wouldn't make the cut because he is purely a reporter in the curators' eyes; Don McCullin is the only photojournalist in this show, presumably because he edges a fraction closer to their definition of an artist. This distinction – which has considerable consequences for the range of conflicts represented as well as the quality of the images – would raise my hackles if I were a photojournalist. It also feels both arbitrary and subjective. Who is to say that Matthew Brady, Frank Hurley, Robert Capa or Lee Miller (to name only a few) are journalists rather than artists and in any case why should it matter?
The proof is in the print. McCullin's shell-shocked marine is more profound, in all its terrible and bewildering beauty, than many of the mediocre images that follow.