When I look at Andy Warhol paintings, I tend to play Velvet Underground songs in my head. The Velvets were the "pop group" Warhol managed and produced in the 1960s, their overwhelmingly harsh yet beguilingly poetic sound a fusion of Brooklynite Lou Reed's rock'n'roll animality and Welshman John Cale's classical-music theory. I can't look at the hard, black, silk-screened skeletons of Warhol's luridly coloured pictures without imaging Cale's scraping electric viola, Reed drily declaring that he's "made a big decision".
In Tate Liverpool's utterly delightful Andy Warhol exhibition, you don't have to imagine those inimitable cascades of feedback, for the Velvet Underground are playing live. OK, not exactly live. Cale and mallet-using drummer Maureen Tucker are now the original band's only survivors. Yet a superbly devised installation recreates the club Warhol created to showcase their violent sound, the Exploding Plastic Inevitable, with whip-wielding dancers, a multicoloured lightshow and Warhol's films projected in overlapping chaos.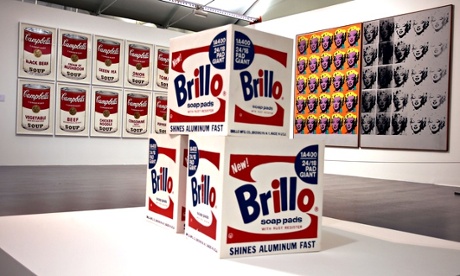 I stood in the middle of this overwhelming multimedia experience watching black-and-white images of the Velvets rehearsing, huge gazing faces from Warhol's Screen Test portraits, the dancer and poet Gerard Malanga with his whip, and singer Nico worryingly bringing her young son along to Warhol's Factory, all while a raucous live recording of the band pummelled my heart.
It's paradise. There's even a display case with Lou Reed's original scribbled lyrics for Waiting for the Man and Venus in Furs.
Yet the most magical thing is the way the decadent sound of Warhol's band spills out into the excellent nearby gallery of his early paintings. Purple and yellow flowers nestle in ash-coloured foliage in Warhol's eerie, four metre-wide 1964-5 work Flowers (Large Flowers), to the sound of guitars bursting their amplifiers. The romantic doom of the music underlines that Warhol has painted these blooms as Baudelairean flowers of evil.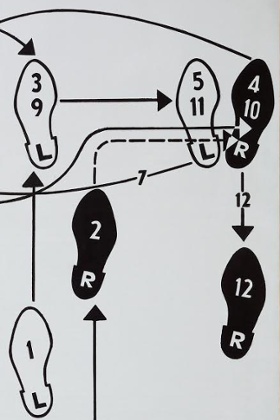 Perhaps more exhibitions ought to mix music and painting – a bit of Beethoven while looking at Turner, some Satie in a Picasso show. Yet the pertinence of the Velvet Underground to understanding Warhol is more than decorative. If you believe the cliches about this famous yet elusive man – that he was a heartless "business artist", a vacuous worshipper of celebrity – I recommend a course of listening to Reed and Cale. Few who have done so dispute that the band Warhol discovered was one of the most serious, original and aesthetically rich in the history of rock. So how come the "superficial" Warhol instantly got them?
Clearly, because he was not so superficial after all. Warhol did not create some jokey, Monkees-like, money-spinning pop group, but instead promoted a disturbing avant-garde outfit who sang about drug addiction and sadomasochism. For he was never a cheerleader for the mainstream. He was and is the quintessential painter of modern life – a reporter, a documentarist, a louche teller of awkward truths.
History pounds as hard as Tucker's drums through this exhibition. The assassination of John F Kennedy is recorded in eerie screenprints. Marilyn Monroe fades to grey. Among the fascinating archive materials lent by the Andy Warhol Museum in Pittsburgh, we discover that in his Electric Chair paintings Warhol did not show just any electric chair, but the one that killed the Rosenbergs in 1953.
This show's premise is that Warhol prophesied the art of the digital age in his passion to communicate at all costs, in any media. It includes a fine array of his paintings, but puts the emphasis on magazines, posters, films, even his television show that ran on a New York cable station from 1980 to 1983. Every single album cover he designed is here, from his 1950s drawings for jazz records to – appropriately in this city – John Lennon's Menlove Ave. (There's a silkscreen of the Beatles, too.)
Yet the paradox of Warhol – and his greatness – is that every time he seems to lose himself in the inane or trivial, he humanises it. The bits of Andy Warhol's TV that I watched included an interview with Debbie Harry, a documentary on Magritte, a feature on Chinese opera and a visit with Manhattan's mounted cops. All strangely innocent and weirdly idealistic; another way of telling what life is like.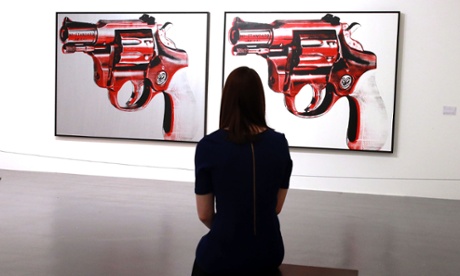 For Warhol was driven by a compulsion to portray the real world. The exhibition closes where it started, in the world of the Factory, with the sound of the Velvets still pulsing away distantly. Edie Sedgwick is cracking up on screen. In one half of a cinematic diptych, she is cool and beautiful, but on the other screen her nerves and anxiety are terribly evident. Was Warhol cruel to film Sedgwick's emotions in such a raw way? Perhaps. But this filmed portrait of her is one of his greatest paintings, an encounter with another person that holds and absorbs and haunts in its ultimate compassion. Lou Reed's song I'll Be Your Mirror says it all – to be a mirror as Warhol was is an act of love.
Transmitting Andy Warhol is at Tate Liverpool, 7 November – 8 February 2015