"This is it. Is this it?" sing the guitar-playing gents, 10 New York musicians of varying beard lengths and tattoo numbers. They're all strumming a lovesick melody, and at first it sounds like the sort of thing you could hear on a hundred indie records – mopey guy-pop of the endurably fashionable woe-is-me variety. But then the lyrics get more intense. "I'm desperate," they sing. And then: "Take off my clothes!" And then, in unison: "Take me, take me, take me here by the dishwasher …"
The dishwasher?!? For that unlikely choral climax we can thank the Icelandic artist Ragnar Kjartansson, whose poignant and personal exhibition at the New Museum showcases this hipster deceit under very trying circumstances. The song, which bears the unforgettable title Take Me Here by the Dishwasher: Memorial for a Marriage and was written with former Sigur Rós keyboardist Kjartan Sveinsson,uses in its lyrics a snippet of dialogue from a 1977 film entitled Morðsaga (Murder Story). That low-budget, rather cheesy movie was the first feature film made in Iceland – and it featured, in one soft-focus dream sequence playing in the New Museum, the artist's mother and father. His mum, a prominent actress in her day, plays a bored housewife who's fantasises about screwing the plumber, played by the artist's dad. The couple met on the set, and family lore has it that little Ragnar was conceived the night after the shoot.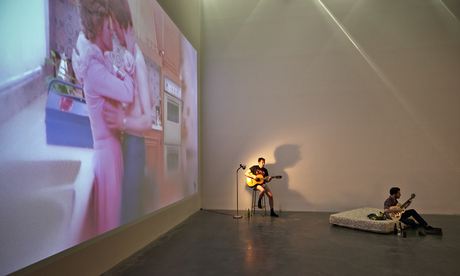 Oh, and by the way, the musical performance goes on for a while. As in, for the entire length of the exhibition – almost two months.
Naturally, the musicians want to get comfortable. On the morning I visit, one of the singers isn't wearing any trousers. Another is barefoot and tangled up in a cheap bedcovering. One is lying fully dressed on a mattress in the corner, gazing at the ceiling like a lovesick pre-Raphaelite – Wallis's Chatterton just before the arsenic took hold, maybe. On the floor are beat-up Converses, frayed jeans and crumpled flannel shirts. All of the musicians have a few bottles of beer beside them, which they got from a fridge in the gallery. No matter that it's just after 10am.
Ragnar (like most Icelanders, he goes by his given name; Kjartansson is a patronymic) is a modern troubadour, and his art sits at the nexus of two inclinations, one old-fashioned and one more contemporary. He's an unabashed, almost 19th-century romantic: his art aches with the glories and deceptions of love, stripped of defensive irony and sometimes uncomfortably personal. At the same time, his long performances often stretch beyond the physical limits of the artist and his collaborators. For Bliss, featured in the 2011 edition of the New York performance biennial Performa, he staged the final scene of Mozart's Marriage of Figaro over and over, for 12 hours. The Visitors, his overpowering video installation from 2012, shows Ragnar and his friends prolonging a short, two-verse song into an achingly beautiful 64-minute epic. At last year's Venice Biennale, a brass band on a little sailboat – the SS Hangover – drifted through the canals and played its dirge for five months.
Perhaps our cynical time requires such stamina for anything this romantic. Saying "I love you" once can sound cheesy; you have to say it a thousand times before anyone believes you. Yet the most critical and most impressive point about Ragnar's extended performances is that, while they're very long, they aren't artificially lengthened, as in a video loop. He and his collaborators have to put in the hours, and the variations, slippages, and mistakes that can accumulate are as fundamental to his art as the music and lyrics. The songs and performances have beginnings, middles and ends. The performers start energised, grow tired, get second winds, push themselves to completion. And, as spectators, we know that just because we've sussed out the logic of the artwork, doesn't mean we can then move on. You've got to stay with it – for hours or days if necessary.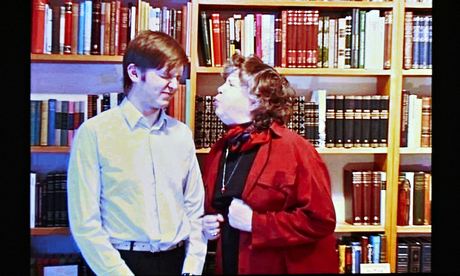 This new work doesn't reach the nearly unendurable romantic intensity of Bliss or the Visitors, but I suspect that's by design. Unlike those earlier pieces, Me, My Mother, My Father and I is not a general lovesick plaint, but a commemoration of his own parents' relationship (they later divorced), and maybe also of Ragnar's childhood innocence. The bearded and tattooed guitarists, splayed out on tatty couches and cheap mattresses, oscillate between boyish inexperience and weary adulthood; they yearn for love, but recognise its transience. They swing between male and female, which is a trick Ragnar likes to play. "Once again/ I fall into/ My feminine ways," went the chorus of The Visitors, which Ragnar sang mournfully from the bathtub (the lyricist was his ex-wife). Here the masculinity and juvenility of the hipster guitarists also gets a feminine twist. They're singing not only in the character of a woman, but in the character of the artist's own mother, allegedly on the eve of Ragnar's conception. But forget Freud: the Teutonic forebear here is Goethe, the artist's performers a band of skinny-jeaned Young Werthers.
It sounds ridiculous on paper. In the gallery, it works like a dream, and it feels both abiding and bracingly contemporary. Romanticism, wrote the great art historian Arnold Hauser, was a counterpoint to the industrial revolution, a natural reaction against urbanism, the idealisation of the body, new forms of work, and all the other upheavals of the 19th century. In Ragnar's art, something similar is going on. The irony and distance of what we lump together as postmodernism made some degree of sense in the late 20th century, when the future looked much rosier. But now, amid perpetual economic malaise – something Icelanders know more about than many of us – maybe a little more emotional sincerity is in order. Or maybe a lot more; maybe two months' worth.
• Ragnar Kjartansson's Me, My Mother, My Father, and I runs until 29 June. Box office: 866-512-6326. Venue: New Museum, New York City.