Frieze New York started life as a gatecrasher: the colonial kid sister of London's main art fair, staking its claim in a city that already has its fair share of venues for art and conspicuous consumption. In this third year, though, the fair feels notably familiar – it's developed a native New Yorker's confident unconcern. The booths and alleys at Thursday's VIP preview were packed with American collectors, air-kissing their neighbours when they looked away from the art (or, more frequently, their smartphone screens). The directors of MoMA and the Studio Museum in Harlem traipsed through, as did Mike Bloomberg, the former mayor who's now chairman of the board at the Serpentine Gallery. The packed restaurants are serving up the high-end stoner food that New York consumes endlessly: "super burritos" for $10 a pop, or "crack pie" if you have a sweet tooth. The only British feature of Frieze New York seems to be the weather – for the third year in a row, it rained on opening day.
There's one big change this year, though. Unlike the Armory Show, New York's other major art fair, Frieze New York declined to use union labour for its first two editions – an evasion made possible by the fair's unorthodox location in a custom-built tent on Randall's Island in the East river. In 2012 and 2013, during the waning days of Bloomberg's business-above-all mayoralty, workers picketed outside the tent, standing beside a giant inflatable rat and bearing signs that read "Don't Frieze Out New Yorkers!", Birkin-toting VIPs did their best to tune out the protests, but last year a number of artists, including Andrea Bowers and Joshua Smith, voiced objections, and even called for a strike. Last November's election of Bill de Blasio, a mayor diametrically opposed to Bloomberg's labour policies, raised the temperature further still.
And so earlier this year Frieze's leadership reached out to the unions, and, after negotiations that all sides have described as amicable, the fair is now working with organised labour and will be fully unionised in 2015. Very good news, though other art world economic problems endure (just pay your taxes, people!).
The tone is less strident this year in Frieze's sinuous white bivouac, designed once again by the Brooklyn architectural firm SO-IL. The fair has less to prove than it did before, and while you can still find blue-chip investment pieces (Donald Judd boxes at David Zwirner, Ed Ruscha at Gagosian, Anish Kapoor discs in too many booths to count), many exhibitors have mounted tougher, less commercial displays. Selfie opportunities are gratifyingly few.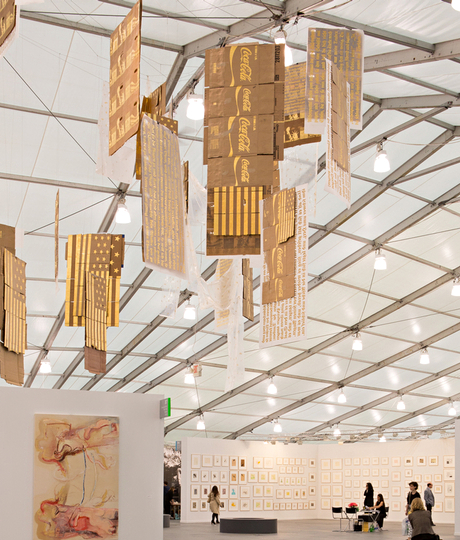 Marian Goodman, the doyenne of New York art dealers, has done away with her booth entirely: her wall-free space features a single, fantastic work by the Berlin-based Vietnamese artist Danh Vo, suspended from the ceiling. Vo's mobile, called Massive Black Hole in the Dark Heart of Our Milky Way, consists of two dozen pieces of cardboard decorated with gold-leaf American flags, Coca-Cola logos and passages from Cinderella in heavy German script. From a distance it seems confident and celebratory. Up close, those American flags are nearing collapse.
Much of the best work at Frieze New York can be seen in solo presentations, and it's pleasing how many dealers have given their booths over to a single artist – even if, in many cases, they've also stuffed their closets with other art for cash and carry. Barbara Gladstone, a New York stalwart participating in her first Frieze New York, has mounted a knockout presentation of nearly 200 works on paper by Carroll Dunham, whose comically grotesque drawings have only got better, and more vulgar, as he's aged. (Yes, he's Lena Dunham's dad; let's not dwell.) David Kordansky Gallery, one of many exhibitors in a strong Los Angeles contingent, devotes its booth to the underrated Sam Gilliam, whose psychedelic abstract paintings are in the Brooklyn Museum's current exhibition on art and black liberation movements of the 1960s.
Barbara Seiler Galerie has a brilliant installation from the LA artist Shana Lutker: she's replicated the seats of European theatres where André Breton and other surrealists fell into fistfights with their artistic opponents. Now the art world has far less time for idealistic pugilism; we're too busy networking.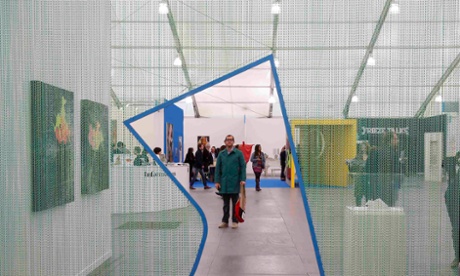 And what a pleasure to see, at London's Wilkinson Gallery stand, the American avant-garde firebrand Joan Jonas tearing up the fair with some of the boldest, freshest art anywhere in the tent – anywhere in New York City, actually. The video and performance artist, who will represent the United States at next year's Venice Biennale, is presenting works from the 1960s that used mirrored clothing in groundbreaking improvisations, plus an audacious calligraphic painting more confident that anything from artists a third of her age. Venice isn't enough. She should run for president.
Once again, galleries off the North Atlantic axis provide some of the most significant work. Sfeir-Semler Gallery, from Beirut, is showcasing two small but unmissable paintings by the Lebanese-American artist Etel Adnan, who at 89 years old is finally winning the attention she merits for her exquisitely balanced parti-coloured compositions. Stevenson Gallery, a Cape Town space with a consistently incisive programme, has given its booth over to the protean Dutch photographer Viviane Sassen, whose work swings between documentary scenes of Senegal and Uganda and near-abstract shadow plays. In the Namibian desert, Sassen positioned mirrors and coloured Perspex above the fine red sand; each image shows a single moment, though the series as a whole hovers in a realm beyond representation.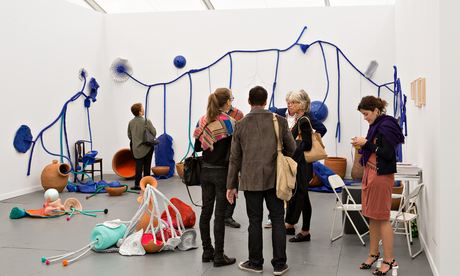 There's also a good showing from Brazil, the flavour of the month in New York thanks to the forthcoming World Cup and MoMA's massive Lygia Clark retrospective. The gallery A Gentil Carioca has come from Rio with seductive, labour-intensive sculptures by Maria Nepomuceno that feature thousands of coloured beads, while the young São Paulo space Galeria Jaqueline Martins is showing historical photos from Regina Vater, a pioneer of Brazilian art far too little known outside Latin America. One series of self-portraits, in which Vater dresses up as various female archetypes, dates from 1975 – years before Cindy Sherman did the same.
It can get to be too much. Frieze New York still has a higher hit rate than any fair in this city, but art fairs are always hard work: there's too much to see, and to do it you have to weave past many collectors with a profound sense of entitlement. But relief is at hand from the artist Allen Ruppersberg, hero of the Los Angeles avant-garde, who created a fully functioning hotel in 1971 that's been restaged here as part of Frieze's noncommercial programme. There's a relaxing lobby, a bar, and two rooms you can stay in, one of which features a massive crucifix propped up by a volume of Proust. Rooms start at $350 a night, including dinner and breakfast. Pricey, I know, but think of it this way: if you leave the next morning having spent less than four Benjamins, you dropped less money than almost every other collector here.
• Movers and makers: the most powerful people in the art world