Architecture and theatre are not easy in each other's company. Theatre involves illusion, fakery and artifice, and would rather have something painted to look like marble than the actual mineral. It is a thing of night and manmade lighting, and is whorish in its imagery and styles. Architecture, at least for the past century or so, has liked the idea of honesty, that what you see is what you get, that God's own daylight should reveal that a stone is a stone is a stone. Their occupation of space and time is rivalrous. In theatre, the space of the stage in the moment of performance is everything, and the rest, including the permanent building designed by an architect, is its adjunct, a very big prop or an extension of stage machinery. Architects like to think that they are more important than that, that they work for eternity or at least posterity.
This would be why the architects most successful at designing theatres are not always the ones most admired by their fellow professionals. Architectural histories of the turn of the 19th century will tell you about the ideals of the arts and crafts, and rare, perfectly wrought houses in the Lake District or home counties, but are silent on the prodigious Frank Matcham, who gave many British cities at least one music hall or theatre in bastardised papier-mache baroque – bubbles of fantasy such as the Blackpool Grand, the Buxton Opera House and the London Coliseum, often realised at phenomenal speed. More recently there has been the practice RHWL which, though not as glorious as Matcham, has still produced some un-groundbreaking theatres with which its clients are apparently happy.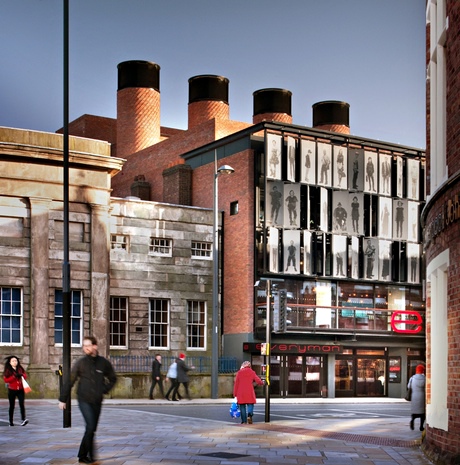 Graham Haworth and Steve Tompkins are exceptions. They are critically esteemed, award-winning architects who produce a stream of venues that impress the theatre world enough for it to keep asking for more. Their distinguishing feature, apart from paying attention to what theatre people tell them, is a particular idea of time. Ever since they revamped the Royal Court in 2000, elaborately remaking the patina-drenched auditorium as something like the space it had been before, they have gone out of their way to find traces and atmospheres of the past and centre their spaces on them. They have also worked with the temporary, with short-lived spaces for the Almeida at the Gainsborough Studios and in King's Cross, and the still extant Shed outside the National Theatre. What they don't do are shiny new buildings that proclaim the time of their making and are then supposed to last for ever.
The £28m Liverpool Everyman is, in fact, their first completely new theatre building, and it looks like a remodelling of an old one. Its multiple materials are textured and ready-aged, and by manifesting their processes of making bring with them some history: concrete, old bricks recycled and new ones glazed a treacly black, laboratory worktops made into bar counters, cork, stained plywood, copper-faced light fittings, black steel, leather and wooden shutters used for forming concrete, reused as sliding screens. There are the painted textures of a red ceiling painting by the artist Antoni Malinowski. This insistent aesthetic of tactility, this micro-brutalism, takes the place of swags and rocaille in Matcham, and gilt and plush, as an invented architectural language that somehow tells you that you are in somewhere theatrical.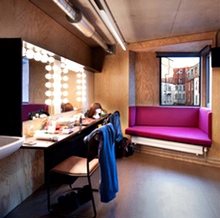 The new Everyman replaces a previous theatre on this site, a converted 19th-century chapel with a clunky 1970s addition. Though not entirely practical, from 1964 onwards it served well as the stamping ground of Roger McGough and the Liverpool poets, and the playwright Willy Russell, and had what the artistic director Gemma Bodinetz calls "a democratic and renegade spirit". Now Haworth Tompkins, adapting the ain't-broke-don't-fix-it approach it used at the Royal Court, has created a 400-seat auditorium with a 10-metre-by-10-metre thrust stage quite like the old one, although adaptable to different formats, with added galleries for the audience and better technical support. The large stage, surrounded with relatively narrow strips of seating, creates an unusual balance between players and audience, with the former given licence to roam in luxurious open spaces. At the same time the audience are tight against the perimeter, as in a boxing ring, for which reason Jonathan Pryce said that the previous version was the scariest stage he knew.
In similar spirit they have made a version of the basement bistro which was a famous part of the old theatre, and erected a version of its long horizontal 1970s sign. A theatrical space that works, with the help of accidents of time, is a rare enough treasure, and Haworth Tompkins's attitude is to keep or recreate where it can. A sense of time in theatres also gives an authority that the shiny new struggles to achieve – the over-present signs of just finished architecture can be intrusive, like white noise or crackling sweet wrappers.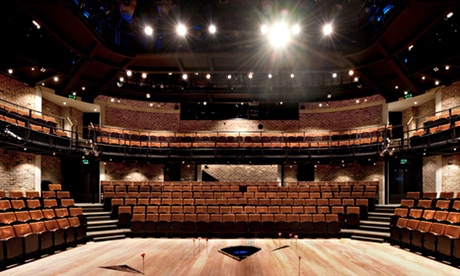 One trope of theatrical architecture that Haworth Tompkins omit is that of circulation as spectacle, the sweeping staircases that go back to Charles Garnier's Paris Opera. Entry and ascent is a simple affair, with long, low-ish foyers linked with straightforward stairs. At one point a vertical shaft appears above your head, giving glimpses of the administrative spaces on upper floors, but it's a curiosity into which you peer, rather than a spatial drama that you enter. On the other hand the architects offer a downscaled version of Denys Lasdun's idea, enacted at the National Theatre, of the audience as performers. Broadside on to the street, the foyers form part of a series of inhabited layers that take you from city to stage, in which theatre-goers and passers-by can see and be seen.
The idea that everyone's a player is reinforced by the building's facade, on which 105 images of Liverpudlians, based on portraits by the Liverpool photographer Dan Kenyon, are lined up in rows. They occupy positions much like saints on a cathedral front, or mythological figures on a temple tympanum, but are presumably the everymen of the theatre's name. The images are formed with holes cut in thick aluminium panels which also function as shutters and therefore end up at various angles. In these ways the figures are half absorbed into the architecture. It's a reportedly successful way to engage the people of the city, but it doesn't quite do enough to escape an aura of do-goodery.
The Everyman is a thoughtful and well-crafted way of making space for theatre in which the play comes first, but the architecture also has qualities and integrity. The worst thing you can say about it, but also one of the best, is that it is pleasant. It's not radical. The rackety atmosphere recalled by veterans of the former theatre and bistro has gone a bit gastropub. It doesn't reconceive the idea of performance or bring out its strangenesses. But it imparts an exceptional sense of wellbeing that runs from the public areas through the auditorium to back-of-house spaces of unusual quality. This wellbeing gives a kind of dignity and self-awareness, which is a good starting point for putting on a show.