Up until now it has been something of a secret space known only to the National Gallery's most dedicated visitors – and the odd Time Lord.
But this week the refurbished Gallery A, a little-known museum within a museum, will open at the National Gallery.
Installed beneath the existing galleries and offering a new eye on the nation's collection of European paintings, this permanent display of 218 pictures by artists from Botticelli to Rosa Bonheur tells the entire story of 400 years of painting, in one elegant space.
The Guardian had an exclusive first look at what is a major addition to London's artistic treasuries.
A staircase leads down from the museum's crowded main galleries to a doorway opening into the totally unexpected Gallery A. Fans of Doctor Who may think they've found the "Under-Gallery", a secret subterranean annexe of the National Gallery that featured in the show's recent 50th anniversary special, The Day of the Doctor.
Until now the only access had come every Wednesday afternoon, when a barrier would be removed to give public access to this cluttered, underlit store of paintings that didn't make it in to the main displays.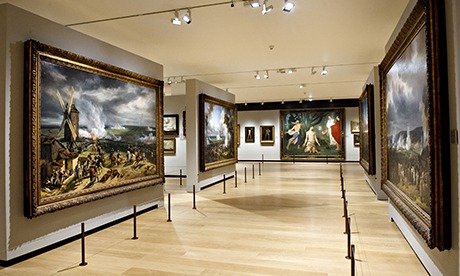 Unlike other London museums that store hundreds of works off-site, the National Gallery keeps its entire collection in its Trafalgar Square building and tries to offer the maximum possible access. But in practice this had not been working. Only researchers could really get much out of the old, obscure Gallery A. You had to know what you were looking for, or at least have the knowedge to make some sense of the dim aisles.
Now, a two-year refurbishment has transformed a dowdy labyrinth with state-of-the-art lighting, subtle wall colouring and a clever choice of paintings. This new take on the museum's collection is a wonder. The pictures that go on permanent view here this week as part of the free displays will be unfamiliar to most people although they are all in the gallery's permanent collection, and the majority have been since the Victorian age.
Some are considered to be "studio" creations, in which a famous artist let his apprentices do most of the work – such as the beautiful Botticellis that fill a wall. Others are perhaps a bit clumsily restored or were never quite up the master's best, or are painted sketches or copies. Some are by artists who are just not famous any more, such as the intense, chaotic oils of the 19th-century painter Adolphe Monticelli. In his lifetime this artist of nature was acclaimed as a visionary. He was revered by Vincent van Gogh, who thought he was imitating Monticelli when he painted the Sunflowers. Monticelli's strange daubs can now be compared with the Van Goghs upstairs.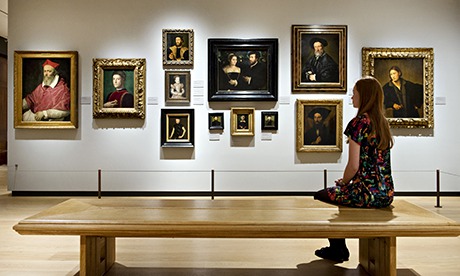 Here the also-rans get their place in the sun, or at least in a superbly lit downstairs space. Henri Fantin-Latour is forgotten compared with his friend Manet but his pink-tinged flower paintings are ravishing. It's fascinating to be able to contemplate the beach paintings of Eugene Boudin who met the teenage Monet and suggested he try painting landscapes instead of the caricatures he'd done to that point.
Not every artist here is a neglected one. Luca Giordano is one of the geniuses of the Baroque age and here you can see the painted designs for some of his most famous frescoes in Florence. A grand vista down the middle of the gallery leads from the brilliant Renaissance painter Luca Signorelli to the eerie fin-de-siècle classicist Puvis de Chavannes.
It is a place to wander, discover and learn. The entire time span of the National Gallery, from the middle ages to the dawn of the avant garde in France, is covered in one big room where you can flit from a Dutch still life to a sensual scene of nymphs and shepherds to Jozef Israëls' moving 1861 scene of death and mourning, Fishermen Carrying a Drowned Man.
Gallery A is open from this week all day on Wednesdays, and on the first Sunday of every month. If it's popular those hours may be extended. It deserves to be crowded, though hopefully not so much that it loses its magic sense of discovery. It's not every day you find a new museum hidden at the heart of one of London's best-loved galleries.
• This article was amended on 11 June 2014 because the original said Gallery A was open on Sundays. It is open on the first Sunday of every month.