"In Small Universe, we see a whole story based on the life of a geranium, a city ordered from a catalogue, a woman who stuffs a Paris catwalk's world of clothing into her tiny council apartment," writes Erik Kessels, the Dutch artist, photography collector and prankster, of his group show at Rencontres d'Arles. Looking at how photographers from his small country tend to "obsessively zoom in on all the little details that make up their small universe", it makes for a consistently oddball exhibition.
Melanie Bonajo photographs herself every time she cries, Hans de Vries records in handwritten notes and photographs "The History of the Lemon Geranium". Hans van der Meer shows the homogenisation of small cities in the Netherlands where all the street furniture – benches, lights, bins and barriers – are ordered from catalogues. It is Ikea on a grand – and slightly depressing – municipal scale.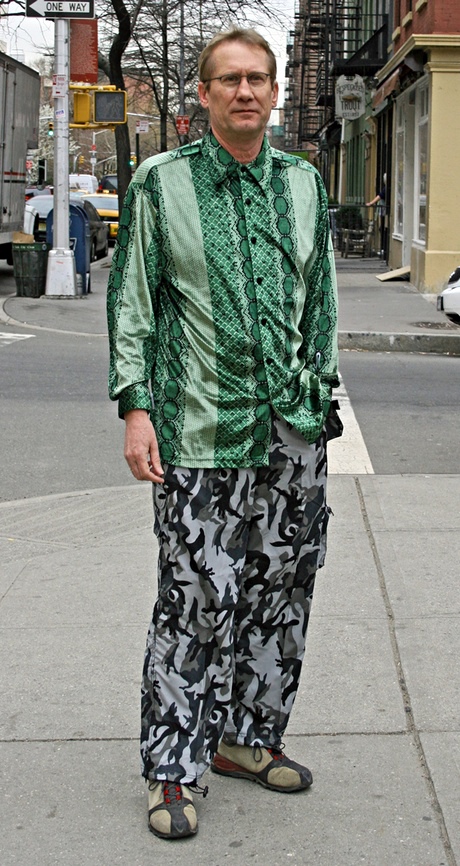 Most mischievous of all though is the work of Hans Eijkelboom, a conceptual artist who, like Thomas Maielaender, makes work that is both provocative and hilariously funny. For a project called In de Krant (Being in the Newspaper), he managed to position himself in the background of every photograph accompanying the main news story in his local newspaper for 10 consecutive days in 1973. He's there, wearing the same quizzical expression, at demonstrations, supermarket openings and prize-givings. For another series, With My Family, he rang on the doorbell of various houses after the husbands had just gone to work and managed to somehow convince the wives to let him pose in a family portrait in place of the dad. Seen together, the photos are strangely convincing, not least because he seems to fit right in every time – wearing clothes similar to the women's and often balancing a happy-looking child on his knee. Somewhere in here is a critique of the nuclear family and collective identity, but mostly it's just funny.
Strangest and funniest of all, is the series Identity, in which Eijkelboom's assistant contacted various people that the artist had known 10 years before, asking them what they remembered most about him and what they thought his occupation might now be. Alongside the often expansive and hilariously uncomplimentary answers – "Going by what I remember about him, I don't think he has become anything special" – Eijkelboom poses in the clothes of the profession attributed to him. In one, he is a somewhat unlikely-looking businessman sitting behind a desk; in another, a forester in the traditional costume of plus-fours and gamekeeper's feathered hat. One woman confesses to having "been in love with him for years". Another man calls him "a real blackguard always willing to finish the discussion elsewhere – with his fists".
Eijkelboom's projects all centre on the tricky notion of identity, individual and collective, and, for all his mischief and deadpan role-playing, they throw up interesting insights into his fellow Netherlanders. For a more recent series, he made a series of self-portraits in which he is wearing various entire outfits bought for €10 or less. They range from the drab – pinstripe trousers, grey-striped polo shirt, pale cream sandals - to the plain weird: a swirly-patterned shirt made from green nylon and camouflage trousers. He emerges here as a kind of European everyman, and, as such, looks depressingly familiar. The series could be a critique of Europe in the age of austerity, or a wry look at the increasing homogenisation of high-street budget labels. Either way, it's another example of Eijkelboom's deadpan, thought-provoking take on identity and, like all his work, makes you think and smile simultaneously.
• Small Universe is at Atelier de Chaudronnerie, Arles, until 21 September. Details: Rencontres d'Arles