Jeffrey Smart's boyhood ambition in Adelaide was to be an architect, and the career he actually had as a painter showed why. He was fascinated with what is now called the built environment and painted it in all its manifestations with a degree of precision perfected, most likely, when he submitted himself to Fernand Léger's teaching in Paris in 1949.
Smart, who has died aged 91, reached the peak of his popularity in Australia in the 1990s. He sustained this success both there and in Italy, where he had lived since 1963. It was Mussolini's Italy that introduced motorways to Europe – fantastically beautiful structures curving through the mountains – and the Italians have always embraced the paraphernalia of road transport: the massive trucks, the trans-Europe coaches, the dramatic arrows warning of unexpected bends. Smart went along gladly with all this.
Faced with the suggestion that his figures expressed the alienation of modern urban man, he would say that he introduced the human figure into his work only to give an idea of the scale of the buildings. This makes sense, but there is an element of mischief-making too. In his Portrait of Clive James (1991-92), for instance, the foreground, two-thirds of the canvas, is taken up by a corrugated iron barrier blocking off a building site. Across the top of this is a concrete wall, and poking above this again is the round bald pate and top part of the torso of James. None of Smart's human figures seems at all subdued by massed concrete blocks of flats and offices and the severe caverns of multi-lane highways passing through cities, and the irrepressible James least of all.
Alfred Hitchcock-like, Smart introduces what appear to be self-portraits, too, into offhand situations: as a traveller hurrying between two enormous coaches, or perched at the rear of a luxury cruise liner, or standing on a street corner, but whatever the layers of jokiness or meaning, it is clear that the formal properties of composition and colour come foremost.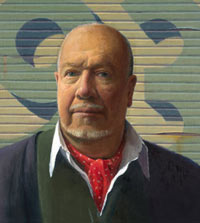 There is a painting called The Conversation that turns out to show not a leisured soiree, but drivers standing chatting in a truck park; and the painting is actually about the brilliant red of the gigantic truck behind them. Smart loved the primary hues of piled oil drums, of a bright-yellow truck disappearing over the grey brow of a motorway against a turbulent grey sky, and his Portrait of Germaine Greer (1984) shows her cool in cream and blue sitting on a bistro chair against an abraded cream-washed wall of what seems to be a sports stadium with big doors either side of her, one painted scarlet, the other lemon yellow.
Smart was born in Adelaide. He never lost the love of drawing he showed as a young boy, but when his father's real-estate business went bust during the 1930s depression Jeffrey was unable to study architecture at university so trained instead as an art teacher.
In 1946 he painted a picture called, with subdued irony, Holiday Resort. It showed a ragged moon in a ragged sky above a ragged pine by a rickety bandstand with a few stones in a barren foreground and an abandoned pram. It is a clear take on Paul Nash, and Kapunda Mines of the same year is like a gutsier John Piper painting. But Smart was not to be long in finding his own feet.
His last painting, it is said, before leaving Australia finally for Europe, is of the Cahill Expressway in Sydney (1962), and it shows a figure (another self-portrait?) at the entrance to an underpass. A road sweeps upwards past an old house and a new block of flats to a horizon edged by big concrete street lights. It is the fully articulated Cahill vocabulary in place for his life in Europe.
Smart's painting of the Black Forest (with autobahn) sold for more than A$1m in 2011. That year he received an honorary doctorate from the University of South Australia.
His partner for the past 30 years was Ermes de Zan, also an artist, who survives him.
• Frank Jeffrey Edson Smart, artist, born 26 July 1921; died 20 June 2013