In Edinburgh, Peter Doig's imminent exhibition at the Scottish National Gallery is being billed as a kind of homecoming. They even have a "Doig menu" available at the gallery restaurant. Given that he was born in the city, but left when he was two, and that his art has always been informed by his inveterate desire to keep moving from place to place – he currently lives in Trinidad, following two long stints in London separated by a spell in Canada – it must feel odd to suddenly find himself referred to as a Scottish artist.
"It does a bit," he says, grinning. "When I was growing up, I never felt that I belonged anywhere because we never lived in a house for more than three months. That's all I knew and that's why I don't really belong anywhere. Then again, I do feel Scottish in some way. Maybe it's to do with visiting my grandparents here every summer as a child, but I am aware of my Scottish ancestry. It's there all right, but it would be pushing it to label me a Scottish painter. Or, indeed, an anywhere painter."
Yet a sense of place is one of the key determinants of Doig's art. Since his move from London to Trinidad in 2002, his paintings have become richer in hue and even more vivid in their evocation of atmosphere and memory, both his own personal memory and that of the artists his work calls to mind, from Cézanne and Daumier to the German expressionists of the 1920s. In one of the smaller rooms, a recent big work, entitled Paragrand, features three silhouetted figures playing cricket, each one receding more into a vivid, indeterminate backdrop where sand, sea and foliage merge into one. It seems to vibrate with intensity even from a distance, a huge, flat swath of shimmering orange at the centre, altering all the other colours around it.
If Doig's paintings have always been far-out in their hallucinatory charge, the most recent ones are even further out: things observed in the real world are transformed by the act of painting into something approaching dreamscapes. In the exhibition catalogue, Stéphan Aquin describes Doig as a painter of "elsewhere" and if the artist has an abiding subject, that is surely it: the porous hinterland between the real and the heightened, between acute observation and deep, transformative imagination.
"Yes, I guess that has always been the case," he says, nodding thoughtfully. "It may, in fact, be the object of the exercise; to paint elsewhere in every sense of the world. It's still an escape for me, painting, so it also takes me elsewhere. I don't think I would do it otherwise."
It is an escape that has pitched him into the big league when it comes to the art market. One of his signature works, White Canoe, briefly held the record price for a painting sold in auction by a living European artist, when it fetched £5.73m in 2007. He had sold it 10 years earlier for £1,000. "I still have the receipt somewhere," he says, smiling ruefully and shaking his head. "It was shocking to me when it happened, and it still feels like it had nothing to do with me. I feel very separate from that world. I used to know every single person I sold a painting to, but now I have no idea who buys them. It's a little odd if you think about it."
Tanned, healthy looking and affable, Doig, 54, is relaxing company, but one senses a restless energy beneath the calm. He speaks quickly and quietly, his accent now unplaceable, but is reticent when it comes to any subject other than painting. After wandering through the gallery looking at the works that have already been hung, we are sitting in a high-ceilinged room among huge wooden packing crates and recently unloaded canvases, some of which are propped against the walls. He tells me cheerfully that three of the newest works have not arrived yet, as they were only finished a few days ago. "I would never finish a painting if I didn't have a deadline," he adds, laughing, and you can sense that the curators have been in a bit of a fret about the possibility of an empty wall or two.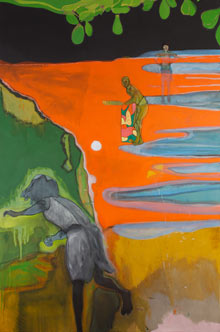 The show's apposite title, No Foreign Lands, comes from another itinerant Scot, Robert Louis Stevenson, who in his book The Silverado Squatters observed that "there are no foreign lands. It is the traveller only who is foreign." It is a quote that sums up Doig's attitude to place, which, whether Montreal or Port of Spain, seeps dream-like into his paintings. Following on from the Tate's big retrospective in 2008, the curator of the Edinburgh show, Keith Hartley, has wisely chosen to focus on the last 10 years of Doig's work, beginning with a few paintings that the artist began while still living in Clerkenwell, London, and then finished during his first few years in Port of Spain, capital of Trinidad and Tobago. "They are in-between paintings in a way," says Doig "and, in a way, they echo what happened when I first went to Montreal. I immediately started making London paintings. It's as if memories suddenly spring up from the place I have just left and I have to work through them to get to that elsewhere."
Doig moved to Trinidad in 2002 with his wife and five children – four daughters and a son – having become intoxicated by the energy of Port of Spain while on an artist's residency there with fellow painter Chris Ofili. In 2005, Ofili moved there too, and the pair seem to be the nexus of a burgeoning art community that has grown up around Doig's film club, which convenes in a large room next to his studio every Thursday night to watch and discuss arthouse movies over cold beers. When he isn't painting, Doig thrives on company and pours his energy into kayaking, cycling and racketball. In the 1980s, in London, he played ice hockey for the Romford Raiders, so there is obviously a competitive streak lurking beneath that easygoing exterior.
Like his Sri Lankan-born father before him, he has led a peripatetic life and seems to thrive on it. Doig senior worked as a shipping clerk, but was a keen painter of mainly abstract landscapes in his spare time. His son seemed set to follow in his footsteps when he started painting, aged 17, to counter the sense of dislocation he felt while working as a labourer on a gas drilling rig in the vast flatness of the Canadian prairies. It was there, too, that he first had the notion that he might go to art school in London, a place he was drawn to more because of the punk songs he was listening to than any artistic ambition. He duly did a foundation course at Wimbledon college, before being accepted by St Martin's, and, for a few formative years in the early 1980s, he lived the bohemian life of the struggling young artist in a flat in King's Cross.
"It was quite a mad, rough place back then, full of oddballs and artists. Shane MacGowan lived just around the corner. I became friends with Jem (Finer) so I used to go to gigs by the Pogues and they would come to my shows. There was a bit of a scene there and just down the road in Warren Street, Boy George and the Body Map fashion designers were all living in squats. It was a different city, then, you could easily find cheap places to live and studios to work in," he says, echoing a sentiment also expressed to me recently by another artist, Gary Hume. "We took all those things for granted and now they are gone. It does feel like you really have to be wealthy in London now to have that kind of freedom. It's a shame. I think young artists need the time and space to waste time until they find a voice."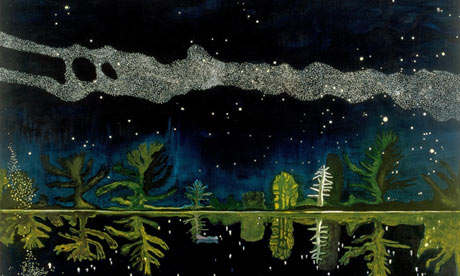 Doig says that he "found his voice at St Martin's" even though he was initially "quite intimidated by the people there and their work and the general air of cool that hung over the place." In his first year, he spent a lot of time and energy painting "urban narratives that I made without caring if I painted in gloss or oil or spray paint if I needed to. I was anti-painting in a way. It was an attitude that I can see now was less about making paintings and more about making images." Despite this, St Martin's was the first place where people started responding positively to his work and he remembers "this sudden feeling of excitement that meant I didn't even want to miss a day or slow down".
After graduating, he returned to Canada, living in Montreal, "suddenly adrift from the support system in London", yet obsessively drawn to making London paintings. "I remember working for ages on a painting of a man walking down the street with a pig underneath his arm. That was definitely a King's Cross painting," he laughs, "It even looked like a Pogues song." Chastened, he returned to London and enrolled, aged 31, as a mature student on an MA course at Chelsea School of Art. There, he entered a milieu in which painting was still the thing, but, by then, the British art world had changed utterly and the era of the Young British Artists and grandstanding conceptualism had made London the art capital of the world. "I was older than the YBA generation, who were emerging and I didn't share their attitude, because I had already worked through all that at St Martin's."
He still remembers the sniffy reception his new painterly paintings received from other artists when they were first exhibited. "I was somehow selected for the Barclays young artist award at the Serpentine gallery in 1991, which was made up of the most promising artists from the London MA shows. That's when I realised I was out on a limb. My work looked very different to everything else on show and, not just that, but some of the artists did not want to show their work in the same space as me. They obviously thought my paintings were some sort of dreadful throwback or somehow not serious enough or absolute kitsch."
Lesser souls would have withered under this wave of contempt, but at Chelsea he had "watched and learned" and emerged with a newfound confidence that was self-liberating. "For the first time, I knew what I didn't want to be, which was a lyrical painter. I started exploring paint as material and that somehow freed my imagination." In his studio in London, he completed a series of "Canadian paintings" – ski slopes, back roads, cabins and houses half-obscured by trees or blizzards of pinky-white snow – that were the first real signal of his singular talent. He was looking, he says, for "an image that is not about a reality, but one that is somehow in between the actuality of the scene and something that is in your head".
He had found a style and, ever since, his paintings have been a robust reponse to the lingering question: why does painting still matter? Doig has answered it, as Keith Hartley notes, by "looking back and realising that there is a lot to be retrieved from the history of painting that can inform painting today. He has an extraordinary visual memory which coalesces with his personal memories when he paints. So, an incident that he witnessed can be transformed by the interaction of all these elements into a painting that possesses an extraordinary resonance."
In the past, that resonance has sometimes tended towards the hallucinatory, even the hallucinogenic. Doig has said that he took LSD as a teenager and a painting like the knowingly titled Blotter is charged with that heightened, fractured, but pinpoint-clear way of seeing that anyone who has taken the drug will immediately recognise. In 2003, the art critic and co-editor of Frieze magazine, Jennifer Higgie, wrote of his paintings. "Although they throb with the rich surfaces of the physical world, they make you think of things and states of mind that cannot be touched and rarely described." That is still the case, though in an altogether different way.
When he moved to Trinidad 11 years ago, Doig was all too aware of what he calls "the problem of exoticising the other". He grows thoughtful when I press him on this dilemma. "Well, a big part of my work is about what is permissible to paint. Not just in terms of painting tradition, but in terms of a world that you live in as an outsider, but don't fully understand. And that becomes a much bigger, trickier question when applied to the post-colonial world."
Many of the recent paintings he has made in Trinidad are embedded with clues about the vexed history of the place as well as the history of painting the exotic, from Gauguin to Picasso. A shimmering sense of otherness still characterises the work but that is often to do with the hallucinatory harshness of the Caribbean sunlight or the sudden equatorial onset of nightfall, which, he says, still sounding amazed, "drops like a black curtain on the place, altering the atmosphere".
His recent night paintings are sensual, mysterious and sometimes vaguely threatening. Faces take on the aspect of carnival masks or ghostlike figures emerge out of dark trees. Wraith-like figures stare – or, in one instance, glare menacingly – out of the paintings at the viewer as if interrupted during some clandestine undertaking. Often, there are several versions of the same scene, each one shifting in tone and suggestion: a glowering man he came upon "throttling a pelican" on a beach in Trinidad becomes a figure dragging a fishing net; a drunk French peasant, carrying a bottle in one hand and holding on to a lamppost with the other becomes, in a much bigger painting, a haloed figure resembling Van Gogh. I thought I saw Shane MacGowan in another version of the same scene, but Doig assured me the resemblance was "coincidental", and that it was actually "an amalgam of myself and a drunk on an old Parisian postcard".
Old postcards have become a fertile fund of source material for Doig alongside found photographs and latterly, collages and cut-outs. "I'm not a life painter. The silhouette is more and more important to me so I often cut out figures from postcards or photographs. I think if the silhouette is right, the painting is going in the right direction. If the figures are awkward in a wrong way, it's unconvincing, but if they are awkward in an interesting way, it somehow works."
That seems like a pretty good description of his later work: paintings that are awkward in an interesting way. "I think it's part of it, for sure. But there are all sorts of other things at work. I mean, it's a hard thing to do, painting. Especially finishing a painting. The years I have spent in my studio, days and days, and hours and hours. You get into some sort of state, for sure, a kind of altered state where your own memories and observations come up unedited. It's not logical. Its not intellectual. I think that's why I have no real memory of how I made them," he says, looking around at the paintings on the wall. "It's great seeing them again. It allows me to look at them and try to figure out how I got to that place. No matter how many times I do it, it really is a mystery to me."