Wolfgang Tillmans
Concorde Grid
When I embarked on making these pictures, I didn't ask BA or Heathrow airport for special access because it was important to me that I maintain a democratic perspective about this super exclusive airliner. I was more interested in how it functioned for thousands of people, who were surprised by its presence in the sky (and its roar) every day, who could project their personal ideas and dreams of a better future, of technology overcoming time and space on to it.
Knowing its timetable, I waited for Concorde at different spots under its London flight path and around Heathrow. As the plane was my focus, this strategy created a randomness in choice of location and the cityscapes I caught on the pictures. I got off wherever I guessed a public transport route might cross the flight path. Even though it is a work mainly about the sky and the super-future plane in it, Concorde became also a land- and cityscape project. One element, the plane, constitutes a historical constant in all pictures, while on the ground fragments of different times creep into the frame: a pebble-dashed house from the 50s or 60s, a post-modern 80s housing development, the British motorway signage, a Victorian brick railway bridge, a 90s Audi car. Of course, the 60s futuristic design always wins out. Also, pure landscapes emerged: the camera pressed against the perimeter fence of Heathrow only saw grassland with a distant bird lifting off.
I experienced great personal happiness when I worked on these photographs, and I was subtly aware that what I had with my late partner, the painter Jochen Klein, was a great "concord" – "an agreement of feelings", "a harmony in music" as Wikipedia defines the word. The plane was a co-development and production of two European countries, France and the UK. It's curious that today there is talk of less agreement in Europe, even of burying the idea completely. The beauty of Concorde, though flawed by its disastrous environmental record, is a reminder of what is possible, when two come together to make something bigger than what each alone could achieve.
I released Concorde in 1997 almost simultaneously as a wall-based grid of modest-sized prints in an edition of 10, as well as a book, which is currently in its sold-out fourth print run. The bookwork plays with sequencing interrupted and reversed time; the wall-based version of the work is an important transitional moment between abstraction and figuration in my practice. From 1998 I began to display non-figurative photographs, showing gradations of colour, as well as shapes that are somewhat reminiscent of reality, but which are purely created by light in the darkroom, without the use of a camera. I felt this was a natural development in my work, but instead it was initially seen as a rupture.
Landscape paintings and photographs, which involve the sky, and to some extent the sea, are always close to abstraction. They are a framing of the unframable, of an infinite expanse, infinite until it hits the horizon. When depicted without horizon, a cloudless sky or an evenly clouded sky is an abstraction of itself, a colourfield on canvas or paper, which the eye reads as "sky". It is also realistic and concrete, because that is what the sky looks like sometimes – pure solid colour or a gradation of colours. We assume it is the sky we are looking at, but it is actually only colour on paper. It is an abstraction grounded in the real world.
Julian Opie
There Are Hills in the Distance. 1996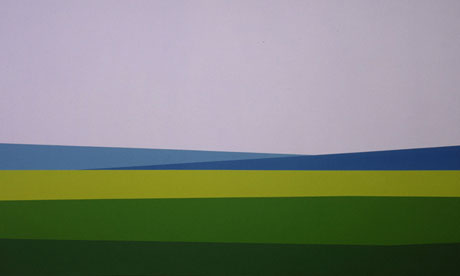 It is hard now to imagine a world where there were no moving images in public – where virtually no moving three-dimensional graphics existed anywhere other than hand-drawn animation movies at the cinema. If my work is "about" anything it is about looking: about my looking and about other people's looking, about how looking allows me to know the world and know I exist within it. Looking, engaging, drawing, using eyes and brain and learned experience.
Anything relating to this – anything that changes the rules or breaks the rules and reveals more – jumps out at me and captures my attention. A shadow silhouette, bright sunlight sparkling on water, a turning radar that appears to turn the wrong way – such things break the logic of looking and, in doing so, reveal the construct behind looking and behind perceived reality.
In the early 1990s I walked down Tottenham Court Road and was struck by the stacked computer screens in the shop windows. They all played screen savers, of which there were a limited supply. This was public moving imagery but not hand-drawn stories. Rather, these represented windows into another world, a world with similar logic and mapping to our own world, a similar sense of predictability and even boredom. The images were three dimensional and usually depicted a maze-like endless space. Space for its own sake, just because it was there within the logic and the mathematics of the computers.
I had been drawing in a way that echoed computer graphics and commercial design but now there seemed to be on offer a way of directly plunging into the construction of these spaces and images.
I bought computer games, early clunky low-resolution ones but three-dimensional spaces that one could enter and move around within, photograph. I would stand as Lara Croft and gaze across ruined temples and forested valleys forgetting what she was supposed to be finding and just looking at the constructed landscape. Brain and eye working over time sharing logic and triggering human reactions. I also bought flight simulation packages and flew over pixelated, endless landscapes defined by the low turning triangles of the hills in the distance.
In 1995 I was offered the house and studio of Alexander Calder in the Loire valley as a six-month residency. I rather fell in love with the landscape, the low rolling hills and valleys with richly coloured fields and dense, small forests. It was European and normal, very clear and visible to me. I cycled, mopeded, drove and walked endless quiet French A roads, forest tracks and open paths across the fields. The landscapes merged, one describing the other and slowly forming a singular language, digital and real. The three rich, yellowish bands of green, echoing the three main EEC crops, could define the turning horizontal plane while low blue distant hills, the dusty blue grey of the Loire valley, divided the flat plane from the vertical sky. No clouds were needed as the contrasting blue read clearly as open space.
There Are Hills in the Distance is a wall painting but really it is a space maker, a space-defining technique. Objects or people placed within this space can use the painting as a defining backdrop. As in the flight simulation program, an indication of land is required in order for the pilot to orient him/herself. Clearly the defining world need not be varied or detailed but familiar enough to your eye and brain to trigger the right responses and emotions.
Fiona Crisp
Norwegian Series #3 2007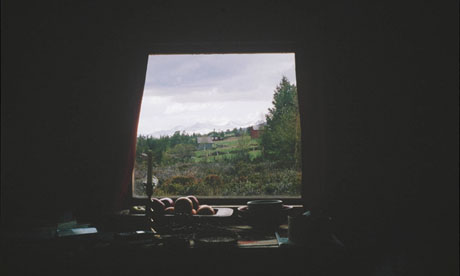 Norwegian Series #3 2007 is from a cycle of four photographic works taken from a rural house high in the mountains of central Norway in the summer of 1999. The image holds no clue as to the time of day it was made but there is a quality to the light – or more accurately, to the differentiation of the interior and exterior light – that is hard to place. All the photographs in the series were taken at different points duringin the night when, in addition to a lack of darkness at this latitude, there are subtle shifts in colour cast that slightly nudge your perception off kilter.
The absence of any interior illumination in the image (the house had no electricity) further confuses our reading of time as it is clear that the house is not deserted. Where there is habitation we expect that light will dispel darkness.
Like many of my works, the images in the Norwegian Series treat an interior space as though it were itself a camera. In this image the view of the landscape is both contained and framed by the aperture of the window, allowing the two oppositional worlds of interior and exterior space to be collapsed on to the same flat plane through the particular phenomenon of photography. I say "particular" because we often forget the obvious point that photographic representation and "seeing" are not the same thing… the human eye cannot focus on near and far objects simultaneously, nor cope with extreme differences of light levels.
It could be argued that all photography at some level trades in the reconfiguration of the real. My particular interest lies in the moment the discrepancy between perception (how we see/feel/sense) and it's photographic rendition become explicit. In this respect, Norwegian Series #3 is not a documentary photograph that records a specific place, space or time – i. Indeed, it seems to have closer allusions to painterly genres, with its interior echoing Dutch 17th-century still life (albeit including an early generation mobile phone) and the exterior 19th-century German romanticism.
The poet John Keats coined the term "negative Ccapability" when writing to his brother in 1817 to describe how being in uncertainty or doubt without any irritable reaching after fact and reason is prerequisite for creativity. In recent works I have borrowed Keats's term to investigate how states of doubt or uncertainty (in science as well as the arts) can be desirable or even necessary. In a similar vein, Norwegian Series #3 is for me about the construction of an "impossible" space where two mutually exclusive ideas or realms can coexist. Ultimately, this place is neither interior nor exterior, neither here nor there.
Tacita Dean
Disappearance at Sea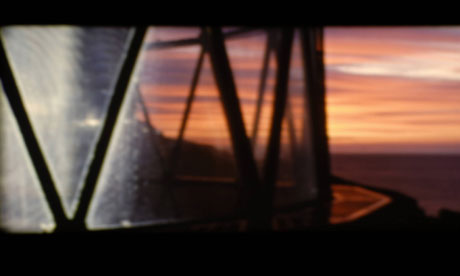 When I went to make the film in St Abb's Head in Scotland, I wanted to film a lighthouse, but only when I got there did I realise that it has no tower. The lighthouse was beneath me in the landscape, set into the cliff, which meant I could look into its eye at my own level.
I wasn't expecting to film the mechanism of the lighthouse at all – I was intending to film the light on the water.
The framing was quite clear. It was done by the prism of the lighthouse. I'm looking at the view refracted and upside down, so the landscape is upside down in that part of the film, and also through the beam of the light.
I've taken countless photographs of many landscapes in my time. I remember working with cameramen who spent hours putting foreground in, but I don't do that – I've just found views I like. I feel I'm a bit of a fraud because I just chanced on it through the reflection and the prism of the lens. It's intuitive.
Carol Rhodes
Airport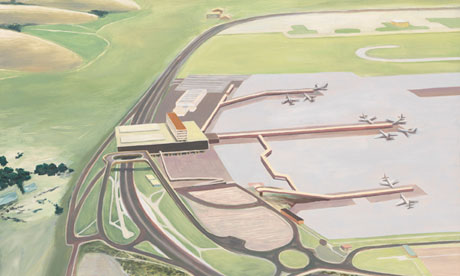 People sometimes talk about my work in terms of cropping – how I've chosen to frame the image. But, although I use photographs in the studio, I don't think it's appropriate to look at the work in ways derived from our experience of photography – cropping, depth of field, focus etc. It's not as if the view exists first, and then I choose it and give it a treatment. It's more that the reality depicted only comes into existence with the making of the painting.
I might use many photographs, combining different parts of them in a drawing, establishing the space, scale, colours, viewpoint etc. The final "location" is a fictional synthesis. I wouldn't see any point in transcribing a photograph. I don't see my work as being particularly about the relationship between photography and painting. The impetus is partly to create a mood, a temperature, a puzzle. Maybe that's what landscape painting has always managed – to be non-didactic and in some ways not in service to obvious ideology and function.
The places I find myself interested in are ones that service other places, like refineries, electricity generators, processing plants and waste areas. Generally they are hiddenareas, one way or another. The beginnings of a picture are usually visual – a reaction to things seen in the world; it could be how objects are spaced, or how dark something is. A pictorial "story" builds up; some objects will have different presence and associations than others.
There is no simple relationship between the imagery and the meaning of the painting. I recently spent a month in Bengal, where I grew up until I was a teenager. The early experience of India (its colours, density of detail), and then the estrangement from it, has informed my work in incalculable ways, and yet I've never wanted to depict India directly. It was very relevant to be working there recently (on a project with the Scottish Print Network), but t The visit wasn't about describing the immediate environment, even though there one lives in the midst of things, like reservoirs and factories – all features of a country that is at the same time post-industrial and still industrial.
Lisa Milroy
Picturing Skies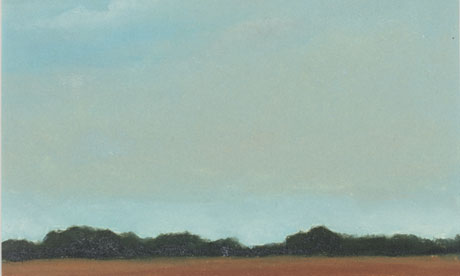 I always began my sky paintings and monoprints of the 1990s by drawing the horizon line centimetres, even millimetres, above the bottom of the canvas or paper. The format was always vertical. In those days I was taken up by exploring a quality of stillness within an experience of slow time, for which the motif of a quiet sky seemed perfect. Memories and recollections of skies – from my hometown Vancouver, from my travels, from films, photographs and paintings, historic and contemporary, including my own – were distilled into singular mental images that captured a feeling of longing.
For me, a view is predicated on an experience of space, and involves distance, the horizon and a composition. A view is made by my eyes and mind, and does not include me physically though it may rope me in mentally and emotionally, or shut me out. Views comprise "scenes" and "settings". A scene starts spreading from my feet and is immediate and material, tangible. Views can generate emotional energy, which, through an imaginative process, may be downloaded into a painting as atmosphere or mood. In a view-turned-into-painting, this emotional energy is catalysed by the horizon – an edge that is mysteriously there, but not there. A horizon by its nature suggests the unknown. The horizon is essential to any view, even when unseen or muffled.
Usually, I engage with a view first through its scenic component. I'll start from the ground and scan vertically. Tilting my head up to the sky, I lose sight of the horizon and the sky becomes an untethered expanse of blue or cloud. When the horizon disappears, the view with its social, cultural and personalised values, is replaced by the setting. Then I feel an exhilarating, physical sense of now. Bringing back my gaze to the horizon, the view re-emerges and triggers my mental awareness again.
My views of skies first turned into pictures when I looked at them through my camera, cropped by the viewfinder. This framing made me consider where a setting or scene stopped and a view began: what determined the borders or threshold of a view to the left and right, up and down, depth-wise? Questions such as this drew my attention to the edges of my canvas and their role in shaping a painting of a sky. The lines made by the canvas edges echo my painted horizon line but, in their concreteness, they confirm presence rather than indexing the unknown.