JMW Turner was a strange man who painted some very strange pictures. He was the low-born child prodigy who exhibited his first work at the Royal Academy at the age of 15 – a man whose talent could have opened society for him but whose obsession with art locked the world out. Unlike such soigné contemporaries as Thomas Lawrence, Turner was a man with few friends and a taciturn manner, who beetled about, his stumpy figure swathed in a grubby black dress-coat. He baffled those who knew him with his oddities and his secrecy about everything from his love life to his working methods, and he baffled them with his paintings too.
What Turner's contemporaries and succeeding generations admired were his big, finished paintings in the classical tradition and his luminous topographical watercolours. His late, ethereal works, those great swirls of cloud, water and light, were incomprehensible: these pictures – some of them unfinished – were seen as aberrations and the product of a genius turned wayward, or even a little mad. They are now, of course, regarded as among his greatest achievements, hailed as the precursor to impressionism and cited as evidence of his merit as a pure painter, forever pushing at the boundaries of art.
It has been a rapid volte face. The art grandee Kenneth Clark recalled seeing rolls of these canvases stacked in the cellars of the National Gallery in the 1940s, where they were thought to be old tarpaulins, and glimpsing a watercolour sheet patching a broken window. It was really only from the 1960s, with the influence of Jackson Pollock, Mark Rothko and the Abstract Expressionists in mind, that these works came to be appreciated for their painterly values rather than as subject pictures gone wrong.
It is a mark of Turner's importance that different ages can celebrate such contrasting aspects of his work, and this spring there are two exhibitions that give a chance to compare the viewpoints, ancient and modern: Turner Inspired: In the Light of Claude at the National Gallery and Turner and the Elements at the Turner Contemporary, Margate. His output was simply too vast for there ever to be a comprehensive overview of his career – he painted more than 500 oils and his bequest to the nation alone comprises some 30,000 watercolours and sketches – but these shows highlight two ever-present themes in his art.
In the middle of Ernest Hemingway's A Farewell to Arms, the novel's lovers, Frederic Henry and Catherine Barkley, are in the middle of a bout of billing and cooing when Frederic declares: "Oh, darling, I want you so much I want to be you too." It is a sentiment that, without the amorousness but with the besottedness, Turner would have recognised with regard to Claude. Such were the emotions the great 17th-century landscapist stirred in Turner's heart that, according to a witness, on first seeing his Seaport with the Embarkation of the Queen of Sheba: "Turner was awkward, agitated and burst into tears."
Throughout his career Turner would turn to Claude, sometimes in the spirit of emulation, at others in competition and pastiche. Sometimes, too, for financial reasons: since Claudes were so collectable there would be a premium if he painted similar pictures. For Turner it was less a relationship than a correspondence. There were many reasons for Turner's self-identification, not least similarities of circumstance and disposition. While Claude started life as a pastry cook, Turner was the son of a Covent Garden barber and a butcher's daughter. Claude was an orphan at 12, while Turner's mother went mad. As artists, both men struggled with the human figure and both were driven by the desire to give landscape painting the same power to move and elevate as history paintings.
Even though Claude came from the Duchy of Lorraine and painted the Roman countryside, he was a very British artist. By 1820 more than half his 300 paintings were in British collections, brought home as prized souvenirs by Grand Touring milordi. His pictures could be seen in three dimensions, too, in the landscape gardens of William Kent and Capability Brown. He brought out the purple poet in the Londoner Turner, who relished his paintings' "amber-coloured ether, the mid-day ethereal vault and fleecy skies, resplendent valleys, campagnas rich with all the cheerful blush of fertilisation, trees possessing every hue and tone of summer's evident heat, rich, harmonious, true and clear".
Claude's pictures also suggested to him a new way of painting his native land. By adopting his predecessor's themes – pastoral views, river scenes framed by trees, seaports – and a judicious use of close observation, Turner could fuse the continental landscape tradition with the British countryside.
From 1791 Turner took annual sketching tours that revealed the unexpected beauties of regions from the West Country to Wales, the Lake District, Scotland and Yorkshire. The sketches he made of the river Tamar and the Thames at Richmond, of Plymouth docks and Linlithgow Palace, he turned into idylls, matching the particularity of place with Claudean idealising. A clump of framing foreground trees, a loop of water in the middle distance, a cluster of buildings or a group of locals, a pale horizon, all knitted with sun-infused colour, and at a stroke he raised the scenes from the merely topographical to the universal. He admired Claude's ability to "select, combine and concentrate that which is beautiful in nature and admirable in art", and this is what he set out to do himself.
Turner was painting Claudean pictures before he ever visited Italy. Crossing the Brook, which caused a stir at the Summer Exhibition of 1815, showed a transubstantiated slice of Devon, while Dido Building Carthage of the same year was pure homage, a direct tribute to Claude's Seaport with the Embarkation of the Queen of Sheba (1648). It wasn't until 1802 and a brief respite in the Napoleonic wars that Turner first travelled abroad, and not until 1819 that he finally made it to Italy. He was initially disappointed, having to wait until Ancona before he could recognise "the first bit of Claude" in the landscape.
The big paintings that resulted from this trip and from a second visit in 1828 showed both a heightened colour and an increasingly poetic mood. Rome from the Vatican and Modern Rome, Campo Vaccino (which in 2010 became the most expensive Turner sold at auction when it fetched $45 million) were Claudean in both composition and theme, but still not to everyone's taste. The Italians who saw such works in situ were contemptuous, and an early biographer reported that while Turner was in Rome "an English tradesman was living there, who made a great to do, and sold English mustard; and when his namesake [Turner] came and exposed his wares, the Romans, who are a peculiar class of jokers, proclaimed that one sold mustard, and the other painted it". One critic declared simply of the Roman pictures: "Cacatum non est pictum" – they were crapped not painted.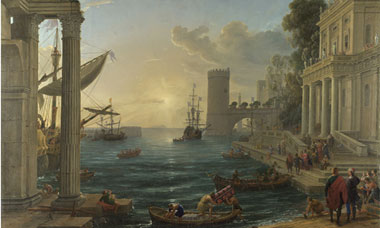 Turner never lost his Frederic Henryish urge, and Claude continued to pop up in his art wherever he found himself – Venice, Le Havre or even Cowes. Look carefully at the bottom of Rain, Steam and Speed (1844), his defining image of the railway age, and there is a group of ghostly Claudean bathers at the river's edge beneath the locomotive. Nor was Turner content to be known as "the English Claude" just in his own lifetime; he wanted the identification for posterity too. The terms of his bequest to the nation stipulated that two of his paintings, Dido Building Carthage and Sun Rising Through Vapour, should hang alongside Claude's Landscape with the Marriage of Isaac and Rebecca and Seaport with the Embarkation of the Queen of Sheba. The two artists have been yoked together in the National Gallery ever since.
If Claude represented the elegiac and calm side to Turner's art, his treatment of the elements represented its frequent turbulence. Throughout his career he was always a painter of the insubstantial: pick any decade of his maturity and you see land treated as if it were air and air as if it were water. He was never a painter of line but always one of mass, tone and light, and the four elements were interchangeable.
As Turner aged he believed more and more that "every look at nature is a refinement upon art", and so with every look he had to keep up. This perhaps lay behind his technical experimentation and near manic image-making. He filled sheet after sheet with subtly graded bands of watercolour, the rudiments of shore, sea and sky; where traditional practice demanded that oil paintings be built up from dark to light, he painted on light grounds to achieve a greater sense of translucence; he experimented with different-shaped canvases to capture the vortex that was characteristic of his way of seeing nature oblivious to the presence of man.
He envisioned things in natural phenomena that others didn't: he could sketch a storm on the back of an envelope while standing in the doorway of Farnley Hall in Yorkshire and turn it into the maelstrom of Snow Storm: Hannibal and his Army Crossing the Alps (1812) and distil a dozen British sunsets into the apocalyptic Angel Standing in the Sun (1846). When the Houses of Parliament caught fire in 1834, Turner hired a boat from which to sketch the scene like some 19th-century Magnum photographer, but the rapid watercolours he dashed down show an almost pyromaniacal delight in the chaos of the conflagration. It was for him the ultimate moment of transformation – solid matter burnt to atoms, discharged into the air and reflected in the waters of the Thames.
The essayist William Hazlitt dismissed Turner's experiments with atmospheric effects as "pictures of nothing, and very like". They may indeed be paintings of the immaterial, but they are also evidence of Turner's search for the numinous. They are the proof of his adherence to a religion of his own, expressed for the first and last time on his deathbed: "The Sun is God."