In 2003, his swollen, hazy, sodium-coloured sun brooded over the vast volume of the Turbine Hall at Tate Modern. It was an artwork that fired the imaginations of 2 million visitors who played with, were provoked by and plunged themselves into the curious atmosphere of The Weather Project, with its swirling mist and gigantic mirrors that covered the hall's ceiling.
Olafur Eliasson's new work, he hopes, will also draw on a community's desire to harness art for themselves, but this time he is working with an overt social purpose. His latest project, conceived as part of the London 2012 festival, is a solar-powered lamp that he and his engineer partner, Frederik Ottesen, have designed and developed. Plans are already in motion for the lamp to be widely distributed in the developing world, in partnership with NGOs including Plan International.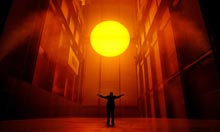 For the one in five of the world's population who live off the electricity grid, Eliasson hopes that it will change lives, allowing people to read, work and interact at a fraction of the cost, over time, of using kerosene lamps.
Little Sun, as the lamp is called, has risen out of the ashes of Eliasson's Cultural Olympiad project, Take a Deep Breath, which the Olympic Lottery Distributor (OLD) declined to fund after details of the proposal were leaked to a newspaper. The project would have asked participants to inhale and exhale on behalf of a cause or idea, and then capture the thought on a "breath bubble" on a website. The "negative publicity" showed that the work was "contentious", found the OLD's board, according to its March 2012 minutes, and they "struggled to justify the £1m sought".
Explaining why he had developed a social project, the Berlin-based Danish artist said: "Art is always interested in society in all kinds of abstract ways, though this has a very explicit social component. The art world sometimes lives in a closed-off world of art institutions, but I still think there's a lot of work to show that art can deal with social issues very directly."
The fact that the lamp – with its cheery petalled face – had been designed by an artist was important, he said. "People want beautiful things in their lives; they want something that they can use with pride … everyone wants something that's not just about functionality but also spirituality."
The lamps will also have a life at the Tate, where they will be on sale at a developed-world price of £16.50. And, starting on 28 July, and for every Saturday night until 23 September, the surrealism rooms at Tate Modern will be plunged into darkness after normal opening hours, and visitors invited to visit them by the light of Little Sun lamps. It will be a conscious echo of an act of the artist Man Ray who, at the opening of the seminal International Surrealist Exhibition of 1938 in Paris, supplied visitors with torches to illuminate the artworks. "It is a way of experiencing having no light," said Eliasson, "but also a way of using the Little Sun to guide yourself, as if it were an eye."
Eliasson and Ottesen have met the initial costs of the lamp themselves, and have developed what they hope will be a successful business model through which the lamps can be sold locally, initially in Kenya, Ethiopia and Zimbabwe, at both a worthwhile profit for local retailers and an affordable sum for consumers. The price to the eventual users in Africa will be around $10 (£6.40). "If we don't sell 400,000 quite quickly, I will personally lose a lot of money," said Ottesen. Revenue raised will be put back into the project to help make it sustainable.
According to Ottesen, the lamp, during its initial three-year battery life, will give 10 times more light than using a kerosene lamp and at a 10th of the cost. The battery can also be replaced, doubling the lamp's lifetime. Eliasson insists that the lamps are sturdy and should not break: "You can drop it from a third-floor window and it still works. You can put it through the washing machine – I don't recommend it, but we've tried it – and it still works."
The design incorporates elements that help keep the battery cool and uses the most recently developed LED technology. In order, however, for the lamp to be sufficiently robust to withstand African heat, it is not made from recycled plastic.
Left in the sun for five hours, it will provide five hours' worth of light. The money saved by families, the duo hope, will help free more time for children to devote to their education.