John Golding, who has died aged 82, packed into his life separate but intertwined careers as artist and historian of modern art. Soon after he had completed his doctoral dissertation on cubism at the Courtauld Institute of Art, London, it was published as Cubism, A History and an Analysis, 1907-1914 (1959), and has stood ever since as the clearest exposition of that extraordinary era in the history of the art of the 20th century.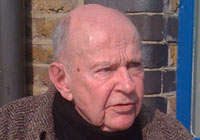 In a field in which so many literate and knowledgable writers had known Pablo Picasso well – from the compiler of the Dictionnaire Picasso, Pierre Daix, to his first English biographer, the painter Roland Penrose, his most discriminating collector, Douglas Cooper, and the writer of what is likely to be the definitive biography, John Richardson, – this was a remarkable achievement. Golding added to it in 1988, when an exhibition in Paris and Barcelona, organised around Picasso's Les Demoiselles d'Avignon (1907), overlapped with another show, Late Picasso, in Paris and London, of Picasso's late period (1953-73), and Golding wrote what remains one of the finest accounts of Picasso's achievement in an essay of nearly 11,000 words in the New York Review of Books.
Yet more than with any of his writings, he made his public mark with another Picasso scholar, Elizabeth Cowling, by curating two groundbreaking Tate exhibitions: Picasso: Sculptor/Painter, in 1994, and Matisse/Picasso, in 2002-03, which also travelled to the Grand Palais in Paris and the Museum of Modern Art in New York.
The first of these shows demonstrated what many people already suspected, that as a sculptor/painter, Picasso had more sculptural ideas than most specialists in that field. After its success, the Tate's director, Nicholas Serota, challenged his dream team to come up with something as good. Cowling suggested Matisse/Picasso to Golding, who concurred enthusiastically. Everybody knew about the creation of cubism by Picasso and Georges Braque, "like two mountaineers roped together", as Braque described it. The idea that the wary and slow-burning relationship between Picasso and Matisse should have been just as productive, though lasting more than half a century rather than the six or seven hectic Picasso-Braque years, had never been so boldly proposed as in this exhibition.
Golding attacked the project with determination, talking not just great galleries but reluctant private collectors into parting with masterpieces chosen not simply for their quality but to be placed in conjunction, Picasso with Matisse, Matisse with Picasso, to show how they fed off each other. Together with a catalogue essay by Golding, argued with characteristic calmness and lucidity, the exhibition was a triumph of enlightened scholarship and sheer pleasure.
Neither Picasso nor Matisse of course was ever an abstractionist. Golding was, and the clue to his practice as a painter lies in his Paths to the Absolute (2000). This effectively stood as his credo, that abstract art was not simply decorative but, as he put it in the preface, was "heavily imbued with meaning [and] with content", a case he argued with studies of seven abstract artists, beginning with the early 20th-century Europeans Piet Mondrian, Kazimir Malevich and Wassily Kandinsky and ending with the post-second-world-war Americans Jackson Pollock, Barnett Newman, Mark Rothko and Clyfford Still. The book was essentially a transcript of his AW Mellon lectures of 1997, the famous series of talks that also produced such celebrated studies of art history as EH Gombrich's Art and Illusion and Kenneth Clark's The Nude: A Study in Ideal Form. Golding's rigorous but approachable work comfortably takes its place among them, and in the year of its publication it won the Mitchell prize, the principal annual US award for art history.
Although he was born in Hastings, East Sussex, Golding's parents brought him up from early childhood in Mexico. During the second world war, he came to know the maverick English surrealist Leonora Carrington, who had made her home in Mexico, and in her eclectic circle Golding met the film-maker Luis Buñuel and the poet Octavio Paz, as well as emigre surrealists such as the French poet Benjamin Péret and the Austrian artist Wolfgang Paalen. But it was the Mexican muralists Diego Rivera, Juan O'Gorman and especially José Orozco who really interested him. He was especially impressed by the boldly schematic figures of Orozco that aimed at the grand simplicity of early Italian masters in the circle of Giotto, and it was these that he remembered after the war when he himself began to paint.
First though, Golding took a degree at Toronto University. He made frequent visits during this time to the Museum of Modern Art and worked for a period as a stage designer. He returned to London to take an MA at the Courtauld. In 1953 he saw the major show of cubism in Paris at the Musée d'Art Moderne and decided to write his doctoral thesis at the Courtauld on the formative years of the movement, from 1907, when Picasso painted Les Demoiselles d'Avignon, until the outbreak of war in 1914. The resulting book won the approval of both Braque and Picasso and became a keystone in Golding's life. Although he had decided while he was studying that he would work as an artist as well as a historian, inevitably the acclaim for his book drew Golding deeper into academic life.
He started to teach at the Courtauld in 1959. He was a reader in art history by 1981, at which point the Royal College of Art made him the siren offer of senior tutor in the painting school. Golding took it, in the knowledge that at the RCA he could immerse himself full time in the practice of painting, his own as well as his students'. "I am not interested in art as self-discovery or therapy," he said. He wanted to be a full-time professional, committed to pushing painting forward in the exploration of colour and light.
His painting was already gaining recognition, notably when he was included in the 1974 Hayward Annual, British Painting, selected by Andrew Forge. In the 1980s he had a run of one-man shows in top galleries, including Juda Rowan in London and the Oxford Museum of Modern Art, as well as in Tokyo, Sydney and at the Yale Centre for British Art in Connecticut, where the catalogue for his show was written by Forge, who, like Golding, was a painter and deeply sensitive critic.
Golding's knowledge of Renaissance painting, especially the great Venetians and particularly their rendering of the fall of light on to bodies, the way it breaks up outlines and dissolves form and mass, informed his own work as he moved out of figuration and into abstract canvases in which light was the subject. He painted vertical streaks of colour down his canvases like pleated light (as he put it) and occasionally on, say, a misty blue, he would scatter clusters of gold pigment to reflect the actual light. After the end of the 20th century, he started to structure his paintings so that they appeared to be based on photographs from thousands of feet above the Earth, with "roads" and "bridges" and "canals". He even called one of these canvases Mappa Mundi.
In retrospect, though, it seems to have been inevitable that Golding's own painting should be overshadowed by his reputation as a historian. As a teacher, he was popular with his students. In person he looked a little like Picasso, but his voice was soft and his delivery almost contemplative, as though he was thinking his way forward, trying his ideas out on his audience as he formulated them, even on subjects he knew well.
The historian James Joll, with whom he shared his life for many years, died in 1994. He is survived by two nephews, Michael and Richard.
• Harold John Golding, artist, art historian and curator, born 10 September 1929; died 9 April 2012
• This article was amended on 12 April 2012. The editing of the original located Hastings in Kent. This has been corrected.