Dallas Cowboys vs. Indianapolis Colts
Sunday, 04 December @ 19:20
AT&T Stadium, Arlington
Dallas Cowboys vs. Indianapolis Colts
Save Event
No price information for this event
Sunday, 04 December @ 19:20
AT&T Stadium, Arlington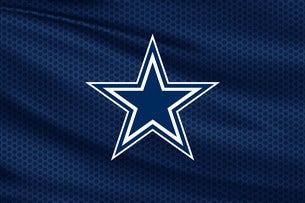 Location
Address

One AT&T Way,

Arlington,

76011

,

US

Phone Number

Open Hours

9-5 Monday-Thursday, and 9-4 Friday
Cash, MC, Visa, Amex

Will Call

Will Call Will Call is available at AT&T Stadium Ticket Office locations at Entry A on the northeast side of the stadium and at Entry F on the southwest side of the stadium. Will Call ticket windows open three (3) hours prior to most events. To claim tickets at Will Call, a photo ID and the credit card used to purchase the tickets must be presented. For Cowboys games, only the account holder of record may pick up tickets. A person other than the account holder may pick up tickets from Will Call provided that they present written and signed authorization from the account holder along with a copy of the account holder's photo ID.

Car Parking

Parking prices will vary by event. PARKING LOT INFORMATION: When purchasing tickets for the following sections we recommend purchasing your parking pass in the following lots: SECTIONS: 136-134, 235-243, 336-343, 443-452 = LOT 4, LOT 10 SECTIONS: 128-135, 228-234, 329-335, 436-443 = LOT 10, LOT 11 SECTIONS: 120-127, 218-227, 318-328, 420-435 = LOT 11, LOT 12, LOT 13 SECTIONS: 111-119, 210-217, 311-317, 413-419 = LOT 12, LOT 11, LOT 13 SECTIONS: 145-150, 244-250, 344-350, 453-460 = LOT 13, LOT 12, LOT 4 SECTIONS: 101-110, 201-209, 301-310, 401-412 = LOT 14, LOT 12, LOT 13 Lots are based on Availability All lots have accessible spaces. For ADA parking, purchase a regular parking pass and display your ADA placard or license plate. Parking Spots are for Vehicles Only Parking spots are for vehicles only. Drive aisles must remain clear at all times. No items (coolers, tents, tables, chairs, etc.) of any kind may be placed on the ground behind, in front of or around parked vehicles. These items are permitted only in designated tailgating spaces. RV/Oversized Vehicle Parking All RVs and oversized vehicles (any vehicle longer than 19 feet) must be parked in Lot 14. All other lots are for standard size vehicles only. An RV/Oversized vehicle parking pass is required. Bus Parking All buses must be parked in Lot 15. All other lots are for standard size vehicles only (Lot 14 is for RVs and oversized vehicles). A Bus parking pass is required. Accessible/Disabled Parking Accessible parking spaces are available in each lot and are issued on a first come/first served basis. You must have a parking pass for that designated lot and a state-issued person with disabilities plate or placard to park in an accessible parking space. Violators will be subject to citation and possible revocation of season parking privileges. Courtesy Shuttle Carts Courtesy shuttle carts will serve each lot and provide transportation for guests with limited mobility or those who need assistance. Passenger Drop-Off Zones There are two passenger drop-off zones at the stadium. One is located on the north side off of Randol Mill Road in Lot 1 and one located on the south side off of Cowboys Way in Lot 6. Limousine Parking Limousines will be able to drop off passengers in Lot 1 and in Lot 6. Limousine parking is available on Randol Mill Road and on Cowboys Way. A limousine parking pass is required. Taxis A taxi stand is located outside the West Plaza near Collins Street and Cowboys Way. Vehicle Security Inspection All vehicles parking within the stadium's secured parking perimeter are subject to a security inspection before being allowed to park. Parking Parking areas are generally open four (4) to five (5) hours prior to Cowboys games. For other lot opening times, visit AT&T Stadium online at http://stadium.dallascowboys.com or call the Guest Services Hotline at (817) 892-4161. For Cowboys games prepaid parking passes are required for access to Cowboys Season Parking lots (non-cash lots). For personalized directions to prepaid and cash parking lots, go to http://www.dallascowboysmaps.com. Parking passes are valid only for the event or game noted on the pass and for the specific lot. All vehicles parked within the stadium security perimeter are subject to a security screening prior to admission to the parking area.