The small group of international scientists, politicians and business leaders are using the Arctic research station as a makeshift conference centre for urgent talks on how to fast-forward a low carbon economy. They have come to the snowy archipelago of Svalbard, a few hundred miles from the North Pole, to hear the latest bad news on melting glaciers and climate change.
"Nowhere are the implications of global warming more visible than in the Arctic. Ecosystems as well as livelihoods are presently undergoing rapid change. In spite of all the evidence provided by science, most governments in the world have failed to take the necessary action," warns Anders Wijkman, the Swedish MEP who is chairman of this special symposium.
After hearing predictions that 30% of species could be extinct and a fifth of Bangladesh underwater before 2100, he urges the removal of "all subsidies on fossil fuels" and a much stronger commitment to renewable power in measures to build a sustainable future.
Yet outside the room, in the grey Arctic waters, an oil rush looms which threatens more carbon emissions and the risk to the natural world of an accident similar to the 2010 Deepwater Horizon spill in the Gulf of Mexico.
The drilling also threatens to spark territorial disputes and sabre rattling, such as the bellicose noises made by Argentina over British companies seeking oil off the Falkland Islands.
While the polar bears and arctic fox of Svalbard have grazing rights, the legal standing of different human groups in the region is more fuzzy.
Ny-Alesund research station is a base not just for the Norwegians, who have political jurisdiction, but also for British, Indian and Chinese scientists. Few believe the national bases – Beijing's has huge stone lions outside – are there just for science. They are symbolic political and economic stakes in the future of Svalbard and the Arctic.
Drilling is also under way in earnest off Greenland to the west and in the Barents Sea to the east of Svalbard. Oil price rises and melting ice caps have made the region more accessible for mining, shipping and drilling. Yet ownership of the Arctic seabed is far from clear.
The 1920 Spitsbergen treaty, drawn up after the first world war, gave onshore mineral rights to more than a dozen signatories, including the UK. Yet there are arguments whether Svalbard's coastal waters are part of the Norwegian continental shelf and fall within Oslo's jurisdiction. Fishing rights are disputed between Norway and Russia.
Trond Giske, Norway's trade minister, says the uncertainty should not be exaggerated. "On our part we have no problem interpreting the treaty. We have very few conflicts with other countries in this area," he argues, pointing to agreement with Russia last year to settle territorial boundaries in the Barents Sea.
The impact of that deal over the "grey zone" only brings oil drilling wealth closer to Svalbard's islands – and increases pressure on Oslo to debate limits to its sovereignty.
Diana Wallis, a British lawyer and former MEP, touched a raw nerve with Norway in a speech to the local European Movement in Tromso. She talked of "unresolved disputes around Spitsbergen" and insisted the EU had a legitimate interest in this and the wider Arctic.
Wallis said: "The position of Svalbard needs to be discussed openly and I can't see why everyone is nervous about this. They seem to be waiting for a trigger event [like an oil find] and then we are going to have a real problem."
A wider debate does not seem to be what countries licensing drilling operations off Alaska, Russia and Greenland want to hear. They have been happy to confine dialogue to an Arctic Council largely composed of states surrounding the Arctic Ocean. And they say territorial disputes – for example, between Canada and the US over seaways – are all being handled through the UN convention on the law of the sea.
They are determined to defend their right to introduce national oil regulations – which environmental groups and the global community are beginning to challenge.
"Like it or not, what is happening in the Arctic and how it is dealt with becomes everyone's business," said Wallis. "This is an issue which Norway and other Arctic states have to accommodate. A growing number of players have a legitimate interest in what happens in the Arctic and therefore the governance regime there."
While Greenpeace has physically tried to halt drilling off Greenland and future operations off Alaska, Norwegian environmental group Bellona is waging a war of words with Oslo. Its leader, Frederic Hauge, said: "It's a big, big, big gamble exploring for oil in this area. There are so many stress factors here – be it the fish, the nuclear waste from the cold war and the fragility of the ecosystem. I am also very worried about the geopolitics of the Arctic. We are acting like petroholics and I do not believe there is widespread support for it."
Norway's state energy company, Statoil, has its commercial compass pointing north, believing there is nothing to stop its deep water experience of the northern North Sea being safely applied to the Arctic or sub-Arctic.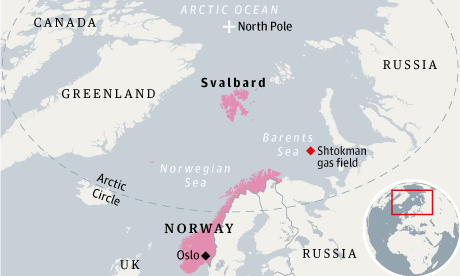 Statoil points out it has been operating the first Arctic offshore gas field at Snohvit, using subsea technology and underwater links to shore, since 2007. The company – 67% owned by the government – has signed a strategic exploration and production deal with Russia's state-owned oil group, Rosneft. Statoil is also helping another Russian state company, Gazprom, build the huge Arctic offshore gas field, Shtokman – said to hold more gas reserves than remain in all Norway.
Hauge points to the irony of more fossil fuels being developed in an area where the impact of their carbon production is most acute.
Giske sees no contradiction between Norway's physical search for hydrocarbons and the hunt for low carbon solutions at Ny-Alesund. "We are all going to be dependent on fossil fuels for a long period and natural gas is the bridge into a low carbon world," he says. "If the EU replaced all its coal-fired power stations with natural gas it would easily meet its 20/20 (20% reduction in carbon emissions by 2020) goal."
He is more concerned about EU energy commissioner Günther Oettinger's recent visit to Oslo to push a new regulatory regime. Oettinger is arguing that Europe is a key customer of Norwegian oil and gas and points to Norway's membership of the European Economic Area as a reason why a common offshore safety regime would make sense.
Giske said Norway and Britain had more experience than anyone else in Europe – over 40 years – so why change a system that has worked well.
Meanwhile, Norway has moved the headquarters of its army from Oslo to a northern town, Bardufoss, and signed its biggest ever single military contract for jets to be located there.
Who is the enemy? Russia? "No," says Giske. China? He almost chokes at the suggestion. "Look we don't need to identify an enemy to justify defence expenditure. We are after all part of the Nato alliance."
In Ny-Alesund, there is no discussion of a new cold war over Arctic minerals, with Wijkman more worried about warming. He urges ministers to "raise awareness among the public about the serious risks posed by climate change and the necessity of urgent action".
The Norwegian government contributed to the cost of flying Terry Macalister to Svalbard