The bit where Jez eats a dog. The one where Mark goes clothes shopping, or Super Hans runs to Windsor. "The Megatron", "men with ven", "tell you what, that crack is really moreish". Over the past 12 years, Peep Show, a 23-minute sitcom created by Jesse Armstrong and Sam Bain, starring Robert Webb and David Mitchell, hasn't just been a series about two flatmates, but has given us some of the most hilarious, quotable and insightful moments in British comedy. Not to mention a scene where a man furiously urinates into a large saucepan in the kitchen of a Mexican restaurant.
The new series opens with a premise good enough to make Peep Show fans hallucinate with anticipation: Jeremy and Mark attend Super Hans's stag night. However, its also tinged with sadness: this series – Peep Show's ninth – will be its last. Here, Bain and Armstrong discuss the show: their hopes, the final series and their characters, from the small victories to the considerably larger humiliations.
The Guide: Peep Show felt very raw and innovative when it started. Did you feel pioneering?
Jesse When we started, we were shooting a conventional sitcom but shooting it in a very unconventional way. We were lucky Channel 4 allowed the show to find its audience.
Sam Once we heard we were recommissioned out of spite. It had been reported that we had been cancelled and apparently some top executive at Channel 4 said: "Fuck you, we're not going to be dictated to by the media."
J We don't change things greatly in the new series.
S We did originally end it with them meditating on a hill in California, but then Mad Men did it, so we changed that. We've talked about going back to it in 10 years, if Dave and Rob were available. Apart from anything else, it makes us less sad to think there's the possibility of working with them again.
The new series begins on Super Hans's stag night. Has he become more progressively more important?
S With Matt King cast in the role, Hans became more complete than when we started. Then he was someone for Jeremy to aspire to and for the audience to think: "Where did that guy come from?"
J Johnson performs the same function for Mark. He's a more extreme character in Mark's world, just as Hans is in Jeremy's.
S We're keen to remind people Hans isn't quite the legend he thinks he is.
J He has thought up his own nickname, which is something a certain type of person does – doing your own branding. I think Jeremy knows on some level that Super Hans isn't the real deal.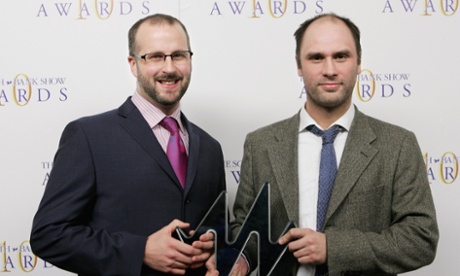 In the first of the new episodes, Jeremy nails Mark's pretensions…
J There's no bullshit between Jez and Mark: they really know each other. There's that saying: "No man is a hero to his valet." It's the same between flatmates. We already play with the discrepancies between what you think and what you say. To also have them commenting on that is good.
S Although, you're still my hero, and I'm a bit like your valet.
J Possibly a butler. I don't know what the distinction is.
S I look up to you like a hero. Not like a Greek hero. Like a modern hero. Jesse's got a lot of wisdom, a lot of knowledge.
J I'm wearing a polo neck today, so that makes me look more wise.
S Mark is reading Napoleon's letters in this series, and Jesse got me to read various biographies. So now we bond over Napoleon.
How are Mark and Jeremy coping with middle age?
S Jeremy gets encouragement from the culture around him to think he can carry on being a good-time guy. But it's causing him some internal problems. He's having to renegotiate how he fits into the world.
J I feel that you will always meet Jeremys. When we created the character, he was a wannabe and we were pretty much wannabe writers. He wants to be on Top Of The Pops but he's not interested really in how you get there. If we were being Mark Corrigan about it, we'd say: "Go to your room, Jeremy; learn how to plug in your drum machine that you bought 10 years ago. Wouldn't that be a good first step to getting on Top Of The Pops? Which, by the way, doesn't exist any more." His lack of endeavour is what is both appealing and irritating about him.
Hearing their thoughts really gives an access to their self-interest…
S I remember early on in the show we wondered: 'What does your actual consciousness sound like?' Today we're trying to write jokes for them to think in their interior monologues. One of my favourite moments was in season three when Mark tells Jeremy he's proposing to Sophie and Jeremy thinks: "How does this affect me?" That self-absorption.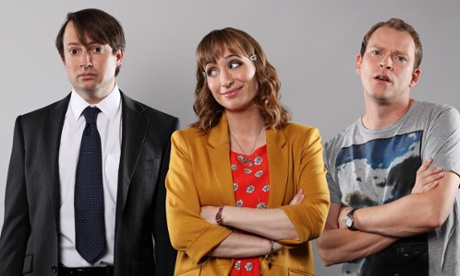 The scenes with women are great for that. Are you relaxed writing female characters?
S We want them to be funny and believable. There's a danger as a male writer that you write a bespoke hot girl or sensible woman and we try to avoid that. There's a reason they've fallen in love lots; it provides good plotlines. It's a human reality, and it's fun to write.
Dobby was a great creation…
J Like Super Hans, you have an idea for a character who hasn't been represented on TV. Me and Sam are nerds of a certain variety. We always like that bit in…
S American Splendor…
J …where he complains about the portrayal of nerds in popular culture. When you're a nerd, you know there's a million types of neurotic self-loathing. Mark would think he and Dobby might be compatible because they both don't fit in. It doesn't necessarily mean you should be life partners.
S I'd say you're half-nerd, half-jock. You scored a great goal last week, you were telling me. Smashed it through two defenders.
J You remember it very well, Sam. I only ran through it 16 or 17 times.
What is your working relationship like?
S We're willing to turn up. We're not like Barry Cryer and Graham Chapman, with Chapman waiting for the pub to open. Or writers who endure grim stand-offs. We turn up at each other's house at 10 when we're doing the plotting. We like hanging out.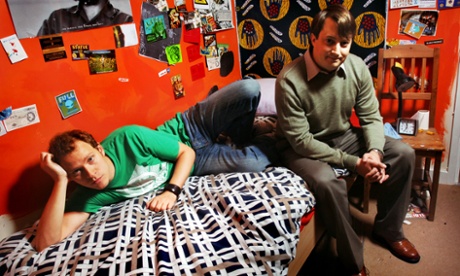 What was your plan when you started?
S That first desire was for it not to be a disaster: "Fucking hell, we've got our own show. Please let it be something at least some people think is good."
J We have six weeks where we talk about anything. From that you hopefully have a whole series, knowing where they're going and a thematic shape of each episode. Then we go to storylining in detail, which might take a couple of weeks per episode. We'll have a Peep Show plot party with Dave and Rob to get their feedback. It's about six months full-time from beginning to end of the writing process.
What have been your favourite bits?
J I really like the one where they go to a play.
S It's the low-key moments, rather than the dog eating, that stuff. Mark telling Jeremy in series one that everything he wants is never going to happen has always tickled me. Jeremy has changed more, because he's had to face up to being a failed artist.
Does it feel like the end of an era?
J It does feel a bit like the end of something… The Roman empire… The Visigoths.
S It's difficult to get it into perspective because it probably isn't a big deal for the rest of the world. Peep Show meant we weren't failed writers, which was a big thing.
J It doesn't mean you're walking round like Orson Welles. Unless you're a maniac, you know it's an alchemy: cast, director, a tone you can write. A successful show decreases the terror of the next project being shit by about 6%. But you're still 94% terrified.
As told to John Robinson. Peep Show starts Wednesday 11 November , 10pm, Channel 4