'I got on the bus just after I'd been on Midlands Today," says Neil Baldwin, "and this woman says, 'That's where I've seen you before. TV last night.' That was good." It's not the only good thing to have happened to Baldwin in the seventh decade of his life. "Last year," he adds, "I got an honorary degree from Keele University. This year, a film about my life. Who knows, maybe next year something nice will happen to Stoke City."
"It already has," says Toby Jones who plays Baldwin in the film, Marvellous, showing on BBC2 this week. Both men are, extraordinarily, Potters' fans. "We beat Man City last week," says Baldwin. "It was great."
"Manchester City 0, Stoke City 1," says Jones. "That's how I sign all my emails now."
And then there was that other lovely moment. "Remember," Baldwin says, "when we were filming by those flats, and all those kids came over for autographs? I thought that was great." Suddenly, a cloud briefly passes over his sunny demeanour. "Except that woman who came with a Stoke shirt on and said, 'Can you sign across here?'"
"That'd be a problem for him," says Jones, fixing me mock-seriously. Quite so: Baldwin's mum, a Christadelphian with whom the 68-year-old lived until she died a few years ago aged 82, brought her son up better than to be signing women's chests.
I study the two men as we chat over tea at the British Film Institute before the London premiere of Marvellous, Peter Bowker's fond biopic. Jones is dressed in effacingly grey actor's civvies, but Baldwin is seizing his sartorial moment in black tie. Even his cane (he recently had both hip joints replaced) contrives to confer starry gravitas.
But then Baldwin does like dressing up. He is a registered clown after all. At one point in the film, we see him hitching a ride in clown gear: red fright wig, thick makeup and baggy tartan trousers. "Where you going, mate?" asks the lorry driver who picks him up. "House of Commons." "Figures," says the driver with Staffordshire sangfroid, before taking Bartlett down the M6 for dinner with Tony Benn MP). Like a Stoke Blanche Dubois, Baldwin has always relied on – or rather set out expecting – the kindness of strangers.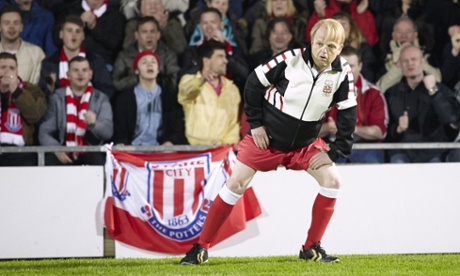 But that makes Baldwin sound merely an English eccentric. He's more than that. The day after our interview, the film's PR suggests that, in describing Baldwin, I might say he is a man once labelled with learning difficulties. "As you will have gathered," she says, "Neil does not consider himself to have any such problem and has lived his life in defiance of any label." Good point. But here, nonetheless, are some labels to hang on Baldwin: clown, Stoke City kit man, Keele University mascot, Christian socialist, founder of the Neil Baldwin football club (still running, half a century on), budgie-fancier, Stoke City's best signing (according to ex-manager Lou Macari), and close friend to Ken Dodd, Robert Runcie, Kevin Keegan, Tony Benn and Uriah Rennie. He's what Zelig, Walter Mitty and Mr Micawber would have been had they been merged and raised in Newcastle-under-Lyme. "I always like to be happy," he says. "And, you know, I've had a good life."
His life might have gone unhymned were it not for a story in the Guardian. In 2010, Bowker's wife read about an intriguing bloke who, she thought, would be a fitting subject for her writer husband. Francis Beckett's piece told how Baldwin's 50th anniversary at Keele University had been celebrated with a splendid two-day affair, involving speeches from distinguished alumni, a dinner, a testimonial football match, and a service of thanksgiving for his work. All this, even though Baldwin had never been a student, lecturer or employed there in any capacity. Most students, if pushed, couldn't quite tell you what his role was. Bowker, the writer of such TV dramas as Blackpool, Occupation, Desperate Romantics and a radical adaptation of Wuthering Heights, was intrigued.
In Marvellous, he dramatises the existentially freighted moment Baldwin decides to go to Keele University to work. It comes just after he'd been fired from a travelling circus by an unpleasant ringmaster ("He really was horrible," recalls Baldwin. Ringmasters, eh?). "I've got a new job," he tells his mum. "That's lovely. When did they offer you that?" she asks. "Tomorrow," he replies. We see him on campus the next day, welcoming fresher students. Bowker explains: "I asked him how he managed to pass himself off as someone who worked there and he said, 'I may have been wearing a dog collar.' It was the way he said 'may' that made me realise there was something amazing about him – his optimism and how it makes people warm to him. I didn't want to write a saccharine story about a man who seems to be a fantasist. I wrote, I hope, something optimistic and celebratory.."
But who could play Baldwin? Bowker's script was sent to Jones, who was enchanted. "It was a dream come true," he says, "because I'm a lifelong Stoke City fan." Though raised in Surrey, Jones was brought up a Stoke fan by his father, the Potteries-born actor Freddie Jones. "I thought someone was having me on – you don't expect a script about Stoke City! Neil has this amazing football programme collection in his flat. I could find games I'd been to as a child: Stoke-Birmingham with Trevor Francis and Jimmy Greenhoff. That sort of era. That was a massive fringe benefit."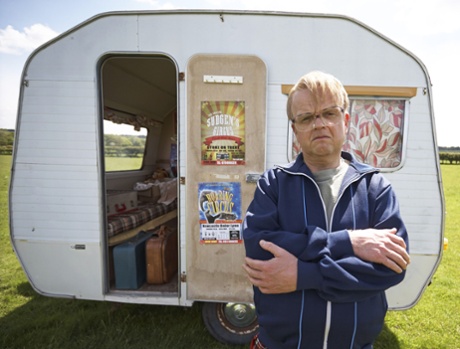 But there was a problem. Sure, Jones has excelled as real-life characters, great men like Alfred Hitchcock and Truman Capote, not-so-great men like Karl Rove and Swifty Lazar, and he's soon to play Captain Mainwaring in a Dad's Army film. But never before had he been quite so tested. "As an actor, you're looking for what a character needs. But with this character, he has no need. He is totally content – sorry to talk about you in the third person, Neil."
"That's all right," says Baldwin, smiling gently.
"He's someone who, through his faith, his passions and his hobbies, has found contentment and found that people respond to him positively. As an actor, that's a nightmare. What am I going to play? I never really got to the bottom of that."What does Baldwin think of Jones's portrayal? "He's great." Jones adds: "I did listen to you a lot, because you had speech therapy as a child, didn't you? One uses that – if I get everything else wrong, at least I'll get the voice right."
"I liked how you did my voice. And everybody says you look like me. Not as good-looking, though."
The pair recall the scene where Baldwin gives a eulogy to his mother at her funeral. Among the mourners are several locals who had been to Mrs Baldwin's actual funeral a few years earlier. "After we filmed that," says Jones, "I came off worried, as I frequently was – and Neil was there by the monitor giving me the thumbs-up and saying, 'You were great. Marvellous.'"
What was it like to watch the scene? "It was painful, but I know she's happy up there. She was a great mum."
"It's like you said at the funeral," says Jones. "She brought you up right."
"That's right. How many mums would let their son be a clown?"
Neil Baldwin, it's worth pointing out, could have been a vicar rather than a clown. "I was going for the clergy when I was younger, but my own bishop said you've got a good ministry without being ordained – so that's what I've done."
Lest this all get too saccharine, I'll mention a scene in which a Stoke City player abuses Baldwin in the changing rooms. "Do you think it's fair to include that footballer calling you a mong," asks Jones. "I think it happened, so get on with it," says Baldwin. "I thought it was horrible, but I said later, 'Let bygones be bygones.'" In the film, Baldwin retorts: "I'm not a mong. I'm a registered clown!"
I ask Jones about the Captain Mainwaring role, playing opposite Bill Nighy as Sergeant Wilson. "I'm as big a fan of Dad's Army as the next person," he says. "We're going to pay homage to the original and not make something that trashes the legacy. I know that [co-creator] Jimmy Perry is right behind it, having read the script."
Baldwin looks round at Jones. "I wouldn't mind being in that," he says. "I could be the vicar."
• Marvellous is on BBC2 on Thursday at 9pm