With all the recent talk about the end of men and the rise of women, it's tempting to imagine that male anxiety in the face of women's increasing demands is a new phenomenon. If you watch Mad Men, you'll know these tensions have been around for decades. The show begins its sixth season without any characters mentioning the word 'feminism', but the pressures of shifting gender roles affect all characters, from the aspiring businesswomen to the happy homemakers, and, of course, their male counterparts, who don't know how to handle the erosion of male dominance. Despite its title, Mad Men is as much a show about the dramatic changes in women's lives in the 1960s as it is about those men. Unusually for the television industry, the majority of its writers are women.
The show begins in the early 60s, an era in which it was assumed that women only worked if they couldn't find a man to support them. Still, cracks in the facade of the Leave It To Beaver ideal were showing. Wives languish in suburban homes, succumbing to what Betty Friedan describes as a "devastating boredom with life". In Mad Men, husbands invariably grow tired of their housewives and cheat with urban-dwelling women whose minds aren't dulled by being trapped in the house all day.
Their wives respond by trying to squelch their suspicions in the name of keeping up appearances. Alison Brie, whose character Trudy Campbell is being routinely cheated on by her ad executive husband Pete, describes the dynamic. "Like most women at that time, Trudy is able to turn a blind eye to anything she finds off-putting for as long as she is able," she says. "Trudy had always been concerned with what others think, so she's able to project a state of sunniness in public, even if things at home aren't perfect."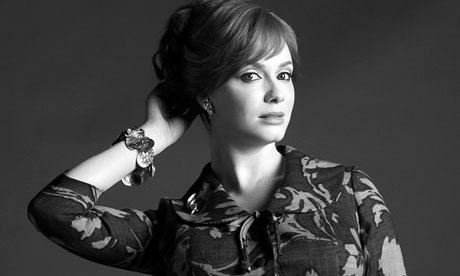 There are female characters who reject these expectations and choose to work instead. Joan Holloway begins as an office manager who believes she can't wait to get married and quit working, but slowly realises she needs the excitement and validation she gets from running the administrative side of the advertising agency. Joan also discovers a major benefit of having a job in the fifth season, when she decides to divorce the husband she had once thought she needed to complete her life. Joan boots him out the door while informing him that she doesn't need him, a decision she can only make because she has a pay cheque of her own to depend on. Contrast this with an earlier season: Don's wife Betty can only leave him after she lines up another husband to take care of her.
One of the series' central characters is Peggy Olson, a younger woman who starts the first season as a secretary but quickly climbs the ladder to become first a junior copywriter, and then the top copywriter in the office. Peggy doesn't just work to pay the bills but stays late at the office, pounding away at ad copy like it's a religious calling. Elisabeth Moss plays Peggy, and she describes her journey with an enthusiasm reminiscent of her character. "She doesn't set out to be this great feminist and go for equal rights and equal pay. She's just trying to do what she loves." She talks about how thoroughly Peggy rejects the constraints put on women at the time: "She keeps crashing against the glass ceiling because she doesn't know it's there."
The genius of Moss's performance is that she compels the audience to believe, as Peggy does, that selling baked beans and cigarettes is not just crass commercialism but an art. "I like the idea of this person who treats it like an art form," Moss says. "We've all seen ads that made us cry, made us think. Peggy, if she were around, would be making those great Apple ads that came out in the 80s."

Reading this on mobile? Click here to view
Peggy's status as an outsider in her world – not just because she's female, but also because of her roots in working-class Brooklyn in a world made by Ivy Leaguers – makes her highly attuned to the aspirational feelings that drive good advertising. "It's about not being satisfied with who you are," Moss argues. "A lot of artists want to make change; are not satisfied in the world they're in." For Peggy, advertising is the perfect art form to project an image of the carefree, single woman she wants to be.
It's not all fun and games for Peggy, of course. Moss points out that women who wanted to invest so much in their careers back then had to make sacrifices that we now demand they shouldn't have to make. "Women today," she jokes, "we all watch Oprah. We know about balancing our lives." For Peggy, however, that balance is elusive. "For Peggy, having a great job, and also having a boyfriend and getting married, is foreign."
Not that Peggy has given up. On the contrary, she routinely resists the heavy pressure to choose between having a private life and having a career. On Mad Men, women who are just a little younger than Peggy are starting to find the idea that one should have to choose between having a husband and having a career too preposterous to acknowledge, much less fret over. Megan, Don's bohemian second wife who listens to the Beatles, is far more worried about what career she wants to have – copywriter or actress? – than whether she should have one at all.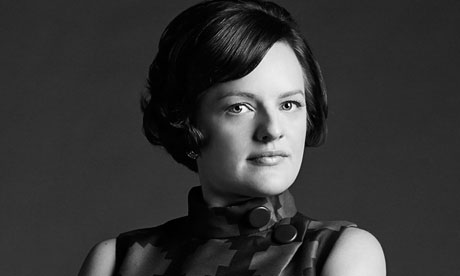 Megan had been a background character until the last two episodes of the fourth season, which portrayed her whirlwind courtship by and marriage to Don. This was not without controversy among the section of the audience who preferred old school Mad Men, much like Don prefers Sinatra to the Stones. Artistically, however, the choice turned out to be a remarkable one, encapsulating the rapid gallop of cultural change that left many older people behind. Don loves his new wife, but he doesn't understand her, and he especially doesn't understand her new, self-assured kind of womanhood.
"Megan is not concerned with doing everything exactly right," explains Jessica Paré, who plays her. "She just wants to contribute to the world in a way she feels is important."
Like Moss, Paré sees Peggy and Megan as reflections of real-life women who aren't responding directly to feminist ideology, but whose enthusiasm for living more self-directed lives helped create the context for feminism to exist in the first place. "Women were starting to feel like they could lead their own lives and not define themselves by their fathers and husbands. It was a bit of a groundswell."
Don doesn't seem to know quite what to do with this eager young wife who feels entitled to live life by her own rules. He keeps setting traps for her, and she evades them. He pushes for her to have babies, and she laughs him off. He gives her a job in his office so he can have her near, and she resigns. He even tries to make her eat orange sherbet, and her dislike of it – and more importantly, her unwillingness to hide her dislike – sets off an ugly fight that ends in Don chasing Megan around their flat and tackling her, trying to gain physical control over the woman who won't let him own her spirit. In a later episode, she hands him her Beatles record to listen to while she takes off to pursue her life as a bright young artist in New York. He gives Tomorrow Never Knows half a listen, and then grumpily shuts it off, frustrated at his inability to contain or even really understand a wife that has no use for the old way of doing things.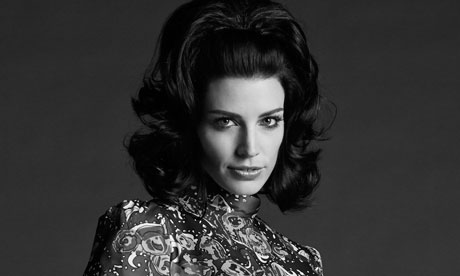 Sally Draper, the youngest female character on the show, gained screen time as she aged into her middle school years, and now Kiernan Shipka, the actor who portrays her, has graduated from guest star to series regular. Sally's adventures during the fifth season read like Judy Blume's Are You There God? It's Me, Margaret, which was published in 1970 and mines similar territory of a girl growing up in an era of rapid social change. Sally repeatedly experiments with acting more adult, but usually ends up feeling overwhelmed and running away. Part of the problem, Shipka says, is Sally's lack of role models. "When she looks at the people who are grown-up around her, she doesn't want to be like them, because she doesn't like them very much."
This is the dark side of the 60s: the children who were left adrift because the old ways of doing things – particularly the old gender roles – weren't working any more, and petulant adults were too busy pouting to find new ways to make things work. Sally's mother childishly uses her daughter to toy with her ex-husband and punish him for seemingly moving on and forgetting about her. But Sally pushes back, and hard. "Sally has some of Betty in her," Shipka suggests, which makes their difficult battles "a Betty versus Betty fight".
Sally finds herself bouncing back and forth between her more traditional mother, whom she understandably loathes at times, to her romantically independent stepmother. "She looks at Megan as more of a friend figure, because Megan is young and fun," says Shipka. As Sally grows more into her teen years, this struggle over what kind of woman she would rather be will only grow more complicated.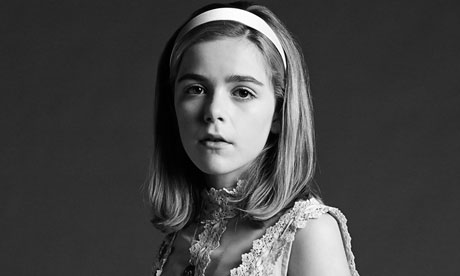 When we last saw Mad Men, it was spring 1967. Women's roles were already changing, but they were still living in the time right before an avalanche of change pushed feminism to the forefront of people's consciousness. This is before the 1968 Miss America protest, the 1970 Ladies' Home Journal sit-in, or the state of New York legalising abortion in 1970. It's before cigarette brand Virginia Slims used the feminism-inspired slogan "You've come a long way, baby", a fictionalised version of which Peggy comes up with in the fifth season. Watching characters grapple as the pace of change speeds up even more should be fascinating business. So much has changed for these women in the past five series, but in many ways, change is only just beginning.
Mad Men season six starts Wed, 10pm, Sky Atlantic