It is an account, relying on contemporary vivid emails, of the minute-by-minute battle inside Downing Street in the first week of September 2006 to stop supporters of the chancellor, Gordon Brown, forcing Tony Blair to quit after nine years as prime minister and three election victories.
It is an episode that in the end humiliated Blair, revealing his political weakness, and has come to shape many voters' views of Brown himself. The contemporary Labour party still bears the scars of that week.
Blair had been elected to a historic third term only 15 months before, but within months of the re-election Brown and his allies were mounting a highly organised backstage campaign to extract a specific public date for Blair's departure – an orderly and stable transition.
Brown, long scarred by his rival's success, was certain that after the Iraq war Blair had lost the voters trust irrecoverably, and he wanted copper-bottomed public guarantees that Blair would stand down by a specific date in the third term.
He felt he had been misled by too many evasive promises in the past, and also feared that Blair was secretly manoeuvring to betray him by supporting a successor other than Brown, probably David Miliband, then the environment secretary, or John Reid, then home secretary.
The spark that led to the rebellion was an interview in the Times in which Blair tried carefully to balance his determination to continue without a fixed departure date with his willingness to make good his promise to go in "ample time" for his successor.
Through the first week of September, after returning from holiday, Brown's allies demanded not only a date for Blair's departure, but also Blair's endorsement of Brown as his anointed successor.
The emails show the doubts in the Blair camp over how to fend off the demands for a resignation, as well as their anger at what they saw as a coup. They were thunderstruck at the leak of internal No 10 emails suggesting Blair might go out with "the crowds demanding more".
They also revealed the extent to which No 10 was caught largely unawares at the scale of the organised rebellion mounted by Brownite MPs. In the midst of the crisis 17 MPs called for his resignation, including four parliamentary secretaries.
Downing Street then belatedly, desperately, fought back, trying to rally loyalist opinion inside the parliamentary party and in the media.
Blair's own anger at what he described as the "machinations" are revealed, as well as his frustration that Brown would not agree to a joint policy programme. At times the aides became so infuriated they proposed to end all co-operation with Brown, and promised to fight to the end.
On the Thursday of the dramatic week, Blair capitulated. On a pre-arranged visit to a school in London, the prime minister, using words drafted by shattered aides only hours before, apologised to the country for his party's behaviour and confirmed promises made by Miliband earlier in the week that he would quit within a year.
With no questions permitted he issued a short statement: "I am happy to confirm in public what I have already told senior colleagues in private: that Manchester will be my last conference as party leader."
His dignity was only half intact: he had rebuffed calls for a specific timetable, but been forced to specify an end point. Still seeking some running room, he said: "I will do that at a future date; and I'll do it in the interests of the country and in the circumstances of the time."
In the words of Jonathan Powell, Blair's chief of staff, they had kept the ship afloat, but only just.
Benjamin Wegg-Prosser, who was the Downing Street director of No 10's strategic communications unit (SCU), was very much in the thick of it.
Reflecting on those days, he says that the response from Team Blair to the Brownite letter writing campaign "was remarkably naive; co-ordinated through random email chains, conference calls and impromptu meetings" while Team Brown were running a "more disciplined war room".
• Emails are to others in Blair's private office unless otherwise specified
Monday 21 August 2006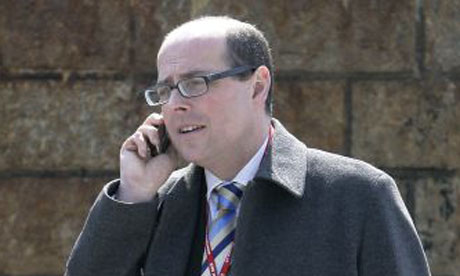 7pm from Ben Wegg-Prosser to Nick Robinson (BBC political editor):
I'm back and on the case. Just had 4 weeks off. Should we have a chat on the phone on Tuesday?
7.22pm from Robinson
4 weeks. What a delight. I'll call.
Wednesday 30 August 2006
Patrick Wintour writes: The Blair team are preparing for a set-piece interview in the Times for that Friday designed to lay to rest further speculation about whether he will name a date for his departure, and are debating how hard a line the prime minister should take. Backbenchers have been agitating through the summer for him to quit.
8.43am from Liz Lloyd (deputy chief of staff in No 10) to Wegg-Prosser:
Did you spk to him? He is mulling a tougher line than this.
8.43am from Wegg-Prosser to Lloyd:
I did. I know he wants to go much further.

"This is the debate. These are the choices. We need to get on with this. I have given more clarity on timing than my predecessors. If this nonsense does not come to an end all bets are off."

While this is all fine the danger is that he seems a) wildly out of touch b) it precipitates a more formal challenge. I think also internally we need a line and need to discuss further, without him, to clarify what we think.
PW: Recognising their political weakness, the Blair team sense they may need to convince Blair that he has to offer something specific about his departure date. They start to map out some new lines to take.
2.57pm from Wegg-Prosser to others in Blair's office:
I have had another idea. A potential concession which strengthens.
3.33pm from Wegg-Prosser:

Phase 1

Times interview. Make argument that by giving a date undermines position of PM. "If I thought that speculation would come to an end if I name a date, then I would consider that. I will be taking soundings and listening to the people in the run up to conference."

Phase 2

Letter from cross section of MPs saying PM has made clear to be happy to indicate when he intends to leave office if the speculation came to a end.

Phase 3

At conference or maybe before (but conference better because it keeps GB guessing).

"People have made clear that the instability will come to an end if I gave an indication of when the next leadership elections will take place. In politics you can never be certain of anything, but i have informed the national executive that they should be making plans to hold an election early next autumn."

If this was seen as to be reasonable and sensible there is a chance that things might die down.
3.46pm from Lloyd:
I thought of a different formulation. "GB knows perfectly well when I am stepping down as I have discussed it with him." I don't really like your formulation because it does not look as if he is in control of his destiny – but maybe this is a small price to pay for peace and another 9 months.
4.01pm from Wegg-Prosser:
I know but if things don't take a turn for the better by mid-September then it might not be a bad option.
PW: Sensing the political danger is growing, the Blair team discuss a group of ex-ministers writing a letter to defend Blair.
9.06pm from Wegg-Prosser:
I am now the benefactor of hourly phone calls from [former health secretary Alan] Milburn and [former transport minister Stephen] Byers. They have been in touch with the ex-ministers group and they have suggested a letter to the Guardian. The obvious danger is that we get into willy waving with the other MPs saying TB should go.
Thursday 31 August 2006
PW: The SCU prepares the lines to take in the wake of Blair's set-piece interview for the next morning's Times, in which he will set out his plans to stay in office.
4.11pm from Wegg-Prosser:
"The PM has made clear he will not be setting out a timetable for when he leaves office. He has given more clarity on the issue than any other previous prime minister in office he will not be going on and on like Mrs Thatcher.

"He will not be serving a full third term. He will be giving his successor ample time.

"There are three groups of people who are demanding the PM goes further than this. Those who are concerned by the polls ... Those who are concerned he will be going on and on – he has dealt with those in his interview.

"The biggest concern is amongst those wanting him to leave is that they want a change of direction and that is why we need a genuine debate about the future direction of the party – there are big issues which the party needs to face up to anything from immigration security and the future of our pubic services. These are the issues that the PM intends to address in the coming period."
Friday 1 September 2006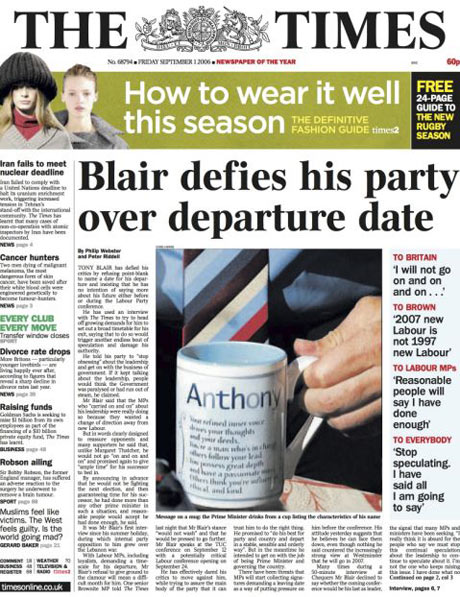 PW: The Times interview with Blair is published, in which he tells his party to "stop obsessing" about the leadership and get on with business of government, stressing he will give his successor "ample time" and not go "on and on" like Margaret Thatcher.
No 10 anxiously watches how the Press Association (PA) is reporting the response inside the party.
Members of the SCU note that the PA report reads: "The PM came under fire yesterday after declaring he would not bow to pressures to name a date for his departure at this month's party conference. He used an interview in the Times to urge colleagues stop obsessing about his leadership and instead concentrate on getting on with governing the country."
Blair meets four discontented MPs in Chequers before leaving for Balmoral.
11.05am from Matthew Taylor (director of policy):
Reflecting some discussions with middle ground MPs, there are some things that it would make it easier to hold where we are. An explanation for why TB does not want a timetable but at the same time seems to be pointing to one next year.

The most potent arguments are

1 For TB to be seen to be forced into a timetable would lead to paralysis and be counter-productive both for party and government, and it would not anyway satisfy the Compass group tendency [A leftwing pressure group].

2 To give the opposition advance knowledge of when our leadership contest will be would be inept..

... We need a progressive and friendly account of why TB wants to steer through policy reforms [about academies and the NHS] …It is vital that by the time of conference [in late September] we have a substantive and strong account of what TB wants to do in the autumn and new year.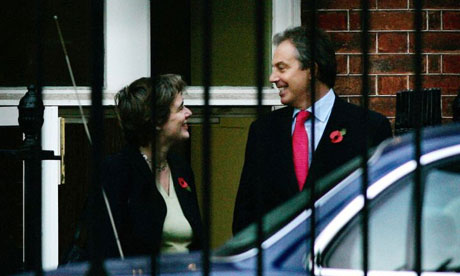 11.53am from Wegg-Prosser to Julie Crowley (special adviser to the communities secretary, Ruth Kelly):
Yes it would be good to have Ruth [Kelly] out there saying TB's position totally reasonable, made clear not going on and on, ample time offered, big important debate to be had about the future of the government, and that is the one RK is engaged with.
12.26pm from Ruth Turner (director of government relations at No 10):
Spoken to Alan Johnson [home secretary] read the Times and thinks he is being eminently reasonable and acting in the interests of the party. Thinks it is obvious that TB is talking about sometime in 2007, but the moment of choosing should be his, it is not in GB's interests that TB is pushed, or that he goes before the Welsh or Scottish elections. AJ is talking to Nick Robinson off the record and is talking to [Blair's press secretary] David Hill about doing interviews/clips.
1.17pm from Wegg-Prosser:
Is it not worth getting some people like Buck etc [Karen Buck, who is seen as a key centre-ground MP] to write letters to their CLP [Constituency Labour party] chairs which they can then put up on their websites and release to the media?
1.54pm from Wegg-Prosser to Turner:
Julie has called to say Ruth [Kelly] is willing to do whatever is needed. I have said we should try and get her on some shows.
12.35pm from Lloyd:
The Downing Street team are discussing conference slogans. Peter Hyman (Blair speechwriter) suggests something along the lines of "Building for the future to reclaim future."
1.14pm from Wegg-Prosser:
GB will not have the word "future" in the line at the moment.
1.58pm from Turner:
So BBC chose [MPs] Sarah McCarthy-Fry, Julie Morgan and George Mudie who are hostile rather than Mike Gapes, Ann Clwyd and Karen Buck [who] are reasonable and supportive. This is a campaign organisation and not a news outlet!
3.36pm from Jonathan Powell [Blair's long-serving chief of staff]:
Did we publish his three foreign policy speeches as a pamphlet? TB wants to send to Murdoch.
4.05pm from Wegg-Prosser:
I AM GOING MAD I HAVE HAD TOO SPEAK TO THE PRESS FOR THE PAST 3 HOURS.
Tuesday 5 September 2006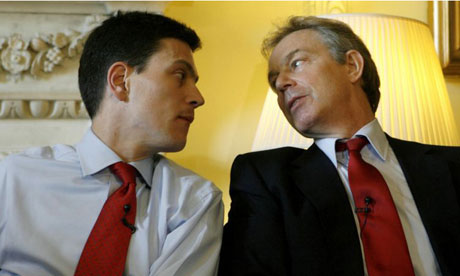 PW: Over the weekend and start of the week, the Blair team learn the scale of the rebellion and the identity of some of the plotters. They find out about a letter with 17 names from the 2001 intake calling on Blair to quit, and there is horror at some of the previously loyal names. David Miliband is deputed to appear on the radio to stem the tide by suggesting "the conventional wisdom" is Blair will be leaving within a year. Blair singles out junior defence minister Tom Watson for criticism. The Blairites try to create a counter letter.
7.58am from James Purnell (work and pensions minister and Blair loyalist):
Is Guardian true re Chris [Bryant] and Sion [Simon]. Am happy to do any TB boosting if you need anyone?
PW: The Blair team are also exercised by damaging leak in the Daily Mirror of a memo written five months earlier by Wegg-Prosser suggesting a new media strategy. Suggestions about Blair appearing on Songs of Praise and leaving with the crowds demanding more has left the No 10 team open to ridicule. It fuels some MPs' fears that Blair does not intend to quit soon.
9.15am from Wegg-Prosser:
I drafted this internally and sent it to a handful of people. It is strange that the Mirror did not know who wrote this, which suggests they had a paper copy, without the email.
9.15am from Powell:
TB wants to be very hard on the memo. TB never saw the memo nor did senior staff ... Off the record he wants to brief that he has told his staff there is no point trying to restore this aspect or that of his image. He wants to concentrate in the final period of embedding the public-service reforms.
10.17am from Taylor:
Attached is the statement [the counter letter]. Aiming for 30 plus names by lunchtime trying to get MPs to ring other MPs so it does not look like all from here. Can we all send names to [assistant political secretary] Razi [Rahman], and Razi can you update every 30 mins on the names we have, plus any people that have refused?
11.10am from Taylor:
Can we continue to try to get MPs to ring each other? We won't be able to pretend this is spontaneous but we want it to be seen we are co-ordinating an MPs effort rather than driving it from here.
11.36am from Rahman:
At 11.30am we have 17 names.
PW: The Blair team desperately look for a backbench figurehead who attracts support across the spectrum.
11.35am from Wegg-Prosser
[Karen] Buck is next port of call we need her up and about very quickly. Her phone [is] switched off and we are chasing her.

If Buck does not come through in an hour we will need to identify another candidate to lead on this. Lunchtime news confused, but tone not good.
11.48am from Ed Vaizey (Tory MP and current arts minister in coalition, a friend of Wegg-Prosser):
Treachery. Sion has signed the letter.
2.29pm from Rahman:
Currently we have 34 names doc attacked
3.48pm from Nita Clarke [responsible for co-ordinating No 10 links with unions, discusses if union-sponsored MPs are loyal]:
I am working hard behind the scenes to keep the unions out of all this turmoil and want no pretext for them saying we are fingering them.
5.25pm from Wegg-Prosser:
Can we aim to have a definitive list of MPs by 5.30? [Blair spokesman] Matthew Doyle what do you think about taking the letter to and the list over to Commons and leaving on the table?
5.31pm from Rahman:
5.30pm update 54 MPs signed up. List attached.
5.35pm from John McTernan [political officer at No 10]:
add Mary Creagh and Jim Sheridan.
5.36pm from Wegg-Prosser:
Sheridan IS ON THEIR LETTER
5.38pm from McTernan:
I know a real unravelling, Anne Moffat [then MP for East Lothian] in Scotland persuaded Jim.
5.39pm from Rahman:
now 57 MPs
5.44pm from Clarke:
What about getting some of the old timers - Kauffman Barron, Blunks [Gerald Kaufman, Kevin Barron and David Blunkett] including peers - to organise a letter to the Times saying we been here before with Labour tearing itself apart 18 Tory years, getting rid of leader meant tory civil war, have we not learnt anything?
6.33pm from Wegg-Prosser:
I just spoke to Karen [Buck] who made the following points.

nervous about being a Number 10 operation and is concerned names all cronies. I said we are relaxed re No 10 and pointing out that she had resigned a few months ago. We are emphasising that the list does not include Byers, Blunkett, Miliband etc. She has the latest list and new total. She does not want to do morning media.
7.02pm from Brendan O'Grady (No 10 press officer):
Has Tom Watson signed the letter? What do we think, if so.
Wednesday 6 September 2006
PW writes: With the Buck letter published, the two sides fight to strengthen their position. Blair and Brown meet at 7.45am in a lengthy standoff. The rebellion still builds as Tom Watson resigns mid-morning and Blair promptly describes his behaviour as "disloyal, discourteous and wrong". The letter signed by Watson says: "Sadly, it is clear to us – as it is to almost the entire party and the entire country – that without an urgent change in the leadership of the party it becomes less likely that we will win the next election."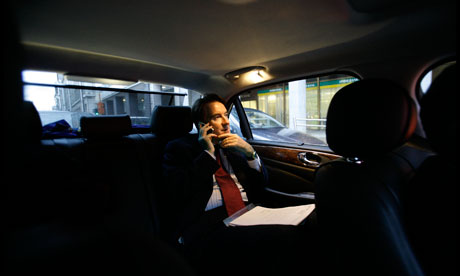 8.58am from Peter Mandelson (then EU commissioner, and a Blair ally):
Ben I think TB badly needs momentum being rebuilt behind his position. Any chance of another 50 names being added to Karen's letter as I discussed with him this morning? P.
8.59am from Wegg-Prosser:
Yes that is what we are planning at a meeting in 2 mins.
8.57am from Lloyd (discussing the possibility of persuading David Miliband to stand as a challenger for the leadership):
I still cannot get up the courage to tell him his country needs him.
12.46pm from Wegg-Prosser:
Script for Liam (Byrne, Home Office minister) along with the TB/Watson letter.

"The speculation is totally unnecessary and doing terrible damage to the Labour party. The PM's position is perfectly reasonable, ample time, no on and on. Nothing more divisive than the attempt to unseat the leader that we are now witnessing. The parliament is clearly divided into two halves. TB in the first, the next leader in the second to prepare for general election.

"For this instability to stop the PLP [Parliamentary Labour party] faces a clear choice. Do they settle for a stable and orderly transition with either the opportunity for the party to renew itself and prepare for the next election or do they decide to go for a coup and endure that chaos that would inevitability ensue."

4 more PPS [parliamentary private secretaries] have resigned Wayne David, Ian Lucas, David Wright all signed the letter.
12.48pm from Rahman:
We currently have 73 MPs signed up. It is going slowly now with a number of MPs who are supportive of the position not willing to sign up to any letter. Do you want me to keep pushing on this?
1.52pm from Taylor:
Yes but not us pushing – 80 would be good.
PW writes: As Blair and Brown prepare to meet again, just after lunch, the Blair team start to feel more confident and prepare to go on the attack by preparing a new message.
2.15pm from Wegg-Prosser:
It is clear that colleagues have to make a choice. [David] Miliband et al have made clear there will be a transition next year. Yet some MPs seem determined to undermine the government and the party further. They have to make a choice - stability and transition or putsch and chaos.
2.19pm from Powell:
TB thinks we need to plan a roll out of cabinet members in support around his statement. Can we co-ordinate this? And we need to get people to start using the expression blackmail as in we cannot have the party to give into the blackmail of a small number of MPs threatening continued instability while calling for stability.
3.03pm from Wegg-Prosser (prepares a new briefing line in response):
"The issue is being presented as decision for the PM to take yet nothing could be further from the truth. It is clear that he has made all the decisions he needs to make. However it is clear that GB has not yet decided. Is he happy to be the overwhelming favourite to take over as leader and continue the progress which the government has made since 1997. Or is he happy to preside over a coup designed to remove the PM from office and do lasting damage to Labour's electoral prospects. I hope the chancellor takes the right decision before events make it for him."
3.04pm from Clarke:
John Grogan [MP and Blair loyalist] brilliant on Sky... calling on GB to come clean. Can we get others to start putting such pressure on – delegation to GB?
4.04pm from Rahman
4pm update - 84 MPs signed up.
4.08pm from Taylor:
excellent.
8.07pm from Damian McBride [Brown's press secretary] to David Hill:
Gents, I am still getting calls from lobby hacks [the Mail's Benedict] Brogan, [the Guardian's Patrick] Wintour etc saying they have written up today's story as Number 10 accuses Brown of plotting coup, and saying that far from knocking that down tonight – their Number 10 contacts have been reaffirming it. This is not what the PM told GB would happen, Can you explain? Damian.
8.54pm from Powell (regarding McBride's emails):
I hope you don't reply to any of this ridiculous person's ridiculous emails.
PW writes: With some information about the second Blair-Brown meeting filtering through to staff, and indications Blair has conceded some ground, his team are now thinking about how to address the issue of his future relations with Brown when Blair makes a prearranged visit the next day to a north London school in Buck's constituency.
8.41pm from Wegg-Prosser
If TB does a Q&A I think he needs to be very careful on the joint premiership line. One of their key claims is that if TB is running the country with GB it would be a lot simpler if he was to leave and give GB a clear run. I think he should make clear he is the PM and leave it at that we also know that this dual premiership point drives the rest of the cabinet and contenders mad. I also think he needs to refer to the leadership contest to come.

If he is asked whether GB is co-ordinating this he should say "As I said I think this row will blow over. I don't believe GB would get involved in something that would destroy the Labour party."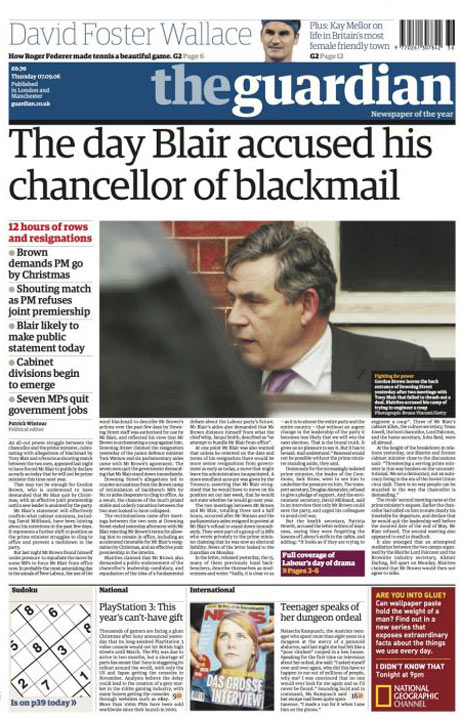 Thursday 7 September 2006
PW writes: In light of the Brown meetings, it becomes clear decisions must be made around around whether Blair makes a new statement around his plans for staying on as leader or not.
His team discuss how this should be handled before the school visit, including the refusal to give the endorsement Brown craves.
8.32am from Wegg-Prosser:
My starter for 10

"As the leader of the party I acknowledge that in recent days that we have not provided the country with the leadership which it requires. This is something I regret. As is well known I will not be leader of my party when it meets for party conference next year. By that point it will be a new leader, but what the last few days tells us is not so much who leads but how the country is led is what matters.

"A line needs to be drawn under this issue, we need to focus on the priorities of the British people. That means giving kids like those we are meeting today the opportunity to fulfil their potential and continuing to build on the progress we have made since 1977."

… and no endorsement.
9.55am from Liz Lloyd:
This is suggestion of [Labour MP] Pat McFadden. "This is not stable. This is not orderly. This is old style Boss politics. It is not the future of the LP [Labour party]. I won't have anything to do with it and I have nothing more to say." Accompanied by no briefing except to say he won't be ordered around by 15 backbenchers in an orchestrated assassination attempt.
9.57am from McTernan:
What do we want loyalist MPs to be saying today? Barry Sheerman is getting calls to go on and wants to unmask the Portcullis plotters (Mudie, N. [Nick] Brown etc).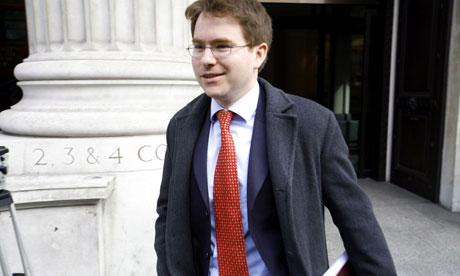 12.21pm from Wegg-Prosser:
My head is getting better almost worth drinking so much. He must mention cabinet – it is a way of keeping up the pressure on GB. I will do this very heavily once he does it.
10.17am from Taylor:
As I said in earlier email I think we need to move to public and members overwhelmingly in support of PM and want this rubbish to stop.
11.27am from Clarke:
Anne Moffat Is doing World at One [on Radio 4]. I gave her line - calls from LP members show they want this to stop forcing TB out early, a disaster etc but if either of you want to tell her more then call her.
12.04pm from Wegg-Prosser:
When are we getting [foreign secretary Margaret] Beckett up – surely this is the time for her to perform a slam dunk and close this whole grubby affair?
1.40pm from party officials:
Labour party website overwhelmed with messages saying GB doing terrible damage.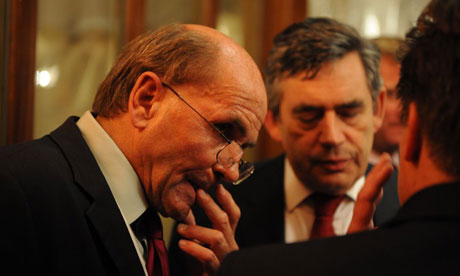 1.55pm from Wegg-Prosser:
Roger Alton [then editor of the Observer] called saying blood all over B's chewed finger nails. Clear to him now that GB should not and cannot become PM. Wants to know how to help this weekend. I said we would have to think once we know how today pans out.
PW writes: In his visit to the school, Blair confirms that he will step down within the next 12 months and that his forthcoming party conference speech will be his last; he also apologises for the Labour party's recent conduct, saying it "has not been our finest hour".
Earlier Brown, visiting a Glasgow athletics track, states publicly that he had told Blair in their meeting what he had said many times before: "It is for him to make the decision."
After Blair's announcement, Doug Henderson MP, a strong Brown supporter, says: "It doesn't seem to me that the public knows any more about the PM's retirement plans. People keep saying to me that the Labour party must have … a new leader before the May 2007 elections."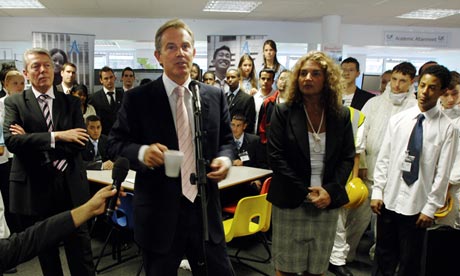 3.37pm from McBride:
Incidentally before there is another outbreak of "it's a coup" briefing - I loved the quotes in the Polly Toynbee piece (very measured). We are condemning the statement from Doug Henderson which has popped up on News 24, saying it has been totally contradicted by what GB himself said and it's totally wrong and unhelpful.
3.40pm from Wegg-Prosser:
No 10 has been told by HMT [Her Majesty's Treasury] that they are denouncing Henderson. Damian McPrickface denying Henderson briefing - we have got them on the run. McPrickface will be going spare.
5.03pm from Wegg-Prosser:
Briefing for papers: "no deal done shape of an understanding between the two men – clearly the events of the past few days had to come to an end. No date set. There will be further announcements on timing. The PM will make the announcement that he is stepping down before the conference next year ...

"Any suggestion that the PM's statement was agreed by GB that he will be publicly endorsing GB in the next few days or that they are working on an agreed programme for government are nonsense there is no deal."
5.58pm from Ruth Turner:
TB just used a very good phrase. "Although we may not have seen the back end of the machinations, we have seen the back of the pretence that this is not machinations. What has been exposed is that some supposedly very clever, but actually rather crude, operation not some spontaneous uprising of MPs and public."

Probably best check with him is ok to use elsewhere, even if not attributed to him, but I thought it rather summed up where we have got to.
7.57pm from Wegg-Prosser:
I tried it on the Sun but I had to stop when we got to machination.
6.33pm from Wegg-Prosser:
From the calls I made this evening I have said this will be the focus of the speech to Progress [a Blairite group Blair was due to address at the weekend] based on the chat with the PM this am.

"Step fretting about the polls, governments should get used to swings in popularity. This is what happens to governments in their third term. Put faith in the public. if Labour has the right ideas then the public will vote for them. 2007 is not 1997. Labour needs to be open about developing new progressive ideas to tackle the new issues which we have to deal with such as security, migration, globalisation and environment."
8.19pm Wegg-Prosser to Powell:
subject Observer: They are trying to do a poll which shows how bonkers GB is. Do you think we could set up another TB-Roger [Alton] call this weekend. It is crucial to keep them onside.
[The Observer front page on the following Sunday says 'Cabinet turns on Brown in hunt for alternative PM'].
Friday 8 September 2006
PW writes: The morning's papers report a "sullen and potentially unstable truce has been struck" (the Guardian). The Blair team's focus shifts to how to handle an interview in the London Evening Standard given by Charles Clarke, the former home secretary, which accuses Brown of behaving stupidly and failing to bring the coup under control.
8.32am from Wegg-Prosser:
We know about the Standard, He has also done an interview in the Telegraph where apparently he questions GB's character …
9.58am from Purnell :
As turkeys seem to be voting for Christmas early this year I suggest an impromptu 1994 dinner [a reference to the so-called Granita deal between Blair and Brown in 1994] on Sunday night. Please let me know your availability and i'll book a central London venue.
12.34pm from Wegg-Prosser:
Damian has just called me – going mental about Charles.

We must retain our silence.
12.54pm from Lloyd:
TB speaking to GB now.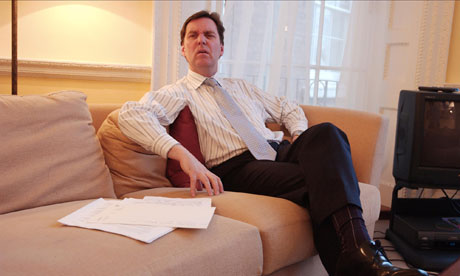 1.29pm from Jonathan Pearse [whips' office]:
Whips office have been doing a lot of ringing round today. Some concern amongst colleagues that CC [Charles Clarke] was put up by us so the message is anything we can do to stop now would be helpful to calming the situation down. Bob Ainsworth [MP] says it is also important that Alan Milburn and Stephen Byers don't say anything to stoke the fires as we will get the blame for that.
1.37pm from Wegg-Prosser:
Umm this thing has ruined my weekend which admittedly was ruined some time ago thanks to half a dozen unknown student politicians who by accident became Labour MPs.
2.10pm from David Hill [press secretary]
Frank Field and Graham Stringer [MPs, Field is a former welfare minister] have said to the BBC they think there should be a contest and that both Alan Johnson and John Reid should fight it with Gordon. TB almost incidental to today's coverage now.
3.43pm from Turner:
Had chat with TB said not brief anything other than the three points. already done
6.43pm from Wegg-Prosser:
In light of the conversation Matthew [Taylor] has had with David M I think we should deploy a background briefing along the following line I have used with the Sun and the Guardian. We are not distancing from CC. We do not control him. He is an independent politician – only a few weeks ago he was criticising the PM and Reid. He is entitled to do whatever he wants just as [Brown backers] Dobson, Jackson, Mudie, Henderson, Tom Watson, Sion Simon and Uncle Tom Cobbley are all entitled to criticise the PM What we are saying is that we hope that things calm down and will play our part in achieving that."
5.03pm from Turner:
Re Harriet Harman [then minister of state] she will not say one more word about GB-TB as having called on everyone else to do so she thinks she needs to. She said she was shocked and horrified by the hostility to GB when she did a ward meeting last night I agreed with her hostility to GB was bad and that was why precisely why we were saddened by the totally unnecessary attack on TB. I said I was sure that we both agree that this is just terrible old style macho politics, and we must have no more of it.

... She says it is unfair and worrying and bad for the Labour party if the hostility to GB continues. I said the official feedback from Labour party call centre showed that Tom Watson was being named probably even more frequently than Gordon as the instigator.
6.47pm from Wegg-Prosser:
We need to remind the PM to mention this somewhere in the speech tomorrow.

"We need a new debate about the future of the party this is something that should involve everyone in the party we need to embrace new forms of communications to help in this process. Politics is changing and we need to make sure that we keep up to date."
6.15pm from Wegg-Prosser to Anji Hunter [a Downing Street aide until 2001]:
I am shattered.

I did my best - taking orders from our friend in Brussels and my own instincts.

Key points impossible to have proper negotiations cos every time they agreed something they leaked it to the papers. GB kept demanding TB's endorsement yet at the same time told that he had to leave office immediately cos the public hate him – weird or what.

There was no shouting that was made up. First meeting in GB office the second on the patio.
6.45pm from Wegg-Prosser:
Also, Ed Balls office in the House of Commons was the war room all day Monday.
7.50pm from Powell:
Who knows what will happen next but very well done over the last week or so. A remarkable performance on behalf of TB who is not very good at saying thank you directly thank you very much indeed for keeping the ship afloat.
Patrick Wintour writes: The effect of the coup was to force Blair into promising he would be gone by the party conference of 2007. He made a rapturously received farewell speech at party conference in 2006. Through the winter he looked for an alternative candidate to Brown, most probably David Miliband, and pursued a policy review to embed his reforms.
In March 2007, Brown started to endorse some of its symbols, such as academies and welfare reform. By April, the battle for the succession was largely over when Miliband announced he would not be running and then on 1 May, the 10th anniversary of his 1997 election, Blair endorsed Brown.
If the purpose of the resistance to the September coup had been in part to find time for an alternative to Brown, it had failed.