The leader of the Conservative party in the Lords, Lord Strathclyde, is to sever his links with the controversial oil traders Trafigura.
Evidence was disclosed in the Guardian today that the London-based firm has carried out a huge cover-up of its role in an African waste-dumping scandal.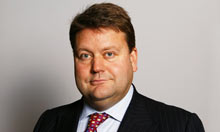 Strathclyde said: "I've read today's stories about Trafigura with concern and I am making inquiries about the situation."
He is to leave his post as a non-executive director on the board of Trafigura's hedge-fund arm, Galena Asset Management, which pays him an undisclosed fee.
Strathclyde said today that he had already intended to stand down from Trafigura and all his other business roles by the end of the year "in preparation for the forthcoming general election".
A second senior Tory, former minister Peter Fraser QC, has now registered on the register of Lords interests that he is being paid by Trafigura. This follows a formal complaint by Lib Dem Norman Lamb.
Internal emails published by the Guardian revealed that Trafigura, whose traders declared $440m profit last year, knew its oil waste was highly toxic, before hundreds of tonnes of it were dumped around the west African city of Abidjan, in Ivory Coast. The company has now agreed to pay compensation to more than 30,000 inhabitants who say they were injured by toxic fumes.
Greenpeace in the Netherlands, where Trafigura has a holding company, have launched a legal action in Amsterdam calling for the firm to be prosecuted for manslaughter or grievous bodily harm, quoting documents they say detail the waste's toxicity. Trafigura continues to deny its waste could cause "serious" injury.
In November 2006, the firm's directors anticipated the prospect of litigation against them over the waste dumping.
Strathclyde had since 2004 sat as a non-executive director on the board of Galena, which shares directors with the oil-trading operation and is based at the same London office block, Portman House, near Marble Arch. He was asked for assistance in dealing with the controversy, and recommended Fraser. Trafigura hired Fraser to write "an independent report", also for an undisclosed fee. Fraser says he accepted the job on a similar basis to that of Lord Woolf, the retired lord chief justice, who was paid £6,000 a day by BAe, to write a report on allegations of bribery.
Woolf declared his BAe work on the Lords' register, but Fraser initially decided not to do the same over Trafigura. Asked if it was appropriate to take the job, considering Trafigura's chequered history, including US penalties for involvement in Iraqi sanctions-busting, he said: "I know of nothing of Trafigura's other activities, as that falls well outside the terms of my remit."
Strathclyde said yesterday that he was not involved in any way in Trafigura's oil operations. "I sit as an independent non-executive director on the board of Galena Asset Management Ltd, a British registered company, regulated by the FSA, specialising in managing funds in metals based commodities of which Trafigura is the shareholder. The businesses are run separately and Galena has no involvement in any of the allegations made today.
"I have already indicated that I will be giving up my non-parliamentary business roles around the turn of the year, in preparation for the forthcoming general election in 2010."