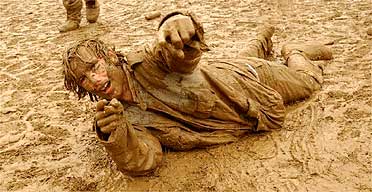 The fun, the filth and the fury
Julien Temple whittled down 54,000 minutes of home-movie footage to create the ultimate Glastonbury movie. You can practically taste the mud, says Patrick Barkham.
Patrick Barkham
24, Mar, 2006 @12:18 AM

Festival memories linger with glas-toe souvenir
Dozens of revellers have been left with a more painful souvenir of the rain-sodden event - a dose of trench foot, or "glas-toe" as the victims have dubbed it.
Steven Morris
01, Sep, 2005 @9:55 AM
Pop: Keane
Pop: Between Glastonbury and Live8, Kathryn Flett went to see Keane at home in Hastings.
Kathryn Flett
03, Jul, 2005 @1:23 AM
Your 160-character festival reviews
· In the inviting shade of the Eartheart cafe tent in the super-relaxed Lost Vagueness, drinking chai, shoes off reclining on mats listening to cool, stoned sounding world music. Nice.
How was it for you?
We want to hear from you! Text us your reviews; the best one wins an iPod.
Imogen Tilden
28, Jun, 2005 @12:00 PM
Sounds from Glastonbury
Johnny McHugh has created these two mini sound documentaries of the Glastonbury festival for us. Click here to listen to Friday (contains one use of bad language), and here's Sunday and Monday.
Sean Clarke
28, Jun, 2005 @11:43 AM
Press review: What to say about the Glastonbury festival
Press review: ... the Glastonbury festival.
Michael Hann
27, Jun, 2005 @11:00 PM
Kill all hippies, upset all Kylie fans
Dorian Lynskey's full review of yesterday evening's music br/>
He announces, "We're a punk rock band and you're a bunch of fucking hippies," says "fuck you" to any Kylie fans in the audience, and accuses everyone of being complacent cattle. The only way he could have caused more offence would have been by wheeling on an effigy of Michael Eavis and setting fire to it.
Imogen Tilden
27, Jun, 2005 @1:16 PM
Glastonbury from my sofa: day three

Shirley Manson of Garbage.
Photograph: Bob Rose


Glastonbury: Patrick Barkham's festival diary
Patrick Barkham's festival diary.
Patrick Barkham
27, Jun, 2005 @11:13 AM
How was it for you?
So, it's all over bar the shouting about who was best. And though Primal Scream's Bobby Gillespie probably takes the prize for noisiest advocacy of his own band, the bones of this year's Glastonbury are being thoroughly picked over elsewhere.
Lindesay Irvine
27, Jun, 2005 @11:13 AM

Eavis bids the crowds farewell until 2007
Flash floods gave way to brilliant sunshine as Glastonbury danced itself into the muddy ground yesterday and its founder, Michael Eavis, vowed to continue to mastermind the festival for years to come.
Patrick Barkham
27, Jun, 2005 @10:44 AM