"This is my park," explains 21-year-old Little Simz as she sweeps her hand across a pocket of north London greenery. "It's a cool place to come and chill." It isn't – it's a bloody weird place to come and chill. While the MC poses for photos, a middle-aged man pulls a golf club from a trench coat and starts driving neon-yellow balls at my head. In the distance, a power-lunging, topless luxury flat resident is taking some dangerously tight Lycra shorts for a spin and whooping like a faulty car alarm. "Yeah," she says, as we wrap up. "I like it here."
Little Simz likes what she likes. And what she likes is anyone's guess. As a nine-year-old she decided that "girlhood playtime" meant "picking up a mic and busting rhymes". By the wise old age of 11 she was dropping her first self-penned track onstage at Islington Academy, as part of the same youth club as Leona Lewis and Alexandra Burke. At 15, she transmogrified into a CBBC star, thrilling the nation's pre-teens by squealing at CGI Chinese ghouls in paranormal kids' drama Spirit Warriors. Eventually she graduated to a role in Youngers, E4's youth drama about a wannabe N-Dubz, in which she played the Tulisa-inspired character's best friend. Then she returned to music, had her Blank Canvas mixtape debuted on Jay-Z's Life + Times website when she was still only 19, racked up a couple of Mobo nominations and prompted record labels to fly her out to New York in an attempt to impress her.
"Are you here for your GCSE results, love?", asks a school administrator as we wander into Highbury Fields School in late August, during a walkabout of the places that shaped Little Simz's career. "No, I'm a musician," the rapper protests to the now baffled member of staff. "Seriously. I'm here with the Guardian."
You can see why they wouldn't believe her. Wearing a floppy hat and ankle socks adorned with little blue hearts, Simz – otherwise known as Simbi Ajikawo – is softly spoken to the point of shyness. The only clue to her growing success is a sweatshirt emblazoned with the name of her crew, Space Age – and then she'll only describe them modestly as "basically just mates who make music".
Simz is, however, a technically astonishing MC. Her verses freewheel from skippy, breathless flows that pack an impossible number of syllables per bar, to stop-start rhymes so tight to the beat they could've been superglued there. Live she's an engaging, personable performer; using breakdowns as an opportunity to flop around the stage like a ragdoll before corralling the crowd into chorus clapalongs. When we find a teacher who recognises her, I ask whether she's surprised by her former pupil turning up with a national newspaper in tow. "Not exactly," she replies, as Simz hugs her into a selfie. "We always knew that Simbi would do something … different."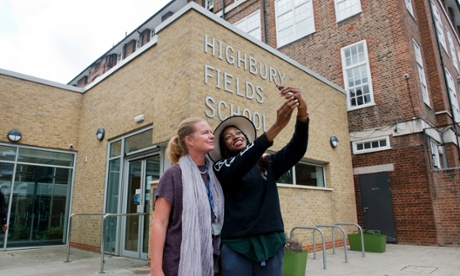 It's true that Little Simz doesn't sound like most British MCs. Listen to one of her tracks and you'll have no idea if she's wearing a Rolex or driving a German whip. She shuns materialistic, postcode-centric braggadocio ("Talking about money and bitches: what is that? It's mainly just lies") for lyrical musings on the nature of freedom, individuality and heartbreak. Her upcoming debut album, A Curious Tale Of Trials + Persons, is a concept album featuring Simz role-playing characters at different stages of their journey to celebrity. Channelling the likes of Lauryn Hill ("She was a big influence"), Simz creates tracks that vary from melodic, jazz-inflected soul-hop to near-spoken vocals over downbeat Jamie xx-ish sonic washes.
"I've worked really, really hard on my lyricism," explains the rapper as we step into her Dralon-carpeted school music room, the place she'd spend lunchtimes honing rhymes. "I realised that you have to be honest. When you're being open, that's when people connect with you. You just have to be yourself."
This is where life gets tricky for Simz. Her brand of MC – female, confessional, so down-to-earth you can picture her in Tesco – is not one that has traditionally flourished in the UK. Speech Debelle's soul-searching rhymes about a youth spent in homeless hostels may have won the Mercury, but they saw her dropped by her label after two albums. In order for Estelle to make it big she had to move to the States, find a new record company and hook up with Kanye. Simz's answer? Not signing to a label in the first place.
"They just didn't get me," she chuckles of the numerous A&R people who flashed their chequebooks at her. "That's fine. I'm not your average artist. But I've seen it again and again: they sign an MC who's good because they're being themselves, and then they try to make them into someone else. Fuck that."
As Simz talks earnestly about wanting to "make music that's therapeutic and beautiful", you get the impression that she considers commercial success to be a distraction from, rather than a part of, her career. She won't be releasing any singles ("Singles are for people that want to chart – I'm measuring my success by how well I connect with people"). She smiles about a bemused UK press who bracket her with grime artists like Novelist and Stormzy ("Yeah, we're nothing like each other, but Stormzy's bare cool"). At one point she starts spitting out lyrics from Tainted, an album track in which she raps from the perspective of a mega-rich music star. "I'm running this shit! I could buy your life if I wanted to, bitch!" she exclaims before pausing. "That, basically, is the person I never want to be."
Shunning the record industry and self-releasing music is a model that UK MCs increasingly turn to – inspired largely by major label-free acts such as Skepta. But a lack of major label money is easier for Simz to be blase about than most artists. She recorded her album for free at Red Bull's studios in London, after appearing on a session for Launched, their Channel 4 music show. Jessie Ware and Disclosure also recorded their albums for free at the expense of Red Bull but, unlike them, Simz's publishing is being done by the corporation, too. Is this the future for UK artists? Brands getting involved in the running of their careers?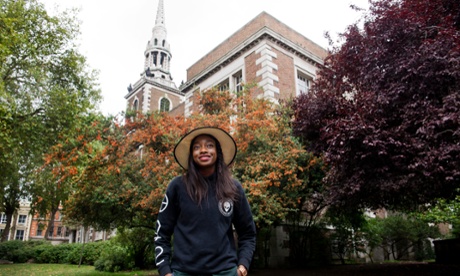 "It gives you a different route," says the Islington MC. "They just let me do my own thing – no interfering with the music at all. It was very kind." It's seems more like a classic piece of stealth advertising on Red Bull's part, allowing them to get name-dropped without a clunky official endorsement. But as Simz will be releasing the album on her own label, Age 101 Music, while Red Bull retains the publishing, it's arguably a more appealing deal than working with major label bigwigs. "They're just about making music and helping people," she maintains.
As our tour ends, Little Simz says her goodbyes and her headmistress exclaims: "Please make sure you come back to speak to the girls about your career!" She may have a hard time fitting it in: in the weeks before we meet Simz has spent time with Mos Def, had Kendrick Lamar proclaim her as "the illest doing it right now" during a 1Xtra interview, and her EP track Closer has topped the Billboard emerging artists chart. Big things beckon, particularly Stateside. I wonder, by the time Simz returns to give that talk, might it be as the UK's most successful female MC? "No, because I'm not a UK female MC," she shoots back. "I'm an artist. I'm a musician. I'm not someone you can put in a box." Her one-time teachers stop what they're doing to glance at her in admiration – a look you'd imagine Little Simz should get used to.
A Curious Tale Of Trials + Persons is out on 18 September on AGE 101: Music