Food, sex, money, whisky, in that order, chant the men of Mahagonny, a fictional city in "Amerika" created as a temple to consumerism and ruined by greed. Pleasure is for sale. All the women are hip-gyrating whores. A man of lard stuffs himself to death with corned beef. We build to destroy, we've all made the bed we must lie in, we drink till we spew, nothing can be done to help a dead man and, most prescient of all, "Who needs help from hurricanes? We're spoiling the world just fine."
With these bleak mantras, woven around the endlessly reiterated and reinvented Alabama Song ("Show me the way to the next whisky bar"), we yield to one of the most awkward and uncomfortable operas – is it, even, an opera? – of the past century. The final product of the brief, beautiful and brutal partnership of Kurt Weill and Bertold Brecht, Aufstieg und Fall der Stadt Mahagonny (Rise and Fall of the City of Mahagonny) was premiered in 1930 and banned by the Nazis in 1933. Attempts to resurrect it, from the 1960s, have been troubled. The earlier, short Mahagonny Songspiel (1927), which packs a harder punch and still delivers the work's best songs, is a better bet.
This full-length operatic version has finally arrived at Royal Opera House, more than eight decades after its creation, in a new English version by Jeremy Sams, directed by John Fulljames and designed by Es Devlin. The production is stunning, built almost entirely from a truck, containers and sloganising projections. Devlin, whose work includes the closing ceremony of the London 2012 Olympics and concert tours for Kanye West, has an unfailing ability to think big. Her classy endeavour almost steals the show.
The work itself is undernourished. Both text and, especially, the song-rich music, have moments to treasure, but the plot is episodic and emotionally remote. That was Brecht's idea: an epic about society, not a romance about love. The heart comes from Weill's score, a dark brew of jazz and operatic parody, edgy cabaret and woozy lyricism. Three kinds of saxophone, bandoneon, bass guitar and piano add a wistful, blue mood to the brassy aural canvas, with its oompah-ing trombones and tuba and ever-ready percussive crashes. Mark Wigglesworth, conducting, lacked some energy at the start, but the tempo picked up as the work progressed. The chorus shone, and a large cast led by Anne Sofie von Otter, Kurt Streit, Christine Rice (the star, as Jenny) and Willard White was spirited if extremely uneven and rather too strait-laced, in need of some roughing up. Many puzzles remain, chiefly why stage Mahagonny in a house this size and why do it in English? The didacticisms of the text, however well translated, gain little, and the angularity of the music seems to scream out for its German original. Many admire this work. Rodney Milnes puts a powerful case in this month's Opera magazine. I would like to be persuaded. I live in hope.
If Mahagonny felt low on calories but high on lyricism, Unsuk Chin's Alice in Wonderland is the opposite. Her version, with librettist David Henry Hwang, of Lewis Carroll's allusive classic is yet more complicated than the original, 150 years old this year. First seen in Munich in 2007, Chin's Alice revels in paradox and riddles, pastiche and parody. The timbres are ear-piercingly bright, precise and often mesmerising. Where Carroll threw in reference to mathematics and logic as amusing curlicues – "I wonder what Latitude or Longitude I've got to?" ponders Alice at the start, even as she tumbles down the rabbit hole – in the opera these intellectual games become more central and intricate than the story itself.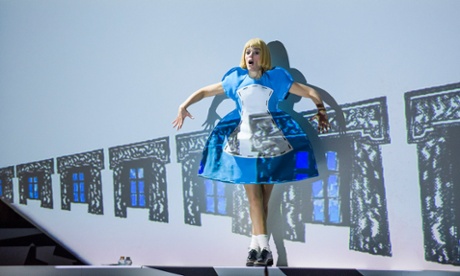 The opera's UK premiere at the Barbican immediately confirmed Chin's talents as a composer, already heard in her Violin Concerto among other works. It revealed, too, the hazards of pitting your wits against Carroll. Chin's solution is in effect to pump the accelerator and slam her hand on the horn. The South Korean-born Chin (b1961) has created a spinning, noisy mechanism that barely stops. The delicate Mock Turtle's song, and a wonderfully played bass clarinet solo impersonating the Caterpillar, are the only balm. The work is immensely long. The huge pair of scissors on stage could have been used effectively to cut, say, half an hour from the score.
Netia Jones's endlessly inventive staging, just seen at LA Opera, rippled with live animation using Ralph Steadman's drawings, and witty, lurid costumes. It cannot have been an easy task. All performed dazzlingly: from a cast led by Rachele Gilmore, Andrew Watts, Jane Henschel and Dietrich Henschel, to the adept BBC Symphony Orchestra (in a reduced orchestration), the BBC Singers and Tiffin Boys' Choir, to Lightmap's animators and technicians. Baldur Brönnimann, conducting, marshalled these disparate forces with the ease of one taking a stroll.
Carroll's genius is to take you down that rabbit hole with Alice. Unsuk Chin leaves us staring into the abyss in disconnected awe. She and Hwang's Alice Through the Looking Glass is due at the Royal Opera House in the 2018/19 season. There's still time for them to slow down, pause and take us with them.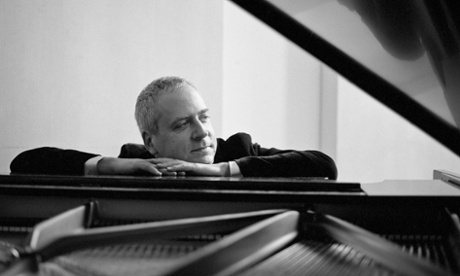 The American pianist Jeremy Denk made a mark internationally with his recording of Bach's Goldberg Variations in 2013, played on a modern Steinway. He has also made a name for himself as a stimulating writer on music, in the New Yorker and elsewhere. Last Monday he made his debut with the Academy of St Martin in the Fields, performing two Bach keyboard concertos, originally written respectively for oboe and oboe d'amore. In the E major the writing is dense, florid, heavily ornamented, while the A major is airy and transparent. Each has a melancholy, minor-key slow movement. Denk and the Academy players, with sparkling virtuosity, held all in precipitous balance. When it comes to letting the music breathe, Bach is the master – with scissors and pace.
Star ratings (out of 5)
Rise and Fall of the City of Mahagonny ***
Alice in Wonderland ***
Jeremy Denk & the Academy of St Martin in the Fields ****