It's not just The X Factor and The Voice: singing competitions have been around for centuries, from the medieval contest in Wartburg in 1207 that inspired Wagner's opera Tannhäuser, to the guild of the Mastersingers a few centuries later that prompted another Wagner opera, Die Meistersinger von Nürnberg. And just as the populist pageants of song fronted by Simon Cowell or Tom Jones thrive on the lyrics of love and the creation of a sense of community through a shared repertoire, so the hero of Meistersinger, Walther von Stolzing, is an emblem of a society that recognises itself through the prize song of a lovelorn young tenor. At the end of the opera, Walther is at last admitted to the mythical guild of the Mastersingers, a victory that Hans Sachs, the cobbler-philosopher-mastersinger at the centre of the story, hymns as heralding the future of art, culture and German values. Which, to be fair, is rather more than you can say for the latest winner of Pop Goes the Voice Factor on Ice, which offers instead as its prize a turn on the hamster-wheel of fame, infamy and a possible slot on I'm a Celebrity … when your career has hit the rocks for the umpteenth time.
So if you're not a wannabe pop minstrel in search of a few minutes of micro-celebrity – or for that matter, a medieval troubadour seeking love and social acceptance – and instead you're a serious young opera singer with intentions to pursue a credible career, you need a different kind of singing competition. There is the BBC Cardiff Singer of the World, which takes place every two years and has just been won by the Belarusian coloratura soprano Nadine Koutcher, and every four years, there is the Tchaikovsky competition, now underway in Moscow and St Petersburg. But if you're looking for an annual competition that is not just going to give you a prizewinning evening of garlands and glitz but generates successful careers on stage, then you really want to be part of Plácido Domingo's Operalia.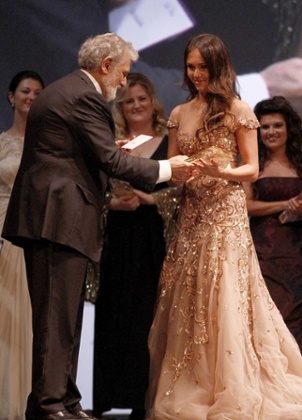 Since 1993, Domingo has cast himself as opera's benevolent Svengali, hosting a competition that goes around the world to a different city each year, and which promises an experience that allows for more than the preparation of a mere handful of prize songs. Domingo doesn't judge the 40 singers who are chosen from the hundreds who apply every year, but he is the driving force behind the competition, conducting the final gala for the chosen few, coaching, tutoring and mentoring them, and making sure that their performances are seen and heard by the great and good of the operatic world. As a result, there is a direct route from being seen in Operalia to being booked by the world's best opera houses.
Next month Operalia comes to Covent Garden, visiting London for the first time. That means a lot to Domingo. "The Royal Opera House is one of my favourite theatres," he told me. "I have been singing there for so many continuous seasons" – he made his debut in 1971 in Puccini's Tosca – "that to me it's a great honour and pleasure to have the competition there." Looking at the list of previous winners of the top prizes tells you all you need to know about Domingo and Operalia's ability to find the finest talent: arguably the world's finest Wagnerian soprano, Nina Stemme, was a winner in the first competition in 1993, and tenor José Cura was a star the following year; the world's mezzo of the moment Joyce DiDonato owes her career to her success at Operalia in 1998, despite coming second that year to another of today's biggest draws, the baritone Erwin Schrott. The Mexican tenor Rolando Villazón won the audience prize in 1999, and Latvian soprano Maija Kovalevska came out on top in 2006; more recently, revealing some competition crossover with Cardiff, the Mongolian baritone Amartuvshin Enkhbat shared the top prize at Operalia 2012 and he has just won the audience prize in Wales. The soprano Angel Blue, one of the BBC's presenters this year, was an Operalia winner in 2009.
At 74, Domingo is still an invaluable presence on stage (it was only illness in his family that prevented him from singing the baritone role of Germont in Covent Garden's production of Verdi's La Traviata earlier this year) and on the conductor's podium (he is general manager of the Los Angeles Opera and was in charge of Washington National Opera from 2003-11). You might think that he has taken on more than enough work in his lifetime – without becoming a singing-competition impresario. Yet Domingo has always wanted to nurture young talent. "When I was very young we moved from Mexico to the opera company of Israel in Tel Aviv," says Domingo, who was 21 and had just married his second wife, the soprano Marta Ornelas. "It was not a well-known place in the opera world, but we worked so much. It was as if we were in a school with the public watching us." That immersion in the professional world of opera, of learning the repertoire by doing it – Domingo sang 19 performances a month in Israel – was crucial to his early development. "I thought, even back then, how much I would like to help young singers to have a similar chance, and now, as well as the competition, we have three groups of young singers who we are helping in Washington, Los Angeles and Valencia. It's important to me to pass something on to the younger generations, to transfer what I have learned from all my experiences in my long career."
Domingo is proud of the "many, many great names" who have come through the ranks of Operalia over time, but he insists that it is about more than producing prizewinners. "For me, the great moments are working with them – all of them. There are so many extraordinary singers who don't make the final, and many of them go on to have great careers. I treasure individual moments from the competitions, of course, but it's just as amazing to see them mature afterwards. That makes me tremendously happy." I ask how the latest generation of young singers compares to those of past eras. "I think they come better prepared now. It's not necessarily about the quality of individual artists – there are great singers in every generation, so I don't mean they are better than earlier singers. But musically, and in terms of stagecraft, they prepare themselves much better today. Perhaps it's because they face so much competition now."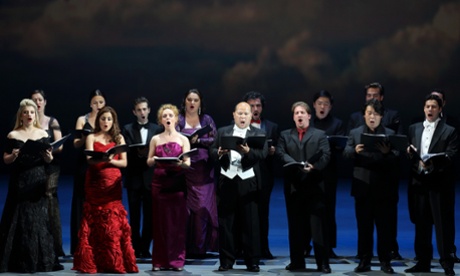 It remains to be seen what kind of future awaits the singers who triumph in London's Operalia, and how they will be equipped for the challenges of today's operatic world – not just artistically, but financially, at a time when opera houses around the world are desperately seeking new audiences as well as new sources of cash. Domingo says that the future of opera in the US looks perilous, even for larger opera houses such as Los Angeles, owing to their dependence on private money, but he is confident that smaller ones such as San Diego, which was teetering on the brink of collapse last year, will recover. And while he is a fan of opera companies streaming their shows to cinemas and big screens – "we were doing things in the plaza in Covent Garden 20 years ago, and it was fabulous" – he says there is no substitute for the live experience of opera in the flesh and stage-blood of a theatre.
Which is where Domingo will be during Operalia week, when he conducts the last-ever performance of John Copley's beloved 41-year-old staging of Puccini's La Bohème, a "beautiful production" that Domingo knows inside-out, having sung Rodolfo in its first run, in 1974. It's a sign of how his career continues to be all-encompassing. The obvious prize for the Operalia winners is immediate recognition and, hopefully, some bookings from the big opera houses. Yet all 40 hopefuls will also have won the opportunity to learn from Domingo himself. For all the fame that Operalia might bring, that could prove to be the most durable prize that any young opera singer could hope for.
Operalia is at the Royal Opera House, London WC2E, from 13-19 July. Box office 020-7304 4000. Domingo conducts La Bohème on the 16 July at Covent Garden. roh.org.uk