Where and when: John Peel stage, 10.15pm Sunday.

Dress code: Zipped jackets and glacial glower.
What happened: The Heart FM Portishead, basically. Even with James Blake headlining up at the Park stage this very second it's difficult to cobble the icy, dislocated minimalist soul crews into a coherent Glasto-invading scene. So London Grammar seem set adrift on their own chart successes – a platinum debut in If You Wait and a rammed John Peel tent despite Kasabian resoundingly killing the Pyramid. And, taken individually, they sound like the dulled MOR edge of the indie-soul crossover. Their guitars wail like Knopfler, Hannah Reid's rich voice husks like Bonnie Tyler covering Tubular Bells and their bursts of crackling modern beats are too sporadic to dispel the overwhelming scent of Albert Hall.
As such, they hover between rare moments of sublime intensity – when Reid takes a solo turn at the piano for If You Wait or during the crowd-rousing Strong – and vast swaths of empty emoting. The string section hoisted on a gantry adds little, and London Grammar rarely bother to summon a decent crescendo, happy to stroke bongos or type away on samplers. "Maybe I'm wasting my young years," Reid muses during the witchy disco of Wasting My Young Years. Quite – Silent Disco, anyone?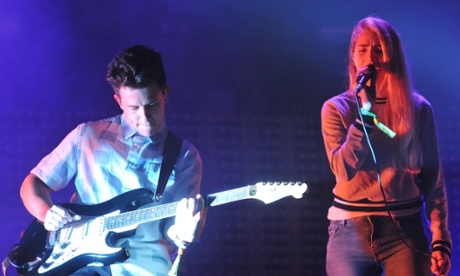 High point: A closing Metal & Dust finally sees the band grow some cojones, Reid's wispy tale of a crumbling relationship building to a climax with some actual crunch to it.
Low point: The regular flurries of Florence.
In a tweet: Where's the Enya guest slot?