Chvrches' playlist for cooking
One thing about doing as much touring as Chvrches were lucky enough to do over the last couple of years is that you really start to miss home-cooked meals. Thanks to online resources these days, it is mostly possible to source edible, artery-friendly food in Middle America, but the lure of the many artisan barbecue, hot dog and hamburger joints along the way is too much for three hungry and tired Glaswegians.
So when we get home to Glasgow, after the obligatory visit to our favourite Indian restaurant, there's nothing like a home-cooked meal in our own kitchens. We have rustled up a selection of songs to soundtrack our culinary adventures. Dixie Chicks' Easy Silence
is a wonderful, poignant song to croon along to while chopping. The
Shut Up & Sing
documentary broke my heart, but made me respect these women so, so much. Bandmate Iain Cook chose Slayer's
Raining Blood
: "OK, vegetarians look away now… I like steaks rare. Blue, if possible. And nothing says bloody, rare steak like a slice of classic 80s thrash metal. I always thought that if I ever had the enviable task of conveying the essence of heavy metal to an alien race, then this would be the perfect summation. Since this was released, people have gone faster and tuned lower, but no one has ever attained a more perfect state of heaviosity. Delicious."
He also chose Cocteau Twins' Sugar Hiccup
: "Any dessert that incorporates lots of lemon and sugar is guaranteed to make me fall off the wagon. A particular achilles heel is lemon meringue pie. Browned, fluffy meringue and super-tart lemon curd idly perched atop a sweet, salty and crunchy base. There are parallels to it in the music of one of my all-time favourite bands – Cocteau Twins. Rarely too sweet, addictive as hell and always expertly balancing the strange beauty of Elizabeth Fraser's vocals with the bitter, psychedelic, gothic instrumental textures of Robin Guthrie and Simon Raymonde."
Chvrches' single Leave a Trace is out 18 September on Virgin EMI/Goodbye

• Yann Tiersen – J'y Suis Jamais Allé
• Dixie Chicks – Easy Silence
• Fiona Apple – Hot Knife
• War Pigs – Black Sabbath
• The Jesus and Mary Chain – Just Like Honey
• Slayer – Raining Blood
• Cocteau Twins – Sugar Hiccup
• Radiohead – Weird Fishes/Arpeggi
• Michael Jackson – Beat It
• Kendrick Lamar – King Kunta
Click here to listen to Chvrches' playlist on Spotify
Bernard Butler's playlist for running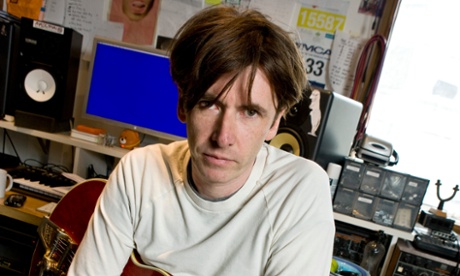 When I was about 12 and went to secondary school, they stopped me doing two things: music and sport. I didn't do any sport for about 25 years (laughs). When I turned 35, I started running again, mainly due to having kids. I wanted to be more active with them. When I was a child, I was scared of the competitiveness of sport, that you are either in the top five or you are nothing. But now when I go running I don't have to be as fast as anybody. I don't have to win. With running, you can just go outside with your trainers and hit the road. Left to My Own Devices is my favourite Pet Shop Boys song. It has everything, from that amazing orchestral intro to the hi-NRG beat. Most of all though, the lyrics are reflective, hilarious and beautiful. It reminds me of doing the Great North Run from Newcastle to South Shields and it was the first song I listened to. It makes you feel like the sun is shining, that this mini drama is happening in your ears. I love Neil Tennant's voice too. So many vocalists now are over-affected and fake, but Tennant is the opposite of that.
the Three Degrees
is my comfort song. It reminds me of sitting in front of the telly next to my dad watching the Royal Variety Performance, watching my dad tap his finger on the arm of the chair and thinking "The world is perfect." The story in
Elevator Operator
by Courtney Barnett makes me laugh out loud; I'm still surprised when she gets to the chorus and the guy is not going to jump. When you're running, it grabs your attention because you see stories like that everywhere you look; people doing odd things in mundane places. You can be on the tube looking at the person opposite thinking, "What are you doing? What are you wearing? Why are you reading that?" But you'll never see them or speak to them again.
PE
The Sound of McAlmont & Butler (20 Year Deluxe Remaster) is out on 25 September on Edsel
• Pet Shop Boys – Left to My Own Devices
• The Osmonds – Denim
• The Tyde – A Loner
• The Three Degrees – When Will I See You Again
• Foxygen – How Can You Really
• Courtney Barnett – Elevator Operator
• The Loft – Why Does the Rain
• Arthur Russell – Instrumentals Volume 1
• Twerps – Work it Out
• New Order – Your Silent Face
Click here to listen to Bernard Butler's playlist on Spotify
Arthur Brown's playlist for trampolining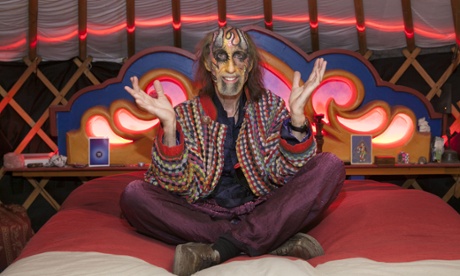 I did trampolining when I was younger, but a couple of years ago my goddaughter and her sister got these trampolines and I decided to join in. I try to do it every day, in my garden, for a minimum of 100 jumps. It's such a great influence on mental balance and on the body, staying fit. It should be on the syllabus of every school: the world would be a better place. The amazing thing is, when you jump up and you reach the top and you're just about to come back down again, there's zero gravity for all the cells of the body, and that's partly why it's so good for you. All the cells love it. When you get to the top, suddenly everything is at rest with the whole world. And on top of that, it's such fun. I like that the movement of bouncing up and down is completely ridiculous. With this playlist, I was going for a good variety of moods. There is some wistful, romantic, beautiful singing from Moulettes on Songbird, which is just an unbelievable harmony and melody. It puts me into a trance every time.

Brigitte Aphrodite's Creshendorious is lovely: off the wall, very light. I like that feeling of playfulness, bouncing up and down to someone making fun of their own life. Then there's a bit of childhood fun with The Teddy Bears' Picnic. It was on the radio a lot when I was young; it was kind of spooky but also comforting. The war was still in everybody's minds, so it was a very lovely escape and also quite surreal. The Marvelettes' Please Mr Postman stands out as one of the earliest R&B recordings with a gospel tinge and a little bit of roughness on a female voice that wasn't current at the time. Beautifully sung. You can time the trampolining with the rhythm of the music: it's great fun to sing along with it as you're going up and down. KB
The Crazy World of Arthur Brown's album Zim Zam Zim is out now on Bronze Rat Records
• John Walter Bratton/Jimmy Kennedy – Teddy Bears' Picnic
• Professor Elemental – Fighting Trousers
• Lene Lovich – Lucky Number
• Weird Al Jankovic – Like a Surgeon
• The Marvelettes – Please Mr Postman
• Grandmaster Flash And the Furious Five – The Message
• Brigitte Aphrodite – Creshendorious
• Little Richard – Tutti Frutti
• Moulettes – Songbird
• Nina Simone – Feeling Good
Click here to listen to Arthur Brown's playlist on Spotify
Zach Condon, Beirut: playlist for cooking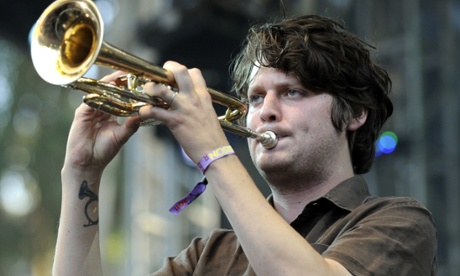 I'm sure you're aware of the phrase "water burner": I'm one of those. Once I get more than one pot or pan going in the kitchen, it's all just a panic attack and a disaster. The biggest disaster was chilli. Because I'm from New Mexico, it's the dish. We put it on breakfast, lunch and dinner in New Mexico. When I moved to New York, I tried to learn to cook it and I just can't. I'm so inept in the kitchen it's almost comical. I can fry an egg. But I've managed to burn those too. I've tried this cooking thing quite a bit and John Coltrane's My Favorite Things is my equivalent of a "calming song", but it never works. The reason I would put Bruce Springsteen on in the house is that I grew up with a shit-ton of Springsteen and he means the world to me. My dad is from Jersey and it's all I grew up with, so this is an attempt to create an atmosphere of domesticity. Bobby Charles's Small Town Talk is so relaxed and this playlist is about attempting to create a calming atmosphere, the sound of a house that knows what it's doing. PE
Beirut's new album No No No is out on 11 September on 4AD
• Cartola – Peito Vazio
• Tinariwen – Matadjem Yinmixan
• Triston Palmer – Entertainment
• Bruce Springsteen – I'm On Fire
• Jorge Ben – Taj Mahal
• John Coltrane – My Favourite Things
• Caetano Veloso – Araçá Azul
• Lucho Azcárraga – Tamboritos Panameños
• Bobbby Charles – Small Town Talk
• Charlie Haden – We Shall Overcome
Click here to listen to Zach Condon's playlist on Spotify
Jonathan Donahue of Mercury Rev's playlist for counting dolphins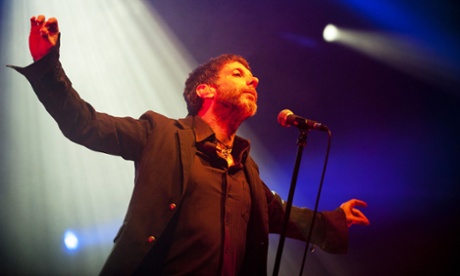 My pastime is – wait for it – counting dolphins on Zuma Beach outside Los Angeles. I started a couple of years ago. My girlfriend's an actress, so instead of hanging out on set I started going my own way. I was in a sort of weird way, because we were writing the new record; I was finding it hard to get out of myself, so I began going to the beach every day and I just started counting the dolphins.

Now I do it all the time. It's almost a silent meditation, like putting a car in neutral. I do it mostly round sunset as it's easier to see them in the surf without the glare of the sun. I can see anywhere from three or four dolphins on a slow day, sometimes even zero, to the 20s or 30s.
This is the playlist I use: I must have listened to it about 40 times. It puts you in that space and helps to turn off the brain. If the orcas come hunting the dolphins or if there's some drama I skip ahead to Frankie Teardrop, but mostly I stick to this sequence. I've tried switching it with something heavier but I always end up going back, because it's so bewildering a song when you're in the midst of it.
The Terry Riley song has informed me from the moment I heard it 30 years ago: I think it's almost the perfect piece of music. It also has something that I imagine is what's going on in a dolphin's brain when they're chasing one another. The Miles Davis is quite similar in that there is something timeless about it and it sounds to me like dolphin-speak. Or maybe it's what I'd like them to sound like.
The Popol Vuh song almost disrobes you: it takes everything of the regular part of the day off you. It strips you of that and you end up somewhere deeper inside of you than the rest of the normal day would lead you to believe. Then there's a plaintive Syd Barrett at his most emotive: I don't care what you're watching, dolphins or rocket ships, that's taking you right down to the heartstrings. KB
Mercury Rev's new album The Light is in You is out on 18 September on Bella Union.
• Miles Davis – Shhh/Peaceful
• Ride – Seagull
• Terry Riley – A Rainbow in Curved Air
• Juana Molina – Un Día
• Syd Barrett – Opel
• Ravi Shankar – Shanti Mantra
• Popol Vuh – Hab Mut, Bis Daß Die Nacht Mit Ruh' Und Stille Kommt
• Suicide – Frankie Teardrop
• Sweet – Fox on the Run
• Arvo Pärt – Spiegel Im Spiegel
Click here to listen to Jonathan Donahue's playlist on Spotify
Dave Konopka of Battles' playlist for basketball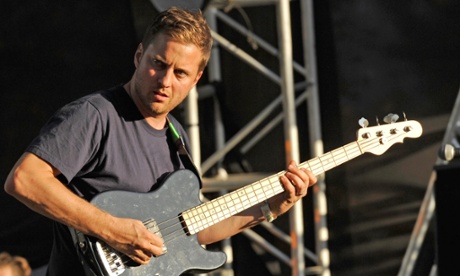 Basketball gives me the chance to rest my mind and do something purely physical. When we were writing the album, it was a great way to balance the two worlds: it didn't involve thinking and was just about acting on instinct.
The whole band helped put together this playlist; we each picked a couple of rollicking good tunes. We're all really into sports: Ian likes tennis, John plays football and I like to play basketball. It's sort of a spiritual thing for us: more than just about winning or losing, it's transforming yourself from a regular everyday schmuck into a warrior.
I chose Sirius by the Alan Parsons Project because to me that song is the epitome of getting pumped up. They play that song for a lot of sporting events, like when the Chicago Bulls had their championship run from 1996 to 1998 and they were this unbeatable team. They used to come out to this song and it was awesome. They looked like they were about to tear the heads off the other team.
I also chose Queen's Another One Bites the Dust. Junkyard Dog, this wrestler in the 80s, used to come down to the ring wearing a giant chain around his neck, and he'd be listening to this song. Awesome choice: that bass line totally rules. Great song for him to enter the ring to.
When I was a kid, I used to have a basketball court in my back yard and me and my friends used to play every day. My friend Shorty had a VHS tape called NBA Classics, with all the stars at the time, and it was set to these really random songs. One I remember in particular was The Warrior by Scandal featuring Patty Smyth. Whenever Shorty would be having a bad game we'd start singing this song and he'd get so pumped and get his game back on track. KB
Battles' new album La Di Da Di is out on 18 September on Warp
• Scandal Feat. Patty Smyth – The Warrior
• Busker – I'm Coming Home Newcastle
• New Order Feat. the England Squad – World in Motion
• Vangelis – Anthem (The 2002 Fifa World Cup Official Anthem)
• Tartit – Tihar Bayatin
• Lower Dens – Brains
• War – Brodermordet
• Lizzy Mercier Descloux – Fire
• The Alan Parsons Project – Sirius/Eye in the Sky
• Queen – Another One Bites the Dust
Click here to listen to Dave Konopka's playlist on Spotify
Laurie Vincent of Slaves' playlist for painting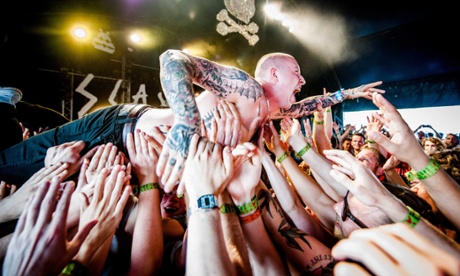 I was always drawing as a kid. Art was my favourite lesson. I did a foundation art degree, studying illustration at UCA Rochester, but dropped out before I finished. I think that studying art is the death of creativity. I lost touch with painting and only got back into it recently, after someone gave me some painting equipment as a Christmas present. I got inspired again.
There are a lot of ideas behind my work. They're not technically challenging, it's about attempting to represent something as simply as possible. It's a bit tongue-in cheek and cartoony. I've always admired how Warhol mocked the art world and I also love the work of Basquiat and Danny Fox. Listening to music when I paint is a way of shutting out the noise of the world. I don't like silence. At the moment, I prefer painting to making music; I don't do it for anyone but myself.
Joe Strummer & the Mescaleros' Coma Girl is potentially my favourite Joe Strummer song. His personality shines right through it and I can just listen to it on repeat for ages. Kraftwerk's Tour de France just takes my mind to different places. It's quite space-age, and I can imagine a landscape unfolding in front of me when I hear it. I watched Wolf Alice's Blush live at the Summer Sonic festival in Japan and I got goosebumps. Intensity is what I love about music and painting. PE
Slaves's album Are You Satisfied? is out now. They tour the UK in November
• The Waterboys – Fisherman's Blues
• Kraftwerk – Tour De France
• Red Hot Chili Peppers – Scar Tissue
• Wolf Alice – Blush
• Ryan Adams – My Wrecking Ball
• Mark Lanegan – Hit the City
• Lana Del Rey – West Coast
• Joe Strummer & the Mescaleros – Coma Girl
• Alt-J – Matilda
• Starsailor – Tie Up My Hands
Click here to listen to Laurie Vincent's playlist on Spotify
Julia Holter's playlist for road tripping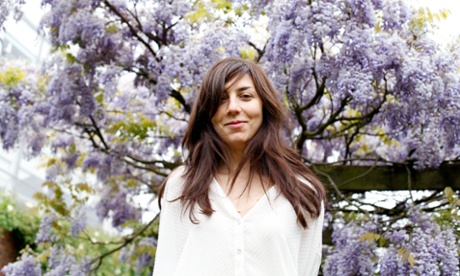 I like to take road trips. I hate planes but I love driving down nearly empty highways, especially Highway 395 in California. You pass through the Mojave desert and interesting towns such as Independence and Lone Pine, where they shot a lot of westerns. There are also a lot of ghost towns on the side of the road that I have yet to visit. There have been times when I just went the whole way in the summer (en route to Mammoth Lakes) without air conditioning and enjoyed having the windows rolled down with the hot dry air blowing in. On that trip, it was hard to listen to music.

But normally, when I drive through with a gentle AC, I can listen to music and that's nice. Cocteau Twins' Lazy Calm: I'm always a sucker for a blissful, reverbed-out sax solo and this song has lasted years for me. I never get tired of it. Alice Coltrane's Yamuna Tira Vihari: I never get over the power of her voice, blending like one with strings and synth. Julee Cruise's Mysteries of Love: it's really open and airy and chilling, kind of meaningless almost, hard to explain. It's like the emotion is deadened somehow, muted, even though it's talking about this heavy thing, the "mystery of love". That contradiction is hypnotic in itself, it's confusing and bewitching. PE
Julia Holter's new album Have You In My Wilderness is out on Domino on 25 September
• Cocteau Twins – Lazy Calm
• Brian Eno – Becalmed
• Lewis – I Thought the World of You
• Claude Debussy – Nocturnes
• The Velvet Underground – Pale Blue Eyes
• Ariel Pink's Haunted Graffiti – Nostradamus & Me
• Bulgarian State Television Female Choir – Sableyalo Mi Agontze
• Jessica Pratt – Greycedes
• Julee Cruise – Mysteries of Love
• Alice Coltrane – Yamuna Tira Vihari
Click here to listen to Julia Holter's playlist on Spotify
Tjinder Singh of Cornershop's playlist for dog walking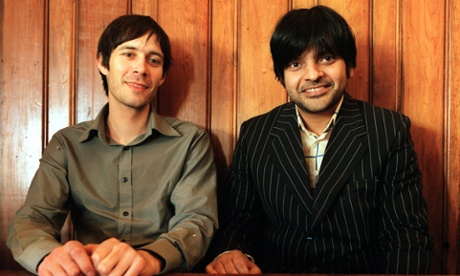 After years of cathood, my family got a wire fox terrier called Celeste. She was a welcome addition. Over a year later, we heard about the plight of an older fox terrier, abandoned in a poor state at a French rescue shelter. He had been there 18 months. We thought lots of people in the UK would want him, and we contacted London-based rescue centre Terrier SOS. To cut a long story short, we got Milou, our first foster dog, that Christmas Eve. It was lovely seeing him becoming a pet again. After a month with us, he went on to live in Brighton with a super-duper couple. Since then, once in a while, we welcome a four-legged guest. We help rehabilitate the dog, get to know it and pass on information to Terrier SOS. It's always rewarding to see a dog go on to the right household, especially after what some of them have experienced. A lot of rescue centres operate with foster families, but they never have enough candidates – the suspense and excitement is like an Agatha Christie every time. I have Charlie Rich's I Feel Love (Benji's Theme)
on a lovely RCA vinyl pressing. The film it's from,
Benji
(1974), is one to watch with your kids. Big Mama Thornton's
Hound Dog
:
Let's give raw blues their dues. From a classic female figure, it's a great song, and features in the excellent documentary
Gunsmoke Blues
. And finally, contrary to most commentators' interpretations of Cornershop's
Wogs Will Walk
over the years, this song is all about taking dogs for walks.
Cornershop's album Hold on It's Easy and their seven-inch with children's book What Did the Hippie Have in His Bag? are out now on Ample Play Records.
• Terry Bush – Maybe Tomorrow (The Littlest Hobo Theme)
• The Beatles – Hey Bulldog
• Charlie Rich – I Feel Love (Benji's Theme)
• Merry Clayton – Poor White Hound Dog
• The Cramps – Can Your Pussy Do the Dog?
• Big Mama Thornton – Hound Dog
• Ween – Fluffy
• Eminem Feat Nate Dogg – Shake That
• Cornershop – Wogs Will Walk
• Led Zeppelin – Black Dog
Click here to listen to Tjinder Singh's playlist on Spotify
Courtney Barnett's playlist for travelling on trains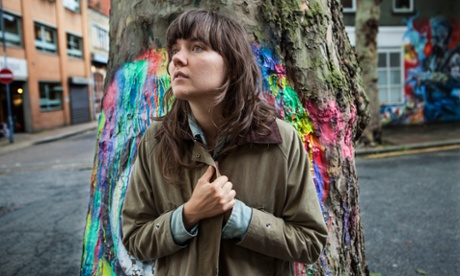 I think trains are my favourite form of public transport. It's a lot more calming than everything else: planes stress me out and make me anxious; I like long drives but cars are small and you can't go to the toilet.

I've only really been on trains around Europe: London to Paris, Barcelona, Nîmes. I'd love to do a whole tour one day on a train with just an acoustic guitar, getting off in different towns. In Australia, there are a couple of lines that go across the country: I really want to do one of those trips one day. I think they're pretty expensive so I might do it when I'm old and retired and want an adventure.
Trains are a really beautiful way of seeing the countryside, soaking it all in: rolling hills and farms and natural landscapes. Not having wireless internet means you can't play on your phone, so I normally read or write a little bit.
It kind of lulls you into the poetic; I think it's the rhythm of the train. If there's a bunch of us travelling it's fun to talk and play card games. If you run out of things to do you can look out the window and not really get too bored.
For the playlist, I've picked train-themed songs I love: it's a very written-about theme over the years, with that very folky, travelling-nomad idea behind it. The Triffids' My Baby Thinks She's a Train was on an album by them I found cheap in a secondhand store and I listened to it over and over. This was my first impression of them, this really groovy song. Then there's Vashti Bunyan's Train Song: she's got a really beautiful voice. I didn't really know that much about her until last year when we did this festival she was playing. I like to discover things and when you do, it just changes your world a little bit.
Elizabeth Cotten's Freight Train is an amazing recording. It's been covered so many times by so many famous musicians. It's the epitome of a traditional folk song: it gets shared around and has a connection with so many different people and I love that about it. KB
Courtney Barnett will be performing at ATP 2.0 Nightmare before Christmas 27-29 November. Her album Sometimes I Sit and Think, and Sometimes I Just Sit is out now on House Anxiety/Marathon Artists
• Vashti Bunyan – Train Song
• Johnny Cash – Folsom Prison Blues
• Elizabeth Cotten – Freight Train
• Darren Hanlon – People Who Wave at Trains
• The Kinks – Last of the Steam-Powered Trains
• The Triffids – My Baby Thinks She's a Train
• Paul Kelly – White Train
• The Velvet Underground – Train Around the Bend
• Bob Dylan – Freight Train Blues
• Elvis Presley – Mystery Train
Click here to listen to Courtney Barnett's playlist on Spotify
MNEK's playlist for walking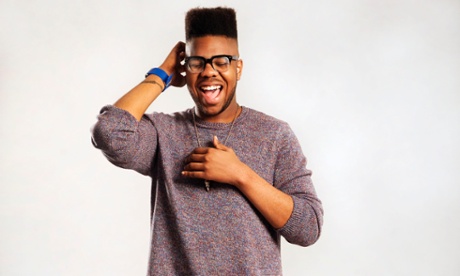 The morning after a big night out with friends, I like to have a big breakfast and then go for a long walk listening to a few of my favourite tunes. The area I live in, between Hoxton and Hackney in east London, is full of interesting characters and striking architecture to occupy my eyes. My go-to walking playlist is pretty chilled and simply contains songs that I love. Janet Jackson's Together Again starts with the sweetest vocal from Janet, and then the beat drops, which just makes you feel good. Then there's Mariah Carey's Crybaby. I'm a proper Mariah fan and can never resist singing along to her melodies and high notes, so Crybaby is the perfect song. And Bobby Brown's Two Can Play That Game is new jack swing at its finest – my favourite era of music.
MNEK's EP Small Talk is out now on Virgin EMI
• Janet Jackson – Together Again
• George Michael – Fastlove
• Mary J Blige – All That I Can Say
• Mariah Carey Feat Snoop Dogg – Crybaby
• Leo Kalyan – Fingertips
• Brayton Bowman – Real
• Whitney Houston – I Believe in You and Me
• Jem – They
• Bobby Brown – Two Can Play That Game
• Guy – Spend the Night