The crystal-clear water races over the stones, a heron cries and the smell of wild mint rises on the warm air.
But there is one thing missing from this bucolic scene: the telltale swish of the reeds or sudden liquid plop that betrays a water vole.
The creature immortalised as Ratty in The Wind in the Willows is vanishing from the British countryside, with the population slumping by more than one–fifth, according to a new five-year survey.
On the banks of the River Chess in the Chilterns, Allen Beechey of the Chiltern Conservation Board has no doubt about the culprit: American mink – escapees from fur farms with a voracious appetite for water voles.
"I saw a mink in broad daylight last month trying to scrag a couple of mallard chicks," said Beechey, as he and Julia Lofthouse, of Berkshire, Buckinghamshire and Oxfordshire Wildlife Trust (BBOWT), scour the river for signs of the elusive water vole.
One female mink – small enough to penetrate the vole's only defence, its underwater burrows – can virtually wipe out a population of water voles. In 2001, nearly 350 water vole were recorded on the Chess. Two years later, shortly after the first mink was recorded on the river, the population slumped by 97%.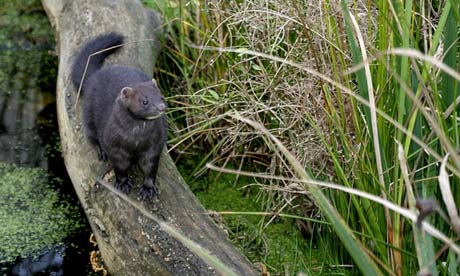 Now the Chess is a rare success story for the water vole, thanks to a "mink control" programme – trapping and shooting the mink – but also to careful habitat restoration by the Environment Agency, BBOWT, and other local charities and landowners. At each count since, numbers have risen and the latest estimate, for 2011, is a return to 345 individuals.
But the recovery in the Chilterns has come as populations of water voles vanish across the country with no water voles at all in Cornwall, and no sites west of the M6 in Cumbria.
The National UK Water Vole Database and Mapping project, run by the Environment Agency and the Wildlife Trusts, recorded water voles in 874 10km squares across the UK in 2004-08. The latest mapping, for 2007-11, found water voles present in just 683 10km squares – a decline of 22%.
Paul Wilkinson of the Wildlife Trusts warned that some of the reduction may be due to less surveying work because of funding cuts but said the figures were still "a real cause for concern".
"Not enough is being done to secure this charismatic species' future," he said. "There is clear evidence from some areas, in the south of England for example, that water voles are disappearing fast."
As well as mink, the fragmentation and loss of habitat is also critical, according to Alastair Driver, national conservation manager at the Environment Agency and chair of the UK Water Vole Group.
Disappearing water meadows and a loss of riverside vegetation on which the herbivorous vole feeds has left populations isolated and more vulnerable to predation.
Another problem is extreme weather and drought. "I'm certain that drought is a big problem," said Driver. "If rivers dry up so that water voles' burrows are left high and dry, they are accessible to stoats and weasels."
In the Chilterns, landowners have been encouraged to manage riverside land for water voles, creating a mosaic of wetland habitats, with plenty of reeds and tussocky grass cover along the riverside. This month more than 50 local volunteers are surveying the animals, an arduous task involving waders and a scouring of impenetrable vegetation for signs of water vole latrines. Six latrines indicate the presence of one vole.
Along the Chess near Chesham, mink rafts float in the water every few hundred yards: these wooden tunnels hide a clay insert which reveals the paw-prints of any mink trotting through. Once paw-prints are spotted, the clay is replaced with a humane trap and the insatiably curious mink is soon captured.
On this hunt, the raft shows no trace of the mink Beechey spotted a few weeks before and, happily, signs of water voles are discovered by Lofthouse: a neat pile of reed canary grass stems nibbled off the plant at a 45 degree angle.
An hour of searching finally turns up a latrine, featuring hamster-sized green pellets, freshly laid that morning.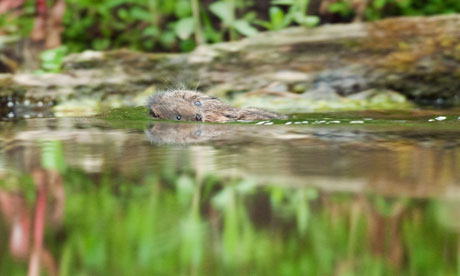 Whilst the return of otters is a welcome sign of improving water quality, Driver said water voles were able to live in relatively poor-quality water, and in some cases did better on urban rivers and in intensively farmed regions such as the Fens because mink were unlikely to thrive in these areas.
Anglers have accused the resurgent otter population of causing the decline in water voles but Driver said that there was no evidence that the two native animals could not coexist as they had for centuries.
In the Chilterns, conservationists predicted that water voles would only recover nationwide if other riverside communities came together to monitor numbers, manage mink and restore well-vegetated riverbanks. And there are fears government funding cuts could end projects like this one by 2016.
"It's a really good demonstration of how habitat enhancement and mink control can reverse a decline in water voles," said Beechey.