With his doleful face, good-natured smile and ever- gleaming teeth, the stalwart entertainer Stan Stennett, who has died aged 88, was a favourite in pantomimes and seaside shows around the UK for decades. After starting out as a musician, he found success at the BBC, cracking jokes on the radio series Welsh Rarebit and compering The Black and White Minstrel Show on television in the 1960s.
He went on to act in soap operas, playing Hilda Ogden's brother Norman Crabtree in Coronation Street in 1976. An appearance on Crossroads in 1971 as Harry Silver, a GI on the run in the village, led to a recurring role on the series in the 1980s as the garage mechanic Sid Hooper. The character caught on and stayed in the show for much longer than planned thanks to Stennett's sympathetic portrayal. On one occasion, Stennett approached a woman who was having trouble with her car. "Thank heavens it's you, Sid," she said. "You'll be able to get me out of this." While pointing out that he was Stan the actor rather than Sid the mechanic, Stennett was still able to get the car going.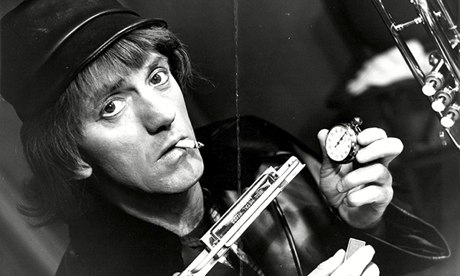 He cheerfully admitted that his joke books contained 25,000 gags, most of them of the seaside-postcard variety, such as "My mother-in-law is so bandy that she is the only woman I know who is able to walk up a bowling alley while a game is still going on."
Stennett's period with The Black and White Minstrel Show did not endear him to the younger and more politically correct generation of TV comedy producers who later took charge. Stennett argued that when the clever satirists took over, audiences tended to stay away. He revered comedians such as "Laurel and Hardy, Mack Sennett, Buster Keaton – these were the gods … We are trying feebly to imitate these people."
Born in Pencoed, a small village just outside Bridgend, south Wales, Stennett was brought up by his grandparents, Richard and Annie, after his mother, Doris, died when he was young. During the war he drove a bus in the army and honed his jazz guitar skills; after demob he worked as a driver for the band leader Ivy Benson and her swing group.
He gave impromptu shows for fellow drivers in transport cafes, sometimes using a table as a stage. Stennett also played in various music combos, toured with Max Miller and performed on the same bill as stars such as the Marx Brothers, Bob Hope and Ken Dodd. He began to make a name as a standup comedian with an act in which he played a very small guitar and wore a hat with an arrow through it.
Once he was making serious money, Stennett began to indulge his love of aircraft. He had always dreamed of flying and volunteered for the RAF but was turned down because of his poor eyesight. He spent his earnings on 18 aircraft that he owned and flew over the years. He favoured flying, rather than driving, to his theatre touring engagements. For a time, to help pay for his luxurious hobby, he said he personally piloted locally bred lobsters from Swansea to Bilbao. Once, when flying from Cardiff to Swansea, the engine packed up. He crossed his fingers and managed to glide to a disused aerodrome. "Somebody is taking care of me," he said.
In the main, somebody usually did. Even with the gradual disappearance of many variety theatres, he kept a full schedule. Two of his most popular creations were Billy and his cross-eyed dog, Bonzo. Billy was a central character in many Stennett pantomimes, with members of the audience ready to boo and hiss if any of the other characters did anything nasty to him. Some children sent Bonzo bones through the post. The characters endured for decades. Next month Stennett had been due to perform in Billy and Bonzo Meet Mother Goose in Bedwas, near Caerphilly.
In the 1970s Stennett staged, scripted, produced and starred in his own summer show at the Grand Pavilion in Porthcawl. His wife, Elizabeth, whom he had married in 1948, and their two sons, Roger and Ceri, helped behind the scenes in the company he formed to put on his shows. For years the company ran the Roses theatre, in Tewkesbury, where Stennett's friend Eric Morecambe died after a performance in 1984.
Stennett later appeared on TV documentaries paying tribute to Morecambe, and he continued to take roles on popular shows such as Heartbeat, Doctors and Casualty, as well as appearing with Lee Evans in the TV film The History of Mr Polly (2007), based on the HG Wells novel. He continued to tour theatres and arts centres with nostalgic shows of wartime songs.
A golf lover and a former director of Cardiff City FC, the irrepressible Stennett was made an MBE in 1979 for his theatre and charity work. He published his autobiography, Fully Booked, in 2010. As a young man, he had boasted that he had been in every branch of entertainment except circus. As an elderly one, he breezily commented that he was now an "alternative" comedian – because the comic establishment was now filthy whereas he had stayed clean.
He is survived by Elizabeth, his two sons, his grandson, Sam, and a great-granddaughter, Merryn.
• Stan Stennett, comedian and actor, born 30 July 1925; died 26 November 2013