Cancelling Socrates review – Howard Brenton interrogates democracy in a rich play of ideas
Fine acting and lively dialogue save this philosophical play from feeling static as it applies Athenian ideals to modern dilemmas
Arifa Akbar
09, Jun, 2022 @11:45 AM
Cancelling Socrates: how the great philosopher sealed his fate with comedy
Playwright Howard Brenton asks why ancient Athens turned on its famous citizen, and how such an uncompromising free-thinker might fare in our own 'age of rage'
Howard Brenton
26, May, 2022 @6:00 AM
Socrates in Love by Armand D'Angour review – the making of a philosopher
Was Socrates really turned on to philosophy due to unrequited desire? This is an erudite guide to the intellectual culture of classical Athens
Tim Whitmarsh
09, May, 2019 @10:59 AM
The Right Life by Remo H Largo review – don't try to advance beyond your talents
Does the modern world prevent most people from living and working in the way suited to them?

Steven Poole
09, May, 2019 @6:29 AM
Top 10 books about teaching
As another school year begins, here is some of the most instructive reading about this toughest of subjects — from Plato to Shakespeare and beyond
The Secret Teacher
06, Sep, 2017 @9:00 AM
Atheism has ancient roots and is not 'modern invention', claims new text
Cambridge academic's new book disputes that atheism is a 'modern invention' and sets out evidence that 'disbelief in the supernatural is as old as the hills'
Alison Flood
17, Feb, 2016 @3:56 PM
The Guardian view on knowledge in an information age: take it to heart | Editorial
Editorial: In the era of the smartphone, London cabbies are going to keep committing every last alley to memory. It might seem pointless, but we gain insight as well as information by exercising the memory
Editorial
21, Jan, 2016 @7:40 PM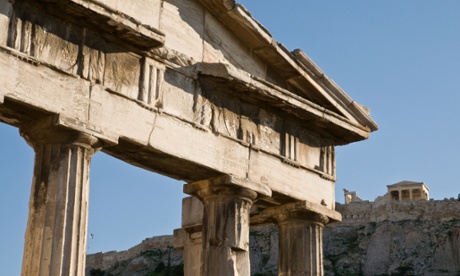 The new Socrates? Artist Tino Sehgal sets up talking shop in Athens agora
Tino Sehgal's latest interactive artwork in Athens pays tribute to the masters of philosophy – hopefully without the same deadly end result, writes Jonathan Jones
Jonathan Jones
24, Sep, 2014 @4:49 PM

Written off | @guardianletters
Letters: It brings to mind the cautionary parable of Socrates in the Phaedrus (274), where he makes the same point about writing

Evil, part 4: the social dimension | Clare Carlisle
Clare Carlisle: How to believe: Does contemporary society give rise to conditions more conducive to evil than in the past?
Clare Carlisle
05, Nov, 2012 @8:29 AM

Theatre takes Socrates's teachings on tour of crisis-hit Greece
Socrates is as relevant as ever, 2,400 years after his death, say creators of one-man performance of The Apology
Lizzy Davies
03, Jul, 2012 @11:48 AM

So, you think reason guides your politics? Think again | Simon Jenkins
Simon Jenkins: I thought I could see tribal bigotry at 100 paces and fell it with a Socratic blow, but I was deluding myself – and so are you
Simon Jenkins
17, May, 2012 @7:15 PM