When Annastacia Palaszczuk took over the leadership of a depleted Queensland Labor team in 2012, few predicted she could place her party in an election-winning position just three years later.
But with polls showing the major parties tied at 50% after preferences, the little-known former transport minister has a chance of making Campbell Newman's Liberal National party government a one-term wonder when voters return to the ballot box on 31 January.
Like Newman, Palaszczuk, 45, was born into a political family.
She recalled that when she was young her father, Henry Palaszczuk, put up a large poster of Gough Whitlam in their home. Henry would go on to serve a lengthy ministerial career in Peter Beattie's Labor government in a variety of roles including primary industries and water.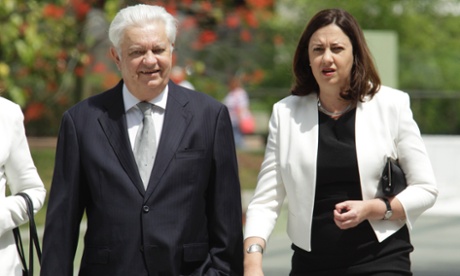 Henry, whose Polish father was in a labour camp during the second world war, hit the headlines in 2005 when he was so outraged at Prince Harry's Nazi costume gaffe that he requested the speaker change his oath of allegiance to the Queen to an oath of affirmation.
When Henry retired from politics in 2006, his daughter succeeded him as the MP for the working-class Brisbane seat of Inala. Annastacia Palaszczuk had previously studied arts and law, been admitted as a lawyer, and worked as a ministerial adviser in the Beattie government.
Palaszczuk entered Anna Bligh's cabinet in 2009 in the disability services and multicultural affairs portfolio and later took over transport, dealing with contentious issues such as large increases to train, bus and ferry fares.
Palaszczuk described how she looked to her father for advice and he "set me on the right track".
"The first piece of advice was anyone who comes through my door at the electorate office has a story and they're coming to you as a last resort because they don't know how to solve their problem and it's your job to listen," she said in an interview.
"Point number two was when I first became a minister he said if you're sitting in your office in Brisbane, you're not doing your job. You've got to be out there; you've got to be out in the regions; you've got to be out talking to people."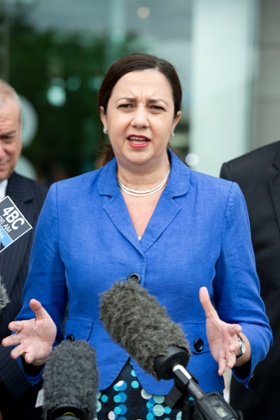 The Bligh era came to a decisive halt in March 2012 when voters punished Labor for what Palaszczuk described as a "breach of trust" over asset sales.
She was one of the few surviving Labor members, with the new opposition holding just seven of the 89 seats in state parliament. Leadership options were limited and expectations for Labor's recovery were low. Insiders from both major parties said at the time that the LNP, with an overwhelming 78 seats, could expect at least two terms in power even factoring in a likely swing back to Labor in 2015.
Palaszczuk became leader of a team that one of her colleagues described as the "Magnificent Seven".
She quickly sought to draw a line under the previous government by apologising for Labor's $15bn program of privatising state assets and vowing not to repeat the mistake in future. (Palaszczuk's no-asset-sales pledge is one of the defining differences between the Labor and LNP agendas at the forthcoming election. Newman says his privatisation plan will fund job-creating infrastructure projects.)
Under Palaszczuk's leadership, Labor and unions strongly campaigned against the Newman government's decision to cut 14,000 public sector positions in its first budget. The Labor leader said she wanted the party to return to its core values of jobs and workers' rights. She also targeted Newman over the cost of living and has accused him of arrogance and not listening to the community.
Palaszczuk has had some stumbles: she did not oppose the government's sweeping anti-bikie laws when they were put to parliament in October 2013, but five months later vowed to review and replace the "unworkable" legislation if elected.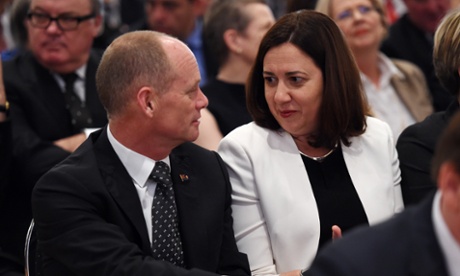 For the most part, Palaszczuk has maintained a small-target strategy. Increased voter support for Labor appears to be driven by dissatisfaction with Newman and the LNP's actions, rather than a desire to install Palaszczuk as premier.
The latest Newspoll, published by the Australian on Saturday, showed Newman's satisfaction rating of 38% was well short of his dissatisfaction level of 51%, but the premier held a nine-point lead over Palaszczuk as preferred leader. The poll showed Labor and the LNP level at 50% on a two-party-preferred basis, although political commentators said the number of seats required to change hands remained a tall order for Palaszczuk.
Palaszczuk now faces her biggest test: a four-week election campaign when voters might start paying attention to her as an alternative premier, with detailed policies yet to be spelled out.